Downtown Continues to Turn Corner
By Jason Leach
Published February 27, 2009
A report headed to the Planning and Economic Development Committee next week gives a good overview of the various projects in the works in Downtown Hamilton.
It's nice to see the Downtown storefront vacancy rate fall to its lowest point since tracking begainin 2001. It was 16.4 percent in 2001 and down to 10.1 percent in 2008.
It's also nice to hear the supportive tone of this report as it relates to the millions of dollars in renovations and new construction ongoing and planned in the Hess Village area.
This is one of Hamilton's gems and one of our busiest and most popular downtown tourist attractions. Let's hope to see more renovations and new construction in the empty buildings and empty lots to the east of the Village.
A proposed project that jumped out at me was a 15 storey Element Hotel by Westin at Main and Walnut (former site of the Modern India Buffet, which has moved to Main and Caroline).
If this project happens it will be a huge win for downtown. Bringing a top-notch facility by Westin into the core - an Element no less - would be outstanding.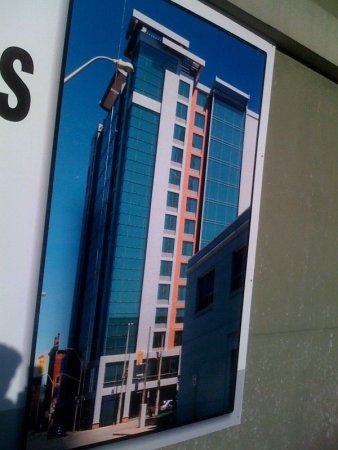 Poster for the proposed Element Hotel at Main and Walnut
The bottom line is that downtown continues to grow and turn the corner. One project won't make or break it, but several projects such as LRT, Education Square, new hotels, the Farmers Market / Library / York Blvd streetscaping plan and more waterfront development will all work together to bring a wave of change that will excite local residents and attract new business to our downtown core and surrounding neighbourhoods.
You can read the entire report [PDF link].
Post a Comment
You must be logged in to comment.