Defense Mechanism
By Ryan McGreal
Published September 23, 2005
Impressed by the German autobahn system, US President Dwight Eisenhower pushed hard for an American system of limited access highways that would link together American cities and make automobile travel much faster and more convenient.
In 1956, the National Interstate and Defense Highways Act was passed into law, and the federal government embarked on what would turn out to be a 27 year mega-project constructing 68,500 km (42,700 miles) of highways.
Since America is wedded to the romance of free markets, the massive government project was promoted as a national military and civil defense network to evacuate citizens or move troops and equipment in the case of emergency or attack.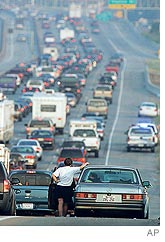 Motorists trying to flee Hurricane Rita stuck in gridlock (Photo Credit: The Wall Street Journal)
Instead, it has served to subsidize truck-based goods transport and commuter traffic with public funds, allowing millions of people to move out of cities into low-density, use-separated suburbs built on cheap rural land around interstate access points.
This, of course, has created what is arguably the biggest ecological disaster in human history: the North American sprawl economy, which consumes over a quarter of the world's petroleum in just about the most energy-inefficient land-use imaginable.
Ironically, as Texans are discovering this week, the National Interstate and Defense Highways system have been a complete failure as a civil defense network.
The Wall Street Journal reports:
They say everything, including the roads, is bigger in Texas. But yesterday, as Hurricane Rita barreled toward the state and more than a million Texans took to their cars to flee, the state's highways didn't seem so large.

Throughout the week, Texas officials have been telling the state's Gulf Coast residents to leave before the storm makes landfall. Northbound Interstate 45 and westbound Interstate 10 were gridlocked as early as Wednesday and remained jammed yesterday, with the traffic moving so slowly that motorists could converse through open windows with those in adjacent cars. Some drivers ran out of gas, intensifying the backups. Yesterday, officials scrambled to reconfigure the two main interstate highways leading from Houston so that all the lanes flowed in the outbound direction. ...

Scores of drivers were crossing highway medians and returning home after spending hours in the near 100-degree temperatures. Mr. Fazzino said the scene on Interstate 10 was surreal: People were picnicking on the grass along the highway, toting jugs of gasoline to refuel their cars, and taking catnaps, having spent the night inching along.

The state that sits at the heart of the nation's oil patch suddenly had to start supplying fuel to consumers directly. Trucks from the state and from fuel suppliers contracted by the state were ferrying gas to motorists.

Even as motorists idled, state officials insisted the exodus was going smoothly.
Even worse, many of those would-be evacuees are now trapped on the interstates and may be at more risk than they would have been staying at home. According to the Mississippi Sun-Herald:
Rita's predicted aim shifted eastward toward Beaumont, Texas, Thursday, perhaps sparing Galveston and Houston the worst.

But officials here worried that the clogged roads and lack of gasoline could trap people in cars when the Category 4 storm packing 145 mph winds comes ashore late Friday or early Saturday.

"If the hurricane comes in at a certain angle," said Houston Mayor Bill White, "being on the highway is a death trap."
In the meantime, government officials still didn't bother to arrange transportation for the poor. The Houston Chronicle reports that Houston's public housing officials are "in full hurricane preparedness mode." According to La Chandra Jenkins, housing authority spokesperson, "We've sent out a notice to all our public housing residents telling them how they should prepare for the storm and what emergency contact numbers they can call." However, public housing residents are not being evacuated.
President Bush's parents, George H.W. and Barbara Bush, are safe in Washington, but residents without their own means of transportation are being left, once again, to their own devices. according to Texas radio station KHOU:
Census figures show Harris County had 3.6 million people in 2004, of whom 14.7 percent lived below the poverty level while 8.7 percent of households lacked a vehicle, both percentages slightly higher than national figures. More than one-third spoke a language other than English at home.

For the poor and the disenfranchised, the mighty evacuation orders that preceded Rita were something they could only ignore.
I wonder if next week will bring more stories about "looters" trying to find food and water in the aftermath of another devastating hurricane.
Post a Comment
You must be logged in to comment.