Rush Hour on Portland's Hawthorne Bridge
By Jason Leach
Published April 30, 2009
Many thanks to RTH reader Arienc for finding this video and posting it in an RTH comment.
I wanted to pull the video out and give it its own blog entry. Watch it and you'll see why:
This is the bridge that I stood on in Portland last month and commented in my recent photo tour that hundreds of cyclists streamed by in a short timeframe. And that was a drizzly, overcast day.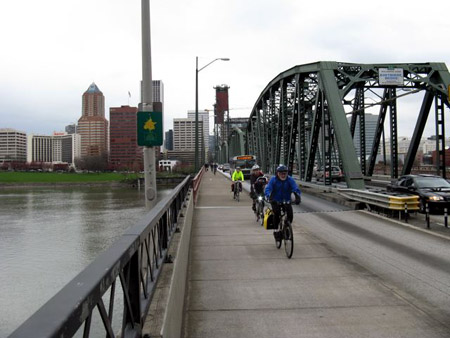 Portland rush hour. Over 200 cyclists in 25 minutes flew past me.
This video gives great statistics and interviews with regular commuters in Portland. Of special note, pay attention to the part in the video where cyclists are crossing a roadway and the vehicles are yielding.
If you live in Hamilton, you'll probably find that scene as mind-boggling as I did.
Enjoy!
Post a Comment
You must be logged in to comment.