Big Pile of Garbage
By Jason Leach
Published November 03, 2005
Once again I feel the need to express my dismay at another skewed article regarding downtown Hamilton. My concern is the article on page A4 in the Hamilton Spectator on Thursday, November 3, 2005.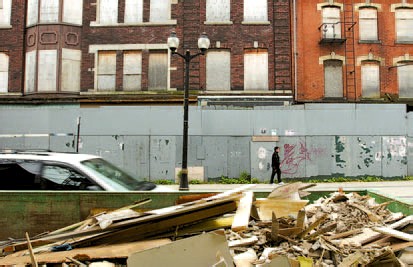 Re-investing in an old building to convert it into a gallery, cafe, and lofts does produce garbage. (Photo Credit: Hamilton Spectator)
First of all, every city I've ever visited ­- Vancouver, Toronto, Ottawa, Montreal, Portland, New York, Seattle, etc. - has some boarded-up buildings, and in all of the above mentioned cities I have routinely encountered large groups of 'homeless' folks with huge dogs taking up entire blocks of city street with their sleeping bags, boxes, etc., something I've never seen in Hamilton in my entire life.
I realize that most suburban folks won't consider downtown to 'have arrived' until it is full of big box stores and garbage like Walmart and the GAP. However, ask any visitor to Boston, Montreal or Paris and I promise you ­that people aren't traveling to these cities to find a Winners or Tim Hortons.
They want culture, unique shops and street life.
Street life is tough to develop in Hamilton since most Councillors are in love with their vehicles and feel the need to have 24 lanes of high speed east/west traffic roaring through our downtown core despite the commonly-known fact that the best pedestrian streets (like Hess, Locke, James North and Ottawa) have a balance of slow moving cars, bikes, transit and pedestrians.
Hamilton is enjoying a resurgence right now of loft, condo, café, bistro, art gallery and live entertainment venues popping up on an almost weekly basis.
The photo of the Spallacci block the Spec showed had a big garbage bin in the foreground. The average reader would think, "Wow, they just have big piles of garbage sitting on main downtown streets!".
Yet, as the Spec know, that bin is sitting in front of a building that is being completely gutted for artists lofts and a new art gallery/café on the street level. Two doors down, Brownies, a wonderful new bistro, just opened and all up and down King Street there are new galleries and eateries coming online with upper floor lofts.
James North has seen over a half dozen new galleries and performance spaces open in recent months along with upcoming lofts and a new arts supply shop. Despite the moaning of City Council, Hess Village is adored by Toronto visitors and locals alike.
The Farmers' Market is one of the best anywhere and probably the best attraction in the city. Every night of the week, one can enjoy every style of music, dance, art and theatre under the sun in our core along with food and drink from every corner of the planet.
The mix of people is wonderful and thankfully not as artificial and boring as the Meadowlands or Limeridge Mall, where everyone tries to look like a GAP model. Real cities have soul, heart and a cool vibe.
If the Spec doesn't appreciate the fact that Hamilton is seeing exactly that develop in our core, fine. I just wish they would show a tiny bit of class and journalistic integrity before taking pictures that skew the facts.
I grabbed my morning coffee at the Bad Dog on Locke today and everyone who came in was livid at the rotten journalism in this article. Mind you, we all chuckled since we're used to it.
Imagine if I took my household garbage over to the Spec, dumped it all over the front lawn, and then take pictures to post on the net showing what rotten corporate citizens they are.
As stupid as that sounds, that's exactly what they did in today's paper. And the sad part is, nobody was surprised by it.
Post a Comment
You must be logged in to comment.