West Harbour Waterfront Recreation Master Plan
By Jason Leach
Published June 10, 2009
The city is moving along with its West Harbour Waterfront Recreation Master Plan. Check out the 2009 concept plan [PDF link] and 2009 concept map [PDF link] - awesome stuff.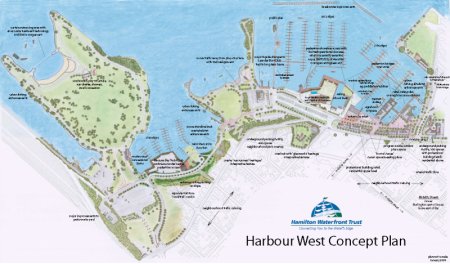 2009 Concept Map (Image Source)
Here are the seven key objectives the concept plan seeks to achieve:
Significantly increase public access to the waterfront.
Positive environmental approach, especially with respect to shoreline and habitat.
A harbourfront precinct designed as a destination for all Hamiltonians.
Financial viability.
Innovative and sustainable adaptive reuse of existing elements.
Recognition of historical and cultural waterfront institutions.
Positive integration with the community in a local context.
If they can pull this off, it will certainly take our waterfront to the next level as a great place to live, entertain, dine and enjoy urban life.
This completely blows the Toronto waterfront away. I love all the cobblestone, public places and upper level residential similar to our existing built form on James and King. The artists renderings are also great.
Post a Comment
You must be logged in to comment.