MacNab Transit Terminal Nears Completion
By Ryan McGreal
Published September 27, 2010
The new MacNab Transit Terminal just west of James St. between Main St. and King St. is nearing completion. Workers recently installed the new sign.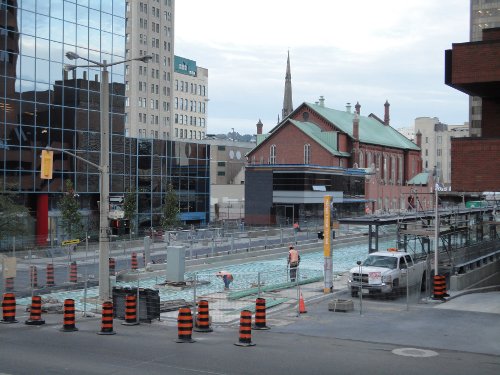 MacNab Transit Terminal


Transit Terminal Sign
Among some nice environmental design decisions, the terminal will have a Green Roof once completed. Workers have already installed the underground green tubes that will circulate warm water year-round and keep the platform from freezing. This system will pay for itself in a decade with the savings from reduced wear and tear and not having to shovel and salt.
The project was originally slated for completion in August 2010 but should be completed in the near future.
Once the MacNab Terminal is in operation, city buses can move from their current stops at Gore Park. Then the City will be able to start moving forward with the Gore Park Master Plan.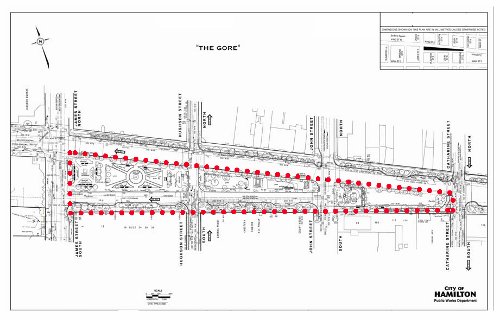 Gore Park Master Plan Study Boundaries (click on the image to view full-size)
According to Le' Ann Seely in the Public Works Department's environmental and sustainable infrastructure division, her department is moving ahead with the Gore Pedestrianization Pilot Project, which will be developed jointly by the City's Landscape Architectural Services, Culture, and Transportation Planning groups, in consultation with stakeholders.
The timeline for completion has not yet been finalized, but Seely expects the pilot will run next spring or summer to coincide with warmer weather.
While the Pilot Project moves forward, the Master Plan is still in design development. Staff observations and lessons learned from the Pilot will inform their finalization of the preferred plan.
The timeline for implementing the Master Plan depends on the progress of the city's Rapid Transit initiative, in which a proposed Light Rail Transit service will run along a King Street that may also be converted to two-way traffic. Rapid Transit planning staff are currently undertaking a comprehensive planning, design and engineering study.
Post a Comment
You must be logged in to comment.