More Flooding in Hamilton
By Ryan McGreal
Published September 28, 2010
this blog entry has been updated
It may feel as though the Pan Am Stadium debate has been going on for centuries now, but this is getting ridiculous. The Spectator reports more flooding under the onslaught of today's thunderstorm - that's at least five "hundred year storms" so far this year.
The City issued a press release today that announced, "City crews have been monitoring and clearing catch basins and culverts over the last several days in preparation for the forecasted rain. However, the volume of precipitation has created localized flooding in certain areas."
It also lists the status of several east-end roadways, noting that the RHVP at Barton Street "has not been closed at all today" and is "currently being monitored".
The Spectator reports that the north-end highway ramps are closed "as water levels are rising."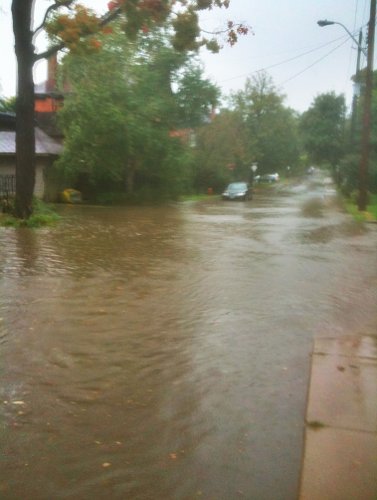 Kent Street is flooded south of Stanley Ave (Photo Credit: Jason Leach)
The following roads are reported closed: Kenilworth Ave north of Barton St, Birch St at Burlington St and Brant St, and Charlton Ave from Queen St to Kent St.
Update: the Spectator article linked from this blog entry originally stated that the Red Hill Valley Parkway was subjected to flooding. However, the article currently at that link has been completely rewritten.
Post a Comment
You must be logged in to comment.