Experiencing History: Doors Open Ontario 2010
By Kayla Jonas
Published October 14, 2010
With the Doors Open season coming to and end, I thought I would review some of the events I attended this year.
Door Open is a free event held in communities across Ontario. In each community, historic buildings and places are open to the public over the course of one weekend a year. Events start in late April and go until late October.
Many buildings, such as Auchmar Estate in Hamilton, are not open to the public during the year; the only time to step into their history is during Doors Open. This year, Auchmar volunteers used the event to begin selling posters to raise money and awareness for the restoration of the publicly-owned building.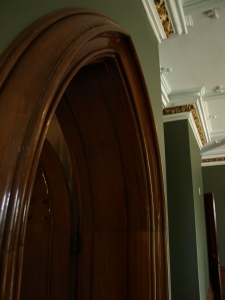 Interior of Auchmar Estate
Museums and other buildings that are open during the year often plan special events and activities on the weekend of Doors Open. For instance at the First Post Office in Toronto you can write a letter by candle light using a feather and close it with a wax seal. Pay for shipping and you can have it mailed anywhere in Canada.
It is surprisingly hard to write with a feather, but I still managed to pen a whole letter and mail it home.

My Letter!
Buildings that are traditionally used for manufacturing, or another industrial processes offer demonstrations of their equipment. This year I visited Coach House Printing (Toronto) where the employees demonstrated the machines the use, some of which are over 100 year old. They were even handing out example of the pictures that result from the intricately carved blocks on the block printer.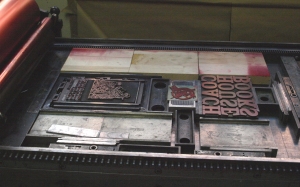 Block Printer Coach House Books
I like the contrast of approaches to showing of the buildings. In some place such as the Flatiron building (Toronto) guides take you through history of the building and point out interesting and important features. In other Places such as Allan Gardens (Toronto) you are allowed to wander on your own and explore.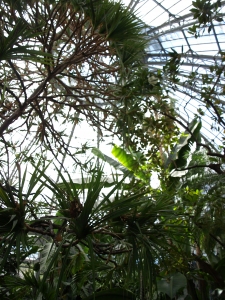 Allan Garden
My favourite place to visit this year was the Stinson School in Hamilton. It is school that has been closed and was purchased by Harry Stinson to turn into condos.
The building only has two show condos to visit, and the rest of the school is exactly the way it was left on when it was closed. I will be interested to return to the building when it is finished, or even next year to see the progress.

Stinson School
What place was your favourite this year?
This blog entry was first published on Kayla's personal website.
Post a Comment
You must be logged in to comment.