Demolished Building is a Missing Tooth on the Gore
By Ryan McGreal
Published May 27, 2011
The city's still breathing but barely, it's true
Through buildings gone missing like teeth
-- The Weakerthans, "Left And Leaving"
A demolition crew recently pulled down the building at 30 King Street East on the south leg of Gore Park, after the City issued a demolition permit on March 3, 2011 to the property owner, Wilson Blanchard Management Inc.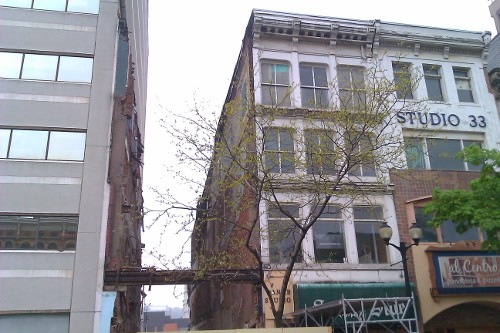 Demolished building at 30 King Street East
Calling the building "totally dysfunctional", the property owner requested the demolition permit after the building sat vacant for several years.
According to Ward 2 Councillor Jason Farr, the City had no option to refuse the demolition permit, as the building was commercial in use rather than residential and there was no heritage designation, although the building was listed on the city's Inventory of Buildings of Architectural and/or Historical Interest.
The owner "proposes to make the space into an outdoor patio and try to get a high end coffee shop into the building beside it (former South Side men's wear)."
That means no new building will go in its place, and the streetwall along the south leg of the Gore will retain a gap tooth.
The Gore Master Plan proposes to pedestrianize the south leg of King Street next to Gore Park, which would provide ample surface area for patios. However, Council just canceled funding for a pedestrianization pilot project that was supposed to go ahead this year.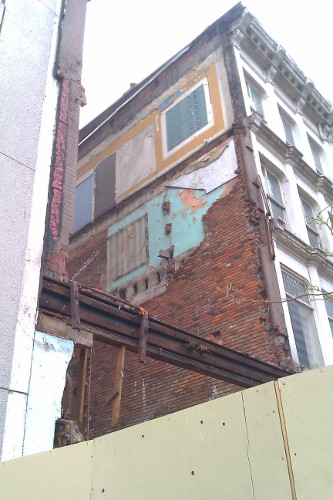 Closeup of the gap tooth on King
Wilson Blanchard, which owns several properties along this stretch, did not return a request for comments.
Post a Comment
You must be logged in to comment.