The Value in Creating (Kraft) Hockeyville
By Larry Pattison
Published March 02, 2012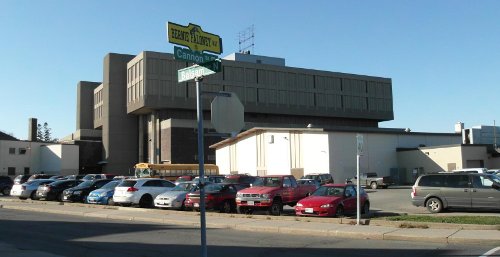 Scott Park Arena
Certainly there are thousands of communities across this great country that deserve this Mac and Cheese crown. Just as there are likely countless players in hockey towns nationwide who are equally deserving of, but may never realize, their childhood national league aspirations.
What makes Scott Park Arena in Hamilton, Ontario deserving of the Hockeyville title over the numerous other hockey centres that will likely capture our hearts over the course of this competition?
It's nothing to look at from the outside. I hadn't stepped foot through the front doors in years until recently. You might drive by and think it should be torn down, never mind $100,000 in upgrades. Maybe so, but whatever should happen to the old arena, the fact remains that it is the only arena in Ward 3 in Hamilton, Ontario.
Scott Park Arena sits right across the street from Ivor Wynne Stadium - home of the CFL's Tiger-Cats. Hundreds tailgate next to the arena on game days. It probably looks like an eye-sore to them but for many youth in our community, dreams don't care about aesthetics. Hockey is hockey to a child.
Definition of Deserving
Is the Scott Park Arena community the best in Canada? Are they 'worthy' of this prize over other communities? That's a hard thing to judge. I am not all that familiar with the Scott Park community outside of the brief amount of time I have spent within its walls these past couple of months. All I know is that hockey is an important fabric of Canadian culture and this area of our city is one of the hardest hit by the cruel realities of having to live without to survive.
What is currently labeled the Scott Park District is already a mix of a sports, arts, and education district before its development even begins. The future of some of the structures is still unknown but as it stands now, there is a brand new school across from Scott Park Arena (Prince of Whales), a forward thinking vocational school in Parkview Secondary, a historic municipal pool, and a professional football stadium also heavily used by the community including home field for a high school football team.
The people of Ward 3 and it's visitor's that appreciate its beauty and its significant attractions are not just selling this community on Facebook pages, via Twitter, on forums and through real live in-person conversations, they are taking it upon themselves to bring out the best in an area they know deep in their hearts, can be so much more - that is so much more.
Although there are concerns that are brought up and discussed by community members, the good vibes that exist on the Ward 3 Residents' Association page demonstrate a deep love for the area we call home.
So maybe Scott Park Arena isn't the model 'best hockey community' in Canada based on numbers - teams or fans - but hockey is alive and well and is loved by many local area kids. The arena does, however, have every potential of a being a 'build it and they will come' type of project. Show these kids that we care for them and help these families make their child's dreams of playing Canada's game a reality, and watch hockey in this north-end community come alive again.
We already have some great local programs like the Hamilton Bulldogs Foundation and Skate the Dream.
I think of what being crowned Kraft Hockeyville champions could do to bring all of these positive community programs together to make hockey a big deal in Ward 3 again - and substantially more affordable as well.
I am not sure a price can be placed on what a renovation of this stature could do for an area where there are many families who simply cannot afford to put their kids in hockey. This community - these children, deserve a fresh start. A new CFL stadium proves to be a huge catalyst to kick start the turnaround of this community.
Scott Park Arena for Kraft Hockeyville 2012 could bring full circle, the rebirth of two great Canadian pastimes in this sports and education district - the CFL, and minor hockey.
An Important Role in Something Bigger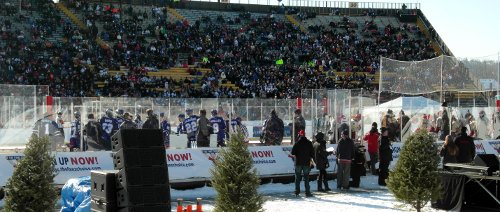 Showdown in Steeltown
After everyone had some time to reflect on the very successful Showdown in Steeltown festivities at Ivor Wynne in January, for the first time since we started talking about ideas for our planned new stadium district, hockey had taken a front and centre position in the 'multi-use' discussion.
Brian Burke, General Manager of the Toronto Maple Leafs hockey club, expressed interest in a yearly bout between the Toronto Marlies and Hamilton Bulldogs, ideally alternating between the new Hamilton stadium and BMO Field in Toronto; a feature event that would have every potential of rivaling the competitive passion of another cross-highway rivalry between the same two cities as part of a different Canadian pastime, in what has long been our Labour Day Classic.
In Cleveland, Progressive Field - home to Major League Baseballs' Cleveland Indians, has become a winter wonderland the past couple of years from Thanksgiving through the duration of the season.
The success of Cleveland's winter use of their baseball stadium inspires me to think of how opening the gates of our new stadium all year round, could brighten an otherwise dark, silent facility, and breathe new life into a community so alive during the summer months.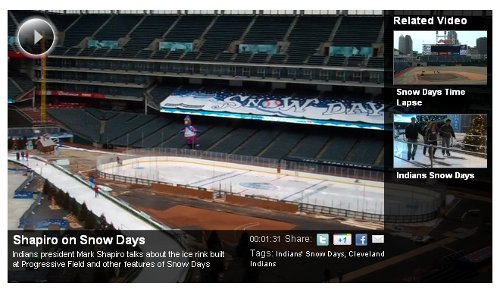 Screencap
I thoroughly enjoyed seeing how alive Ivor Wynne was during the month of January. I organized an outdoor hockey game on that ice surface between some co-workers and friends, enjoyed a free public skate put on by the Bulldogs with my two girls, attended both outdoor games, and smiled as I watched kids wandering our neighborhood streets, bearing toques and mittens with skates strapped over their shoulders, knowing they were heading over to Ivor Wynne.
So if the Scott Park district has the potential of being just as much about hockey - sports and education in general, as it is about Canadian football, we should be recognizing the potential that exists in creating Hockeyville across from where this game we call 'ours',may be alive and well in the open air of the hallowed grounds of 75 Balsam Avenue North during the winter months.
Living in Quiet Existence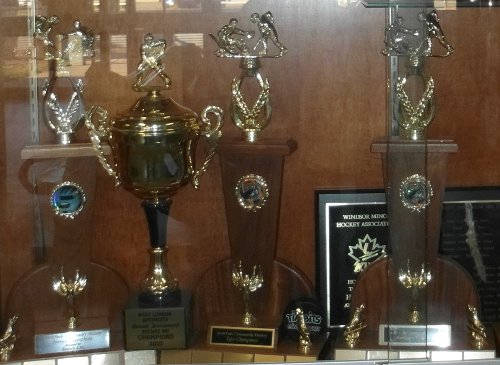 Trophies
This community has quietly been going about its business for however many years despite numbers drastically dropping, yet they continue to plug away at what they are passionate about - providing a positive and rewarding experience for local kids.
The registration at Scott Park is very low with two pre-novice teams and a beginner's hockey school; that's it. Hockey registration in Ontario and Canada in general has been dropping, but Hamilton is certainly lagging behind other cities. Perhaps nowhere is it more evident than at Scott Park.
It's likely one of the smallest arena's in Canada. I am guessing that maximum and with some obstructed views, this venue might be able to accommodate 100 spectators? It's also quite possibly the smallest community in Canada - especially given that it's located within a city with a population of over 500,000 people.
I wasn't even sure when I thought about nominating Scott Park - although it doesn't state as such in the rules, if it would even be eligible because it falls within a community that already took home all the marbles a couple of years ago. How fair would it be to have one community our size, win this competition twice within a short time frame? The more I thought about this competition however and what it truly stands for, the more I realized that there was so much more to gain from entering into this Canada-wide 'tournament' then simply going home champions.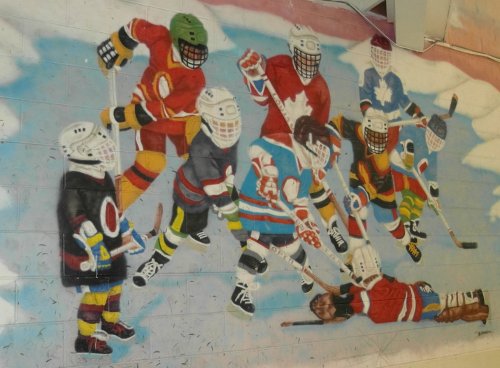 Mural
The fun is on the road traveled in search for our dreams - not necessarily in what awaits your arrival. Winning a championship is bittersweet, but having the opportunity to compete is a luxury not everyone can afford.
I read a letter on a northern Ontario's Hockeyville page a month or so ago, and that is where I first realized that there was so much more to this competition than winning.
This community talked about how, even in losing, the contest brought their town together like perhaps nothing else had in a long time. If even a fraction of that pride, spirit, and thrill of the chase could be brought out within the Scott Park community and the City of Hamilton as a whole in its support of this nomination, what truly could be the harm in that?
Every Community is Hockeyville
Perhaps Scott Park isn't Hockeyville as it stands now with regards to enrollment, but what it lacks in physical size and numbers, it makes up for in heart. They are a close little community that deserves the chance to know without the borders and boundaries of physical location and wealth, what it's like to be Hockeyville.
Every neighborhood should know what it's like for their surrounding streets to come alive every Saturday and Sunday morning starting at 6am with kids carrying hockey bags and sticks, a hot chocolate and a donut - parents half awake with an extra large coffee in hand making countless time and financial sacrifices so their children can be kids and know what it's like to be a part of a team and for them to have an opportunity to make many more and often lasting friendships.
Every neighborhood should be alive with this sense of community. Scott Park is the only arena in this downtown Ward. It may be the smallest, but it's certainly one of the cleanest.
If it can be expanded in a way that can make it a great place for parents to enjoy watching their children be kids, and if can receive a substantial boost in community support and even - even, by chance the title of Kraft Hockeyville champions, how would that change this struggling hockey community?
What would it be like for these kids and those who have donated their time to make this a positive experience for the children of this neighborhood, to know that they are loved and supported - that they are important? How does that change the lives of the children of our communities that may have up until this point in their lives, never felt worthy of someone doing something extraordinary for them?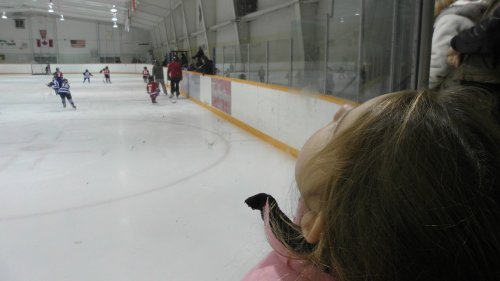 One time my grandfather, in donating some circus tickets to a group of down-on-their luck kids, had a child turn to him and ask 'you mean you would do this for us?' Maybe that is all it takes. For the children of our communities to know that yes, we would do 'that' for them.
Maybe it's recognizing them with the honor of being known nationallyas Hockeyville. Maybe even more so, it's being known within your community as something - someone, that truly matters. That you are important, loved, and just as much a part of what makes us who we are as a neighborhood, a town, or a million plus person city, as the mayor himself.
The nation will choose their Hockeyville, but our communities can choose their own. Everyone should win this competition like every Timbit tyke is deemed a champion. Every kid should know what it's like to be a Hockey Child.
Like that group of passionate musicians from Burlington, Ontario who were mostly unknown only a couple of months ago, this competition will come down to that one thing that makes their community stand above the country-wide crowd.
Tomorrow the top 15 arena's competing for the Kraft Hockeyville title, will be announced. Maybe Scott Park will find its way into that list by some dusting of magic but the most important thing is that all of you know, about these special little spaces within this city that we all love and care a great deal about.
Details
The top 15 arenas will be announced during the Hockey Night in Canada broadcast tomorrow night (Saturday March 3rd). The announcement will be made during the first intermission of the late night game between the Buffalo Sabres and the Vancouver Canucks. Game time is 10pm ET which means the announcement will come around 10:45pm or so. Then the voting begins.
Post a Comment
You must be logged in to comment.