Walkability Fail at Aberdeen Railroad Underpass
By Keanin Loomis
Published May 04, 2012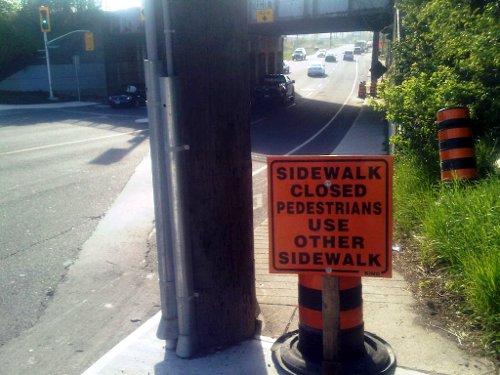 Sidewalk Closed sign on Aberdeen at railroad underpass
I came across this on my walk home from MIP today. It's the railroad underpass on Aberdeen. Despite the directive, there is no sidewalk on the other side of the road.
Upon seeing it for the first time, the law-abiding pedestrian confronting this sign would have to turn around, walk back to Dundurn, head north to Main and so on.
Each day, hundreds of kids take this route to Westdale High School. Call me crazy, but I don't think any of them will pay heed.
The good news is that there is a portion of the bike lane up ahead that is not impacted by the construction. Yeah, that's safe.
Post a Comment
You must be logged in to comment.