City Moving Ahead with Glenside Bike Path
By Ryan McGreal
Published May 31, 2012
this blog entry has been updated
For years, cyclists in southwest Hamilton have used an informal path through the north side of the Chedoke Golf Course and across Hwy 403 next to the CP Rail tracks as an unofficial bike route to West Hamilton.
The City decided to formalize that path in its 2006 West Hamilton Bike Network Study [PDF], and they completed the section across Hwy 403 last year.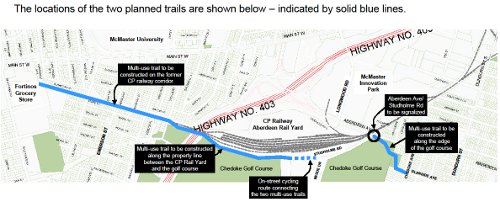 Map of the multi-use trail, marked in blue (click on the image to view full-size)
The design for the easternmost part of the path was approved by the Niagara Escarpment Commission in March 2010, but construction was held up when some neighbours appealed to the Environmental Review Tribunal [PDF] in 2010. The appellants argued that the path, which would be fenced in and would run through a wooded area, would cause negative impacts to their homes, including the visual impact of the fence and cut-off accessibility to the Chedoke parkland.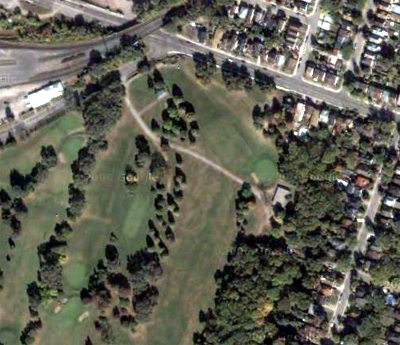 Overhead view from 2006 of the unofficial bike path running from Glenside across Chedoke Golf Course to Studholme
The appeal was settled this past February, when the Tribunal ruled that the City's plan is consistent with the Niagara Escarpment Planning and Development Act. According to a news release from Ward 1 Councillor Brian McHattie's office, the City plans to begin construction of the path this fall, toward the end of the golf season.
Update: more details about the golf course trail have been published in a follow-up blog post.
Post a Comment
You must be logged in to comment.