Complete Street in Buffalo
By Jason Leach
Published October 25, 2012
I'm in Buffalo for a short visit this week and have been really impressed with the urban initiatives I'm seeing here. I'm working on a full write-up on my observations, but in the meantime I want to mention this complete street design on Elmwood Avenue.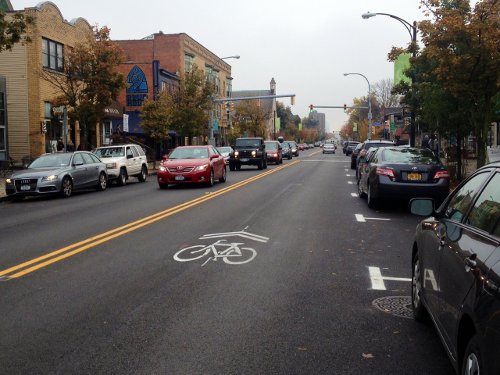 Complete street in Buffalo
Some nice features of this street:
There are sharrows, or shared lane markings, in the middle of the lane. A recent study on cycling infrastructure and injury risk found that shared lanes are safer for cyclists than plain car lanes.

Curbside parking spots are painted. I wish we did this at home - it might encourage people to park more sensibly.

Wall-to-wall curbside parking all along the road so pedestrians have more protection on the sidewalk.

Transit and flex zoning.

And don't forget street trees lining the sidewalks on both sides.
This street has it all. Not surprisingly, it's booming. Yes, an old neighbourhood in Buffalo.
Our Wilson two-way conversion should have looked like this.
Post a Comment
You must be logged in to comment.