RIP Aaron Swartz
By Ryan McGreal
Published January 14, 2013
On Friday, January 11, 2013, 26-year-old Aaron Swartz died by suicide. If you have not heard of him, Swartz was a young, sensitive, fiercely intelligent activist, writer and programmer who dedicated his short life to the cause of freedom, openness and social justice. I wrote about him in 2009, and certainly did not expect to have to revisit him in such tragic circumstances.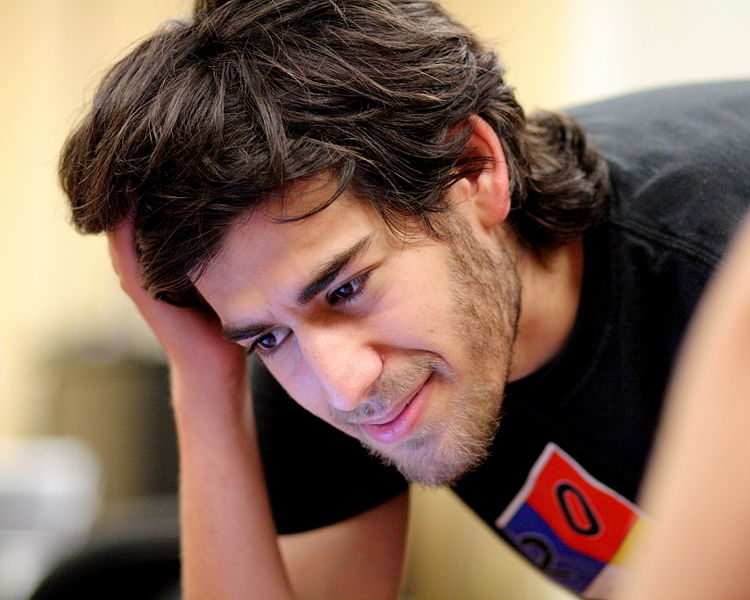 Aaron Swartz at Boston Wikipedia Meetup (Image Credit: Wikipedia)
Aaron was born November 8, 1986 in Chicago, Illinois and took an early interest in computers, networking and the internet. At age 14, after winning a contest for a website he created that promoted collaboration, Aaron co-authored the specification for RSS web page syndication.
The next year, he worked with Harvard law professor Lawrence Lessig on the Creative Commons project, which established a set of legal mechanisms for people to share their copyrighted content.
In 2005, when he was 18, Aaron started infogami, a wiki application framework funded through the first summer startup program by seed accelerator Y Combinator. In November of that year, Infogami merged with Reddit, a nascent social link sharing site. Aaron helped re-write the Reddit codebase in the Python programming language.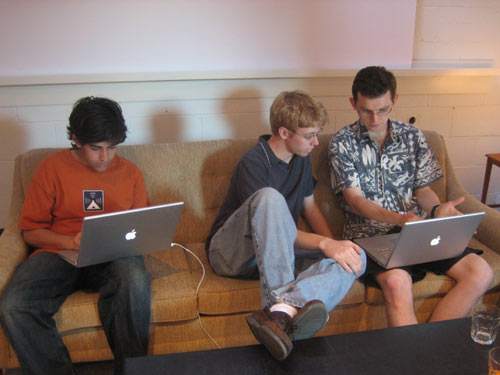 Aaron Swartz (L), with Reddit cofounder Steve Huffman and Memamp cofounder Zak Stone at Y Combinator in 2005 (Image Credit: Wired)
In 2006, Aaron created and distributed web.py, a simple, lightweight web application framework in Python. (Raise the Hammer runs on web.py.)
He was ultimately asked to leave Reddit after it was acquired by Conde Nast Publications, when the transition from running a startup to working in an office proved too hard for him to bear.
After that, Aaron worked on the Open Library project as its technical director and worked on Watchdog, a site promoting open, transparent government.
He also maintained a widely-read blog on which he wrote and published several influential and widely read essays on philosophical, political, economic, technical and personal issues.
When he heard about the United States Combating Online Infringement and Counterfeits Act (COICA) in 2010, Aaron became deeply concerned that the bill fundamentally threatened basic freedoms of expression and communication by giving vast power to content industries to shut down websites without due process.
COICA expired when the 2010 legislative session ended, but it was re-written in 2011 as the Protect Intellectual Property Act (PIPA) in the US Senate and the Stop Online Piracy Act (SOPA) in the House of Representatives.
Aaron cofounded an organization called Demand Progress, which organized a massive public campaign against PIPA/SOPA that ultimately defeated the legislation.
In 2009, he engaged in a clever act of civil disobedience by downloading a quarter of all the files in PACER, an online database of US federal court documents that charges American citizens for access. Swartz downloaded the documents during a free trial of the PACER software at US libraries and shared them with RECAP, an alternative database which makes the court documents available for free.
The FBI investigated the case but concluded that he had not broken any laws.
Things turned out more seriously after a similar act of document liberation in late 2010. While on campus at the Massachusetts Institute of Technology, Aaron took advantage of the school's open network access policy to download as many articles as he could from JSTOR, a non-profit online database of published academic journals that charges for access.
He believed that since the research was conducted using public funding, it should be available to the public.
Over a three month period, Aaron downloaded 4.8 million articles from JSTOR while the organization tried to block him. He periodically changed his IP address and MAC address, and ultimately plugged his computer directly into the MIT network after accessing it through an unlocked wiring closet.
MIT security caught him when he went to retrieve the laptop, and he was arrested. Aaron settled civilly with MIT and JSTOR, but US Attorney for Massachusetts Carmen Ortiz went ahead and charged him with multiple felony counts of wire fraud and computer fraud that carried a sentence of up to 35 years in prison and a fine of up to $1 million.
According to security expert Alex Stamos, an expert witness in the case against Swartz, "I know a criminal hack when I see it, and Aaron's downloading of journal articles from an unlocked closet is not an offense worth 35 years in jail."
Aaron Swartz was not the super hacker breathlessly described in the Government's indictment and forensic reports, and his actions did not pose a real danger to JSTOR, MIT or the public. He was an intelligent young man who found a loophole that would allow him to download a lot of documents quickly. This loophole was created intentionally by MIT and JSTOR, and was codified contractually in the piles of paperwork turned over during discovery.
Stamos concludes that the worst thing you can say about Aaron's actions is that they were "inconsiderate" - but not criminal. JSTOR actually spoke out against the criminal charges against Swartz, though MIT did not. Nevertheless, the US Attorney continued to prosecute its case against him.
Aaron was often ill and suffered from depression, having written about it on more than one occasion. He was found dead in his Crown Heights, Brooklyn apartment on Friday.
Soon after his death, his surviving family issued an official statement that read in part:
Aaron's death is not simply a personal tragedy. It is the product of a criminal justice system rife with intimidation and prosecutorial overreach. Decisions made by officials in the Massachusetts U.S. Attorney's office and at MIT contributed to his death. The US Attorney's office pursued an exceptionally harsh array of charges, carrying potentially over 30 years in prison, to punish an alleged crime that had no victims. Meanwhile, unlike JSTOR, MIT refused to stand up for Aaron and its own community's most cherished principles.
On Saturday, MIT president Leo Rafael Reif sent a message to the MIT community that stated in part:
I want to express very clearly that I and all of us at MIT are extremely saddened by the death of this promising young man who touched the lives of so many. It pains me to think that MIT played any role in a series of events that have ended in tragedy. ...

I have asked Professor Hal Abelson to lead a thorough analysis of MIT's involvement from the time that we first perceived unusual activity on our network in fall 2010 up to the present. I have asked that this analysis describe the options MIT had and the decisions MIT made, in order to understand and to learn from the actions MIT took.
Lawrence Lessig wrote a scathing denunciation of the US prosecutors:
I get wrong. But I also get proportionality. And if you don't get both, you don't deserve to have the power of the United States government behind you.
Cory Doctorow, a friend and fellow activist, lamented:
we have all lost someone today who had more work to do, and who made the world a better place when he did it.
In a cruel irony of timing, just last week, JSTOR announced that it was making the archives of over 1,200 journals - 4.5 million articles - accessible for free.
Post a Comment
You must be logged in to comment.