Enjoy Gore While it Lasts
By Chris Erskine
Published June 19, 2013
I hope everyone enjoys the Gore Park Promenade while the historic landscape lasts.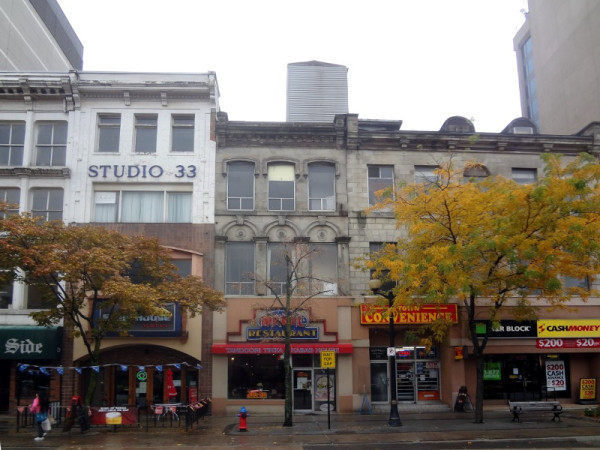 Gore south streetwall, soon to be mostly demolished (RTH file photo)
Paul Wilson has reported on CBC Hamilton that the developer who owns the buildings on the south side of the Gore between James and Hughson is still planning to demolish most of the four buildings. According to the article, the work could begin as soon as the end of the month.
Many objected to losing all that history, and five months ago Blanchard sat down with councillors Jason Farr and Brian McHattie. A compromise was reached. Three structures would be saved - Numbers 18, 20 and 22. They're the stone-fronted 1840s Kerr buildings. The front third is to be turned into condos. The rear will be demolished.

But the other two buildings are a treat to gaze up at too. CBC Hamilton asked Blanchard last month if he'd be open to saving at least the facades there. He said yes - but the expense of doing that would have to come from the city, and he would need to hear fast.

Well, time's up. "No one came forward to say anything about it," he said yesterday. "There were no monetary offers."
I find this situation truly amazing. Despite all the protests, despite the importance to Hamilton of this historic landscape, and despite what should be the best interests of the developer, these historic buildings are still going to come down (except for a few face fronts).
I guess I truly don't understand business. I would have thought that having something historical facing onto an important historical landscape of Gore Park would have been a valuable marketing tool for a condo development that will need to compete with dozen of other projects that are coming onto the market.
In a world where Las Vegas casinos create fake landmarks and where Mississauga is trying to create a downtown centre in the middle of condos, Hamilton is doing the opposite.
I hope Hamilton City Council, City Staff, and Local business leaders come to Gore Park for an ice cream cone and sit for a few minutes and reflect on the flattened landscape that will soon appear in the heart of our City.
Post a Comment
You must be logged in to comment.