Queensdale Construction an Opportunity to Extend Bike Lanes
By Ryan McGreal
Published August 19, 2013
this blog entry has been updated
Earlier this summer, the City installed bike lanes on Queensdale Avenue between Upper Wellington and Upper Wentworth, an 850 metre east-west stretch on the East Mountain.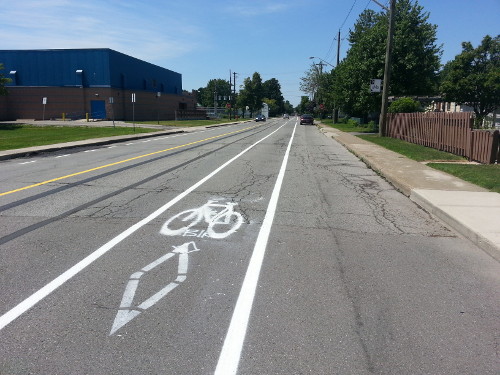 Queensdale Avenue bike lanes
The lanes were installed as a "pilot project to assess whether to continue bike lanes easterly to Upper Sherman Avenue", according to Daryl Bender, the city's manager of alternative transportation.
It is not clear what the terms of reference are for the pilot project, or how the City will determine whether the bike lanes are successful enough to warrant retention and/or extension.
Just this morning, the City began major road work on Queensdale between Upper Wentworth and Upper Sherman, to replace the water system and resurface the street. The first phase will go to East 24th Street and be complete in November, with the second phase completed by next summer.
What an excellent opportunity, I thought, to extend the new Queensdale bike lanes when the road surface is rebuilt! It would extend the bike lanes from 850 m to 1.7 km, and there are plans to add bike lanes on Upper Wentworth so it would be part of a larger network.
Bike Lane Extension Still Undecided
For now, it is not yet decided whether the road will be rebuilt with bike lanes, and ward 7 councillor Scott Duvall may or may not decide to support extending the bike lanes as far as Upper Sherman some time in the future.
According to Duvall, the community is split on whether to support the bike lanes. In an email response to RTH, Duvall wrote, "I circulated a questionnaire to all households on Queensdale, the response was about 50 percent, some indicating a great idea and some said no as it would affect parking and was a waste of money."
Duvall clarified that the bike lane may yet be extended after the road work. If the pilot project "is accepted, we will continue to Upper Sherman." He adds that the road work is "perfect timing whether to proceed or abandon the bike lanes."
Duvall further clarified that the pilot will be evaluated "based on complaints" and that he will have to reconsider the lanes "if many complaints are forwarded."
So far, Duvall has received one complaint and three positive comments. He is "trying to be open minded and find a compromise that will benefit all."
Missed Opportunities
Of course, we know that the bike lanes will definitely not be extended further east past Upper Sherman, since that is ward 6 and its councillor, Tom Jackson, has already vetoed the bike lane for his ward.
Jackson argues that bicycles are "recreational" vehicles and that if people want to ride a bike, they should use one of the city's off-road trails. (I am still waiting for a Councillor to respond to someone asking for a new road that if they want to drive around, they can always go to the Cayuga Speedway.)
We also missed the opportunity to add bike lanes on Barton Street East between Nash and Centennial, which is also being torn up to replace water mains and having the street, curbs and sidewalks rebuilt.
There is no way to widen the road to make extra room for bike lanes, and of course it's unthinkable to remove any automobile lane capacity, so there's just no room to install bike lanes.
Update: updated to add response from Councillor Duvall clarifying that the bike lane extension has not yet been decided. You can jump to the added paragraph.
Update 2: updated to add Duvall's comments on the evaluation criteria. You can jump to the added paragraph.
Post a Comment
You must be logged in to comment.