Beckett Drive Rebuild a Missed Opportunity to Improve Walking, Cycling Connections
By Jason Leach
Published November 14, 2013
The Beckett Drive (Queen Street Hill) Escarpment access opened this afternoon after being completely rebuilt from the roadbed on up.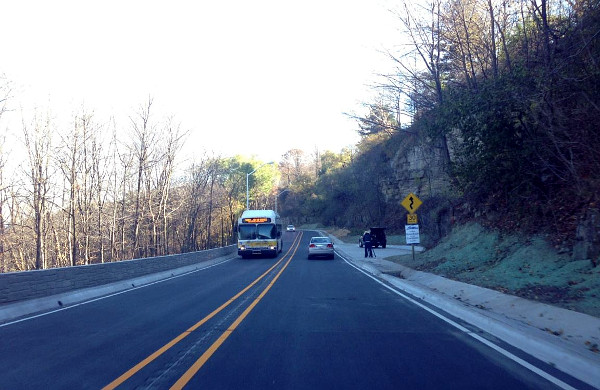 Beckett Drive rebuilt
Motorists will be happy the access is open again - it carries over 20,000 cars a day - but it's frustrating that the City didn't take the opportunity to add any infrastructure for pedestrians or cyclists.
With the extra space on the Escarpment side and a big gap between the double yellow centre median lines, there would have been enough room for an ubound bike lane, paired with bike sharrows on the downbound lane.
Not ideal, but a lot better than nothing.
I saw a cyclist today riding bravely in mixed traffic on the access. Over 99 percent of people are not comfortable riding in mixed traffic - and especially not going uphill on a mountain access.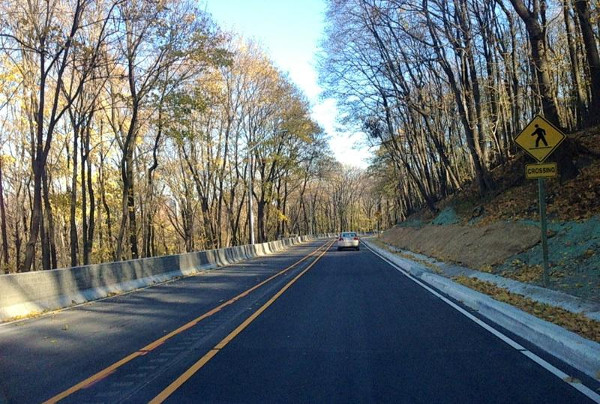 Beckett Drive
The new access is also missing any pedestrian amenities. There's a new pedestrian crossing sign and a new stairway where the Bruce Trail crosses the street, but no zebra crossing and certainly no pedestrian crossover (PXO) or pedestrian-activated crosswalk. This would have been a perfect spot for something like that.
Ditto for the stairs on the Sherman Cut and the deadly Escarpment Rail Trail crossing where Wentworth meets Charlton.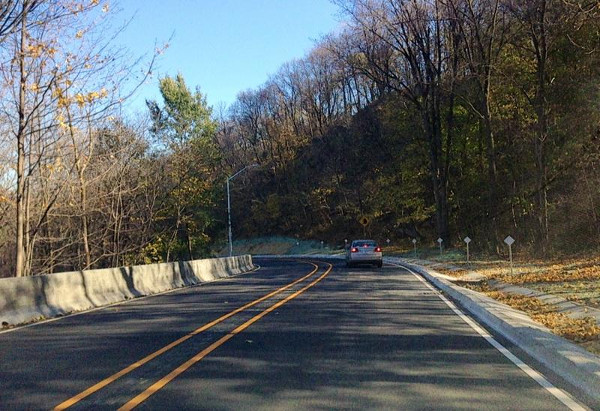 Beckett Drive
We need to get out of this freeway mentality in this city. Our Escarpment crossings are some of our most scenic and enjoyable recreation areas in Southern Ontario, with trails and stairs criss-crossing the escarpment.
Surely a pedestrian crossing signal on the Sherman Cut, Queen Street Hill and Wentworth Escarpment trail should be encouraged these days.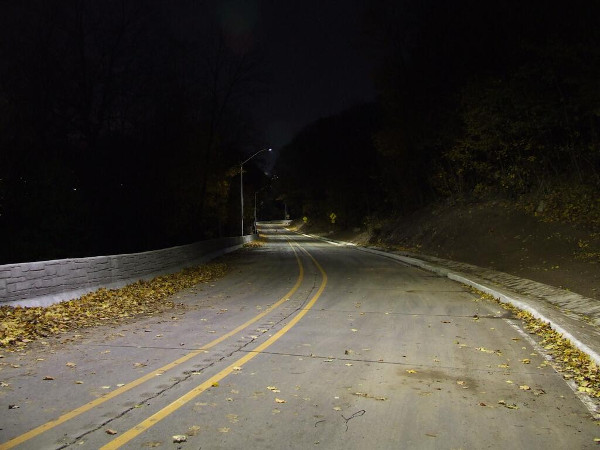 Beckett Drive at night
Post a Comment
You must be logged in to comment.