Fringe 2015 Review: She Said Saffron
By Marianne Daly
Published July 20, 2015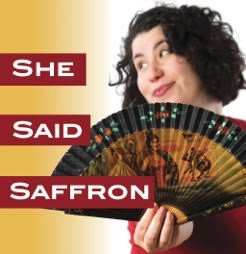 Playwright: Lisa Pijuan-Nomura
Cast: Lisa Pijuan-Nomura
Show Type: Comedy, Drama
Audience: General
Running Time: 60 minutes
Lisa Pijuan-Nomura's one-woman show is a lot like her mother's authentic Spanish Paella: the variety of well-chosen ingredients blend together to make a very satisfying treat for the senses.
She uses physical theatre, dance, music, storytelling and eating to reminisce about growing up in a family that was always looking out for her.
Lisa's real stories are like her grandmother's cooking. Her grandmother only made real food. Real food is made with love, and Lisa's stories come from the heart. They are honest, touching, relatable and very funny.
There were a few moments when I didn't understand, because Lisa was speaking in Spanish. Those moments added to the flavour of the experience, because it was pleasant to hear the musical sound of the Spanish language spoken with loving remembrance.
I enjoyed this show so much I saw it twice and highly recommend it.
Post a Comment
You must be logged in to comment.