Fringe 2017 Review: Gilda: A Tribute to the Beloved Comedienne Gilda Radner
By Rossen Lee
Published July 23, 2017
Playwright/Director/Cast: Helena K Cosentino
Show Type: Comedy, Drama
Audience: General
Running Time: 90 minutes
Venue: Mills Hardware
Gilda is a 90-minute retelling about the life of Gilda Radner, the famous comedienne and actress known for being one of the original cast members of Saturday Night Live. With dancing, singing, and skits, Consentino bounces between playing the iconic characters created by Radner, as well as adding in her own commentary about the comedienne's life.
Each section is separated by audio clips taken from interviews of her peers or husband, Gene Wilder. The show proceeds in a chronological order, following Radner's childhood, rise to fame on SNL, relationship with Gene Wilder, and struggle with cancer.
Right from the get-go we begin with a song from Consentino accompanied by a tap dance routine to set the mood. She then removes her red suspenders and black trousers combination to reveal a black bodysuit as she begins to speak about her personal affinity for Radner.
Consentino gushes about how she felt a connection to her idol because of their similarly curly brown hair. With each proceeding sketch, she transforms into an array of Radner's most famous characters from SNL including Judy Miller, Baba Wawa, and Roseanne Roseannadanna in recreations of the original routines.
However, Consentino's hair isn't the only thing she shares with Radner. She truly is a chameleon as she jumps from Miss Emily Litella's gingerly old voice, to belting out some serious notes as Rhonda Weiss singing "Goodbye Saccharin". Even off stage, she is noted in directing theatre performances for Conference of Birds, A Midsummer Night's Dream, and Les Miserables.
Looking beyond the technical skill, the similarities seem to stop there.
Creating an homage to such a megastar like Gilda Radner comes with the challenge of not only having to reenact scenes that are beloved by fans, but to perform with as much charm of the original. While Consentino accomplishes the former, she falls flat in bringing the glowing charisma Radner brought to the SNL stage.
Some sketches are more bearable than others. With the accompanying sound control really nailing each musical moment, it appears all the elements were present for greatness, but the execution itself was lacking. Even the moments where she speaks to the audience feel calculated and robotic. I have no doubts that Consentino deeply admires Radner, but I would appreciate it if she let go of her performing attitude during her commentary and focused more on the intimacy of the setting with the audience.
Granted, I was unfamiliar with Gilda Radner the actress. Coming into the show blind, her story did captivate me. The older members of the audience who had a much clearer memory of her were enthralled by the revival of the characters they knew and loved. By the time the show ended, I believe that Consentino succeeded in her attempt to bring Radner back to relevancy to new and younger audiences.
If you are already a fan of Gilda Radner and her comedy, then I suggest you go and see this touching tribute. To anyone else who may not be familiar with her, I would recommend you do your own research instead.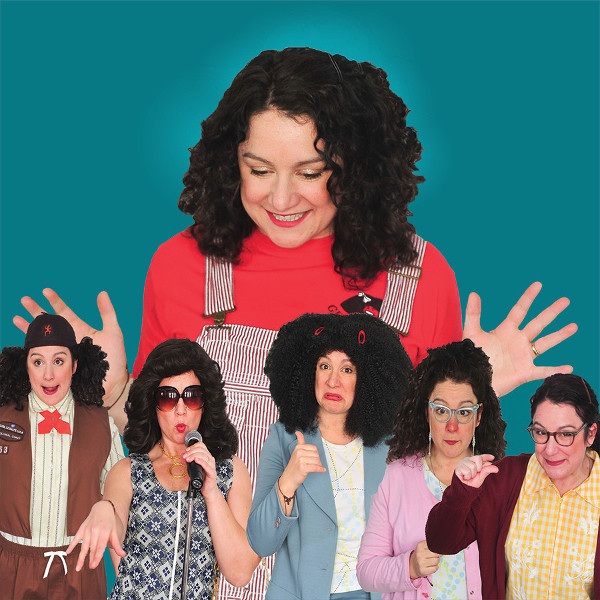 Gilda
Post a Comment
You must be logged in to comment.