Fringe 2017 Review: In This Corner: Eight Rounds With Tommy Douglas
By Rossen Lee
Published July 26, 2017
Playwright: Dan Ebbs
Director: Dianne Vanden Hoven
Cast: Dan Ebbs
Show Type: Drama
Audience: General
Running Time: 60 minutes
Venue: Mills Hardware
I wasn't really sure what I had gotten myself into when took my seat. Sure, I had passed Grade 10 history and already knew a thing or two about Tommy Douglas, but I was not yet convinced whether this 60-minute program would suit my interests.
Before the show began, I was greeted with a pleasant little song about healthcare sung by Margo Does, and eventually everyone else in the audience joined in as well. As the lights dimmed, Dan Ebbs took the stage for his one-man performance playing as Tommy Douglas. Donning a boxy brown suit and pair of spectacles, I couldn't help but smile and wonder if he had a Werther's Original hiding for me in one of those pockets.
The set itself is quite bleak. With nothing more than a rolling rack holding up a map of Canada painted onto a tarp, pair of red boxing gloves, and a metal water bottle. Don't be fooled though, Ebbs makes full use out every single inch of the stage and brings it to life.
He effortlessly shifts from playing as a friendly grandfather character, jokester, to a passionate speaker with enough bravado to give Atticus Finch a run for his money. Perhaps it's the voice, or maybe it's the smile, but Dan Ebbs exudes with charm - I'm convinced it's impossible to not like this guy.
The program itself features Tommy Douglas describing his life through politics and punches. I found his comparison of the struggles Douglas had faced from political oppositions to boxing to be an accessible way to grasp what others may find boring with Canadian history without becoming too overbearing on the program.
The show chronicles his early years as a pastor, through the rise of the CCF, and most notably, Douglas's involvement in spearheading the effort to bring universal healthcare to Canadians. Jokes are also spliced in throughout the script to lighten the mood, which separated the show from becoming another school lecture.
I had a chance to speak to Ebbs after the show and he revealed, "Probably for every one line in the script, we had to read at least ten pages of information to back it up." Indeed, their homework pays off. In This Corner has solid writing with something that appeals to everyone, and by the time the lights came up, everyone had a smile on their face.
Overall, I found this show to be a great experience. Those who may not know Tommy Douglas and his story are sure to have as much fun as the Canadian history buffs in the audience. Walking away from In This Corner, I learned a semester's worth of information, in addition to the proper technique on how to box some rowdy ragamuffins out of the ring.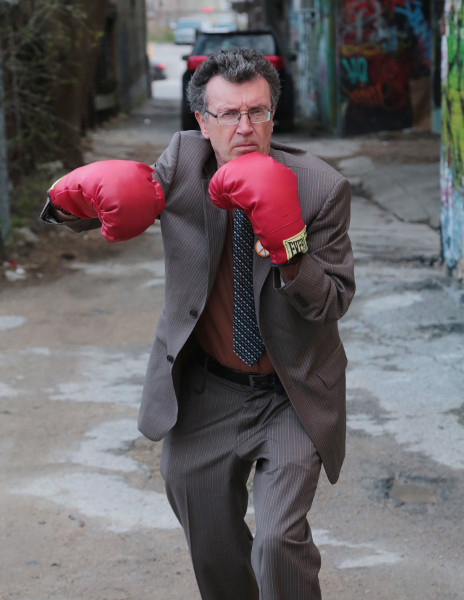 In This Corner
Post a Comment
You must be logged in to comment.