Fringe 2017 Review: El Diablo of the Cards 2.0
By Bryan Boodhoo
Published July 28, 2017
Creator/Director: Ewerton Martins
Cast: Ewerton Martins
Show Type: Comedy
Audience: Family, General
Running Time: 60 minutes
Venue: Theatre Aquarius Studio
Ewerton Martins makes his triumphant return to Hamilton Fringe after a year away. If you saw him last year, there's no reason to explain why you should see him again. If you haven't seen him yet, his show is like nothing else.
This show is very child-friendly, and in fact half the audience were children. If I have one piece of advice to the uninitiated: arrive early and sit close to the front. OK, well, that's really two pieces of advice.
Ewerton is a trained clown, a very well-trained clown, who studied at one of the toughest clown schools in the world, in Paris, France. His show mixes his clowning ability with many sleight-of-hand card tricks.
The show is hilarious. He controls the audience masterly, keeping them amused and shutting down skeptics with gentle care. My ribs were sore from all the laughter, and I learned a thing not two about crowd control. This was a crowd that was half children and at capacity.
The sleight-of-hand is seamless. I think if I saw his show a dozen more times I still wouldn't figure out his tricks.
The set is simple. There are no light cues. There is no music. Somehow, with just a deck of cards, El Diablo manages to bind a spell on the audience. This show is definitely one of the best shows for kids at the Fringe. Strike that: this show is one of the best shows at the Fringe period.
Will there be an El Diablo 3.0? We can only hope. In the meantime, he has a few more shows before - much like the cards in his tricks - he disappears.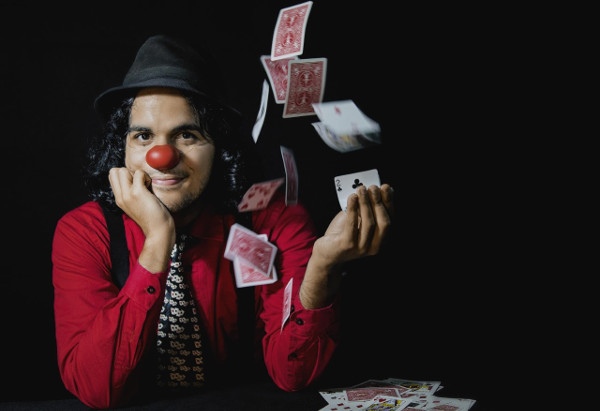 El Diablo of the Cards
Post a Comment
You must be logged in to comment.