Fringe 2017 Review: Seeds
By Bryan Boodhoo
Published July 31, 2017
Creator/Writer: Kit Simmons
Director: Kit Simmons
Cast: Alma Sarai and Kit Simmons
Show Type: Drama
Audience: General
Running Time: 15 minutes
Venue: Serve Ping Pong
Site-specific theatre is a special treat. It feels more like an adventure than your typical show. In Seeds, created by Kit Simmons, the audience starts its journey outside Serve, this year's fringe bar, and is lead by Alma Sarai to a secret location. Along the way, we're given garden tools and insert played by insert extols the virtues of urban gardening.
Once we reached the site, Kit walks down the street and the conflict ensues. Alma wants to save the world by creating an urban garden, but Kit wants to save up to build a home. I didn't see the goals as mutually exclusive, so at times the conflict seemed forced.
Kit's anger seemed unwarranted. Perhaps there was more back story that could have been given about the relationship so that the audience understood better why the couple was at a breaking point.
By setting the play in a secret location, the audience easily makes the connection between the rehearsed drama in front of them and the everyday drama unfolding around them, whether it's the multitude of characters that make up downtown Hamilton or even just the urban trees.
This piece is a love letter to downtown Hamilton, with all its warts and changes. It's good fun to participate in. At a scant fifteen minute run-time, I only wish it was a little longer, perhaps with multiple locations.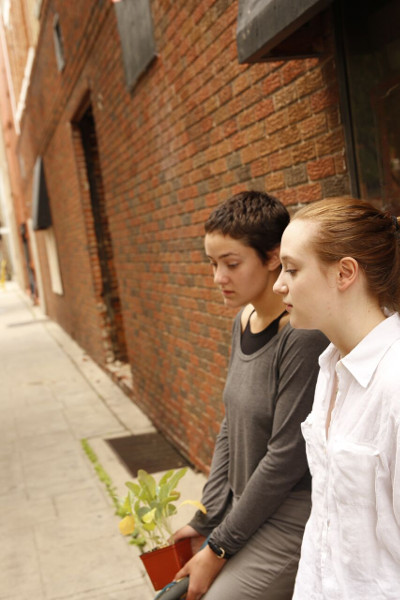 Seeds
Post a Comment
You must be logged in to comment.