House
By Marianne Daly
Published July 21, 2018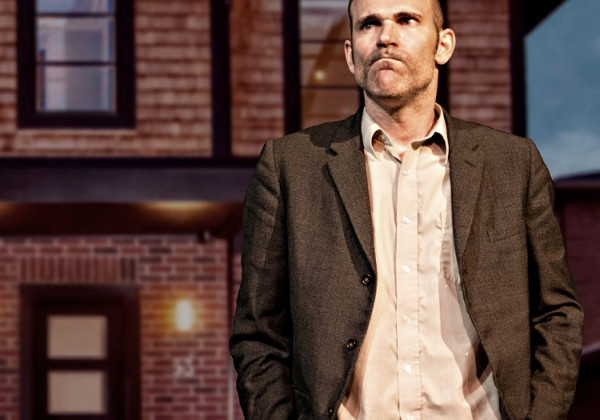 House
Playwright: Daniel MacIvor
Director: Kenneth Brown
Stage Manager Emeritus: Susan Paterson
Cast: Jon Paterson
Show Type: Comedy
Audience: Parental Guidance
Running Time: 60 minutes
I'm not sure if Jon Paterson was in character when he greeted the audience to tell them to sit closer to the front. That wasn't the only time he broke the fourth wall. From the minute he jumped up on the stage, his extremely perplexing and high-energy rant filled the space at Mills Hardware.
The show begins with the main character, Victor, sitting in his chair talking directly to the audience and doing mini-impersonations of people from his mental health support group. Some of the people in the group are struggling with addictions.
Victor has problems with anger, loneliness, and episodes of shifting suddenly into strange, disturbing and incredibly intense interpretations of reality. The audience is constantly left wondering which perspectives are true. There's no doubt that for Victor, every perspective is as real as the last one.
Paterson packs so much dialogue into every minute of the hour, there is never a dull second. He is thoroughly convincing as Victor.
It is surprising that Victor is such a compelling character, because he mocks and ridicules every person in his life. Or it could be that the audience never has time to process Victor's disturbing thoughts before he moves onto the next one. Simply put, Paterson's performance is mesmerizing.
A chair, a handheld light and a glass of water are the only things on the stage. There was effective use of lights, and Victor makes his own sound effects. I found it extremely uncomfortable when Victor suddenly left the stage when talking about how we in the audience, especially the reviewers, were answering the question: "what's wrong with you?"
In fact, I left the theatre with many questions unanswered. A friend in the audience summed up the experience best when she said, "I don't know what just happened, but I think I loved it."
Post a Comment
You must be logged in to comment.