Sheer Criminal Genius (TM) - A Cartoon
By Bryan Boodhoo
Published July 24, 2018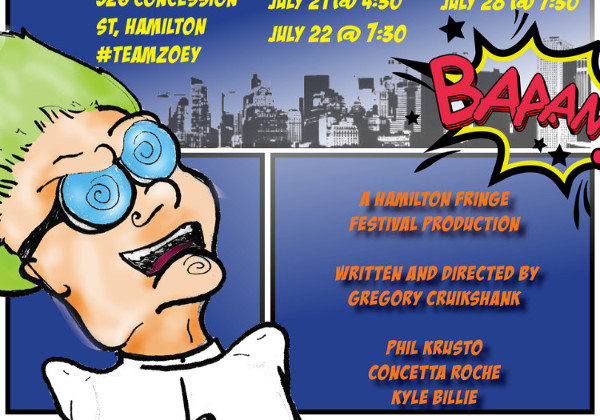 Sheer Criminal Genius (TM) - A Cartoon
Playwright/Director: Gregory Cruikshank
Stage Manager: David Rundle
Cast: Phil Krusto, Concetta Roche, Kyle Billie
Show Type: Theatre
Audience: Parental Guidance
Running Time: 50 minutes
Sheer Criminal Genius(TM) - A Cartoon is Gregory Cruikshank's homage to cartoons and comics, particularly golden age (1938-1950) and silver age (1951-1970) comics, and he knows a lot about comics. If you look at his blog, "temporally, spatially, and mentally unhinged: the blog of gregory cruikshank", it is filled with comic book reviews, among other posts.
The play begins with Jane Jocelyn (played by Concetta Roche) tied to a chair by Doctor Devious, Sheer Criminal Genius (TM) (played by Phil Krusto). We discover through the course of the play Doctor Devious, Sheer Criminal Genius (TM) plan for mass destruction...from the moon.
There were a lot of one-liners in the show, and the audience ate them up. References to Jack Kirby and other comic book greats had the audience in stitches, at least to those in the know. The playwright, however, probably went to the well too many times for a few of the jokes, like the use of "trademark" and "patent pending".
Roche and Krusto have a visible chemistry on stage. Roche in particular does very well in her role. Krusto is also enjoyable and funny to watch as a young, demented evil genius, much like you would see on a Saturday morning cartoon.
The costumes and the sound in the show are outstanding, as you would expect for a play based on the visual medium of comics. Also, as you would expect, the characters are fairly one-dimensional.
Doctor Devious, Sheer Criminal Genius (TM) seems incapable of introspection, and the direction of the show has him downstage centre for a large number of scenes. Despite this, Jane Jocelyn brings depth to the story, acknowledging that she and the rest of the characters in the play are stuck in a trope.
Kyle Billie rounds out the cast playing a number of characters, Anton, Space-Shark, Doctor Malevolence and Captain Heroic. Although Billie does not have that much stage time, his joy in playing all of these roles is abundantly clear to the audience. His role as Captain Heroic in particular leads to the funniest part of the show, the ending.
Of the shows in the Hamilton Fringe, there are not many that are kid-friendly and still have an appeal to adult audiences. Sheer Criminal Genius (TM) - A Cartoon is a joyful lark, especially for those who have yet to "grow up" from reading and enjoying comic books and cartoons.
Post a Comment
You must be logged in to comment.