Whose Opera is it Anyway?
By Marianne Daly
Published July 25, 2018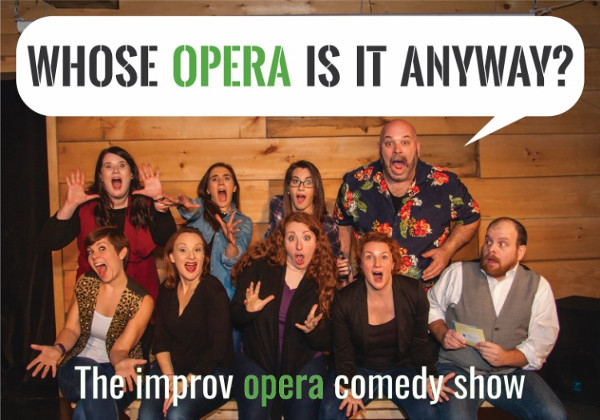 Whose Opera is it Anyway?
Cast: Amanda Cogan, Gregory Finney, Natasha Fransblow, Gillian Grossman, Rachel Krehm, Erin Stone and Michael York
Creator and Director: Alaina Viau
Producer: Craig Logue
Show Type: Comedy
Audience: Parental Guidance
Running Time: 60 minutes
The audience loved this show. The colourful, high-energy emcee takes the stage and asks how many people have seen an Improv show, then how many have seen an opera. Regardless of how they answered either question, everyone in the nearly full house audience at Mills Hardware seemed to love this show.
I was one of the audience members who has never been to an opera, but has seen a lot of Improv. The show was structured like a regular short-form Improv show. The emcee introduced each game and asked the audience for suggestions. These parts of the show, as well as parts of some scenes were spoken, not sung.
I very much appreciated the way the emcee connected with the audience and the way he gave a short explanation of those Improv games that were based on operatic forms. For example, there were scenes based on a lament like the countess sings in Figaro.
The emcee asked the audience for their pet peeves and the results were hilarious. It was so impressive watching each mini-lament, both lyrics and musical accompaniment being composed spontaneously, often with rhymes!
The cast members make a point of saying, "we are all professional singers first." One doesn't have to be an opera aficionado to appreciate these singers are all well trained and sound great.
As improvisers, the members of this troupe have wonderful chemistry and excellent Improv skills. It was also amazing how the sound tech quickly found just the right snippet of a relevant song to play through the quick transition between games.
As silly and spontaneous as Improv can be, this show is very polished and professional. There were more laughs in 60 minutes than I could count! If you enjoy singing or laughing, this show is a must see!
Post a Comment
You must be logged in to comment.