B!tch Island: The Musical
By Bryan Boodhoo
Published July 26, 2018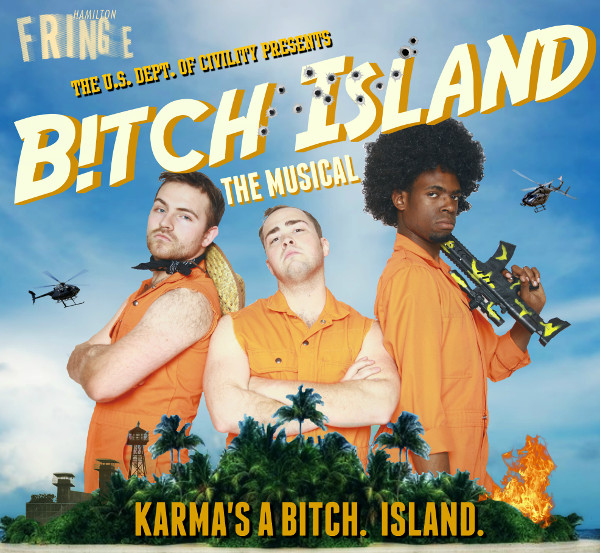 B!tch Island: The Musical
Directors: Lezlie Wade and Ray Hogg
Cast: Dave Comeau, Benjamin Doncom, Devin France, Thomas Putman, Jordan Shore, Greg Solomon, Benjamin Todd, A'mar Wharton-Matthew, Joseph Zita
Book: Matthew MacFadzean
Music and Lyrics: Bruce Dow
Costume Design: Mikayla Stranges
Production Manager & Stage Manager: Jen Cooper
Show Type: Musical, Theatre
Audience: Mature
Running Time: 90 minutes
Wow! GO SEE THIS SHOW! 'Nuff said, but I'll go on.
B!tch Island: The Musical is the latest offering from producer Eliza-Jane Scott, who is playing the lead in Come From Away that's currently onstage in Toronto, and from veteran writer/actor Matthew MacFadzean. There also about twenty other people connected to this production, who do everything from Set Design to Choreography.
This is a big show. And I had big expectations. Fortunately, they were met and exceeded. In fact, they were blown away.
B!tch Island tells the story of Penny (Thomas Putman), who is kidnapped and taken to an all-female prison island somewhere in the Pacific Ocean. She learns the ropes with the help of her fellow inmates, who are ruthlessly beaten by their Nazi captors, one of whom brandishes a most-seductive horse whip. Penny bonds with the others doing hard time, and even finds love amongst her fellow inmates. Plus, there's an all-girl shower scene!
How could Scott and MacFadzean bring such salacious scenes to life, scenes that unapologetically exploit women actors? In short, they don't exploit women actors (and who doesn't like a bit of salaciousness in their musical theatre?).
These all-female roles are played by an all-male cast. It's a quite strange and hilarious experience seeing a lesbian love scene played out by two men. It challenges gender identity and the societal confines we create.
Beyond the farce of the show and the very unique premise, there is a lot to love. The audience will be amazed at the set. Talk about stretch budgeting! There is no doubt that this show was done on a small budget, but it is utterly amazing what can be done with the few properties that are found on stage.
The direction and choreography are equally excellent. In particular, I loved the staging of the escape scene, which really shows the best of what theatrical staging can be.
And, of course, this show is a musical. How could it not be a musical? With only one person on piano, the music is very, very good. It clips along at a very nice pace and has a number of great songs. The music gets better as the show goes along.
The acting is superb, with standout performances by Thomas Putman as Penny and Dave Comeau as Warden Schpiel. I did see this show twice, and Comeau did seem a little off his game in the second performance I saw. There was, for example, no whip (which needs to come back - hint, hint to whomever "misplaced" it). Still, if that's Comeau at his worst, I'll buy a $12 ticket (plus a fringe backer button) for any show he's in.
I was also impressed by Bubbles (Benjamin Todd) and Rosie Perez (Joseph Zita).
If I had to give one piece of criticism (and perhaps I should just shut up now), it would be that the role of The Matron (Benjamin Doncom) wasn't quite as big as I had hoped, but perhaps this grounded figure helps the others reach maximum levity. Doncom had the best voice of the cast, and it got better as the run progressed.
Admittedly, seeing a group of men in orange prison jumpsuits burst into song while playing women on an imaginary prison island won't be for everyone, but there is a lot on offer for those open-minded enough to go along for the ride.
Love it or hate it, there's a good chance that you'll have bragging rights in ten years if you can say "I saw B!tch Island when it premiered at Hamilton Fringe", just mind your pronunciation of the !. This show is destined for a commercial production. It has legs, big hairy ones.
Lastly, a big, big thank you to Matthew MacFadzean for daring to wade into the gender discussion in the age of #metoo with sensitivity, humour and an open call for all genders to participate in the discussion.
Post a Comment
You must be logged in to comment.