AMAZE: A Comedy Magic Show
By Bryan Boodhoo
Published July 26, 2018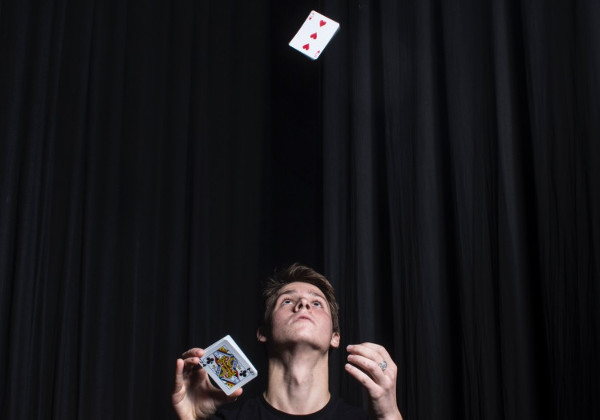 AMAZE: A Comedy Magic Show
Director: David A. Eliot
Cast: David A. Eliot
Show Type: Comedy
Audience: All Ages
Running Time: 60 minutes
The Hamilton Fringe festival has been truly fortunate to have top quality magic shows over the last few years. Think of Nicholas Wallace, who is scheduled to make his American television debut on Penn and Teller's: Fool Us, or more recently, Ewerton Martin, aka El Diablo of the Cards, who went on to perform in front of royalty.
David A. Elliot's "AMAZE: A Comedy Magic show" is not quite of that level ... yet, but it certainly carries on the tradition.
The show begins with Elliot appearing on stage with words projected onto a screen. The audience is invited to read the words aloud, as Elliot's goal is to finish his introduction without saying a word. Although there is a certain amount of hokeyness to this, it does get much of the audience revved up, and the payoff is worth it.
Most of Elliot's magic is card tricks. He even explains to audience key elements of the art of deception that he's practicing. Still, he pulls off the card tricks. It's quite impressive.
His trick with book memorization, although I've seen versions of it before, was equally impressive, not just for the sleight-of-hand but for the entertainment factor that he brought to the piece.
The piece de resistance is Elliot's bullet catch. For those who do not know, the bullet catch is a mostly death-defying trick where a magician catches a bullet. I say mostly, because a number of magicians have died doing this trick. Elliot has his own spin on this trick, but it is most spectacular. In fairness to Elliot, I won't tell you any more. It's best if you just go see it for yourself.
The production value is a bit on the low end for a venue as big as the Zoetic, but what do you expect for twelve bucks (plus the one-time price of a Fringe button)? Elliot does just fine with the bare-boned stage. Still, I think you will enjoy the show quite a lot more if you sit in the first five rows.
As for the Winston Churchill joke, all I can say is "cut it out." You'll get it when you see it.
David A. Elliot is a young performer whose star is on the rise. You'll want to catch him now, while you still can. Elliot is certainly capable of following in the footsteps of his fringe predecessors, particularly if he is able to expand his backstage crew (which would appear to currently be one person, himself), who could provide him with a guiding second set of eyes.
If you like magic shows - and, really, who doesn't like magic shows? - you will be entertained.
Post a Comment
You must be logged in to comment.