House
By Bryan Boodhoo
Published July 31, 2018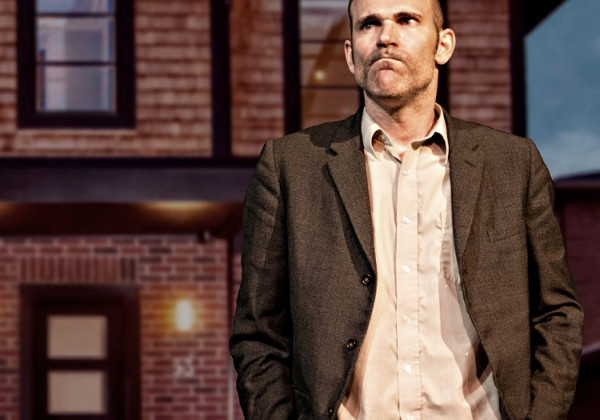 House
Playwright: Daniel MacIvor
Director: Kenneth Brown
Stage Manager Emeritus: Susan Paterson
Cast: Jon Paterson
Show Type: Comedy
Audience: Parental Guidance
Running Time: 60 minutes
The Hamilton Fringe Festival is now over, and yet I'm still compelled to write this final review. I'm writing this in part to thank Jon Paterson for his wonderful generosity during the Hamilton Fringe. Paterson offered complimentary tickets to anyone who wanted to see his show. In other words, payment was optional.
This brings up loads of debate about the "value" of theatre in a capitalist society, but without delving into those dangerous waters, I'm grateful that his gift got more Hamiltonians into a small venue to see quality theatre.
The play itself was a 1992 Chalmers award-winner (back when the Chalmers award existed). It has since become a contemporary Canadian classic. It's one of Daniel MacIvor's acclaimed one-person shows, many of which MacIvor performed.
The first time I read a MacIvor monologue was in grad school, long after MacIvor had stopped performing the script. I scratched my head, wondering if what I just read was a play, a short story or some kind of demented poetry. I knew I had missed something by not seeing this script performed. In fact, I knew that I had missed a lot.
Roll the clock forward to the late twenty-teens, and here comes Jon Paterson. He's made his way around the Fringe circuit with House to critical acclaim. There is 1995 movie version of House, where MacIvor acts, but I have yet to find a copy of it.
By all accounts, House is meant to be experienced live, because it needs an audience. The [film version](https://en.wikipedia.org/wiki/House_(1995_film)) acknowledges this undeniable truth by having actors play members of the audience.
Paterson gave us the live experience - in my case, twice.
As we entered, Paterson greeted the audience and encouraged us to sit as close as possible. The first time I watched the show, I picked the front row. (That row, along with the next twenty rows behind it, was completely packed the second time I saw it.)
Using only a single chair and a lamp on the floor, Paterson brings to life the character of Victor. He's antisocial. He's fidgety. He's scary, funny and aware that he's on stage, and for the moment, married to his cousin. Paterson fully makes House his own. He stops for the occasional siren going by, and is almost inseparable from Victor.
Paterson embodies the character so well that one could be forgiven for thinking the show is a real-life confessional. His performance is fully engaging and daring. Even watching Paterson swat away a fly is interesting.
The play raises great questions about who gets to tell their stories and why they're compelled to do so. It also reminds us of the obvious: plays need audiences. Actors feed off the energy in the room, and members of the audience are sometimes called upon to be participants in the story-telling.
And audiences need actors to convey the stories and expose the audience to other worldviews: imaginary worlds, the real world and places in-between. This cannot always be done by watching (and sometimes falling asleep to) images flickering on a screen. It certainly can't be done in the same way.
Unfortunately, live theatre also has an expiry date. Paterson left the Fringe early. He had an appointment at a New York City theatre for something he's involved in later this year. It's all a little mysterious, but I'll keep my eyes out for him. He's worth seeing again (obviously, as I did see this show twice).
As for House, Paterson told us on Saturday that it was his final performance at the festival, and perhaps of the piece altogether. I'm glad he brought it from page to stage. Perhaps someone else will do the same in the future, once again making it their own and reminding us that Canadian theatre can be courageous and great and worth preserving.
I hope you all had a wonderful Fringe. See you next year.
Post a Comment
You must be logged in to comment.