Diamonds on Plastic
By Brian Morton
Published July 24, 2019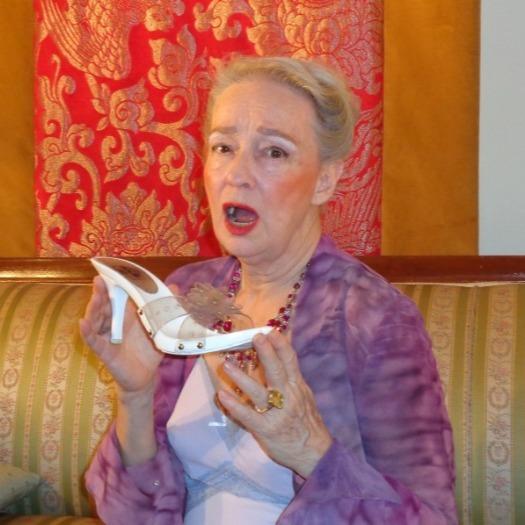 Purple Poet Productions (Toronto, ON)
Cast: Margaret Lamarre
Playwright/Director: Philip Cairns
Show Type: Comedy
Audience: Parental Guidance
Running Time: 14 minutes
WARNING: Mature Content
Diamonds on Plastic is one of those tiny little gems of a show that you discover if you see lots of plays in the Hamilton Fringe.
Originally performed by playwright Philip Cairns as a Tennessee Williams inspired drag character, this incarnation of the play features Margaret Lamarre as Doris, a faded Southern Belle now living in Ontario. She rejects the advances of her insensitive and heartless husband and instead finds solace in the arms of Betsy, her lesbian lover.
Simultaneously a celebration of discovering the essential nature of sexuality and of being true to one's own self, it is also a confessional piece about being addicted to shopping and owning even more shoes.
Phillip Cairn's play in performance lives and dies on the shoulders of actor Margaret Lamarre, and I can happily report that she delivers this play with gravitas, polish, style and commitment. I could see her channeling the energy and vocal inflections of "Amanda" in Tennessee William's play "The Glass Menagerie", and giving her performance an almost ethereal quality that worked on more than one layer.
The mini-series plays at Tourism Hamilton in the Lister Building on James Street North have not been getting the attention that they deserve, I feel. Hopefully, based upon this recommendation, a much larger audience will seek out and discover this very important short play for themselves.
Post a Comment
You must be logged in to comment.