The Lovejoy
By Jason Leach
Published December 06, 2006
Check out the newest Safeway grocery store being built in the heart of downtown Portland.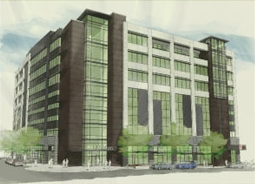 The Lovejoy: "a mixed-use, two-block project in the Pearl District with space to work, dwell and shop"
We need to see this sort of mixed-use, streetfront development in Hamilton in the upcoming years. We have far too many stand-alone buildings with huge streetfront parking lots in our urban neighbourhoods.
I've always wondered why we don't add residential and office space above our grocery stores - instant customers.
Can anyone say "Lister"?
Post a Comment
You must be logged in to comment.