HSR Unveils New Articulated Hybrid Bus
By Jason Leach
Published December 12, 2006
On Monday, December 11, the HSR unveiled the winning design for Hamilton's new articulated hybrid buses.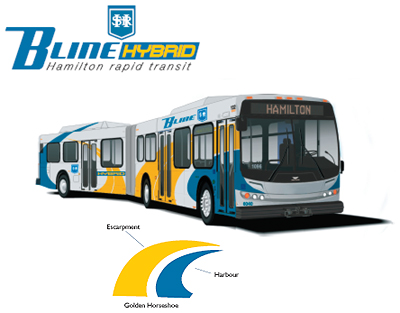 Winning Design for new HSR buses
Dave Kuruc of Mixed Media on James North won the design contest. 51 submissions were sent into the HSR for the design of these new buses, but clearly the transit committee made a great choice in selecting Kuruc's sharp design.
Let's hope they also use his B-Line Hybrid logo in helping to re-brand transit in Hamilton.
Councillor Brian McHattie and Don Hull of HSR both gave speeches and mentioned that this is only the first in a series of press releases that will bring good news regarding the HSR throughout 2007.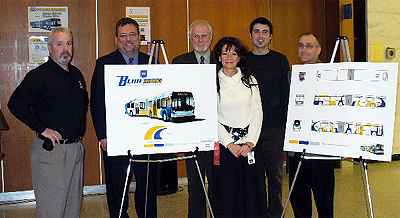 Dave Kuruc (2nd from right) is congratulated for his design
The purchase of seven of these articulated (bendy-bus) hybrids along with several diesel and hybrid 40 foot buses represent the largest single purchase in the history of the HSR.
Also, these 60-foot articulated buses will be the first in North America delivered by New Flyer with the restyled exterior and interior enhancements.
These new buses should hit the streets in February 2007, and I'm sure will be a big hit with the public. Congrats to Dave and to the HSR.
Post a Comment
You must be logged in to comment.