The Michael Lee Chin Crystal Hurts My Brain
By Ryan McGreal
Published August 16, 2007
We went to the beloved Royal Ontario Museum today. In addition to its many standard attractions, we had a chance to see the new entrance and addition, called the Michael Lee Chin Crystal.
It's as if the original building stepped into a matter transportation pod without realizing a space ship had accompanied it, and they came out the other pod fused together into a monstrous hybrid.
While the original neoclassical building evokes a fitting sense of awe for the pressing weight of natural and human history, the new entrance, named for its prime benefactor and designed by uber-architect Daniel Libeskind, seems instead to say, "Hey, look at me - I'm a megalomaniac!"
Where to begin with this atrocity?
First, aside from the garish angles and points, it doesn't actually resemble crystal or even glass. The aluminum cladding overpowers whatever vaguely crystalline sense the structure might otherwise possess.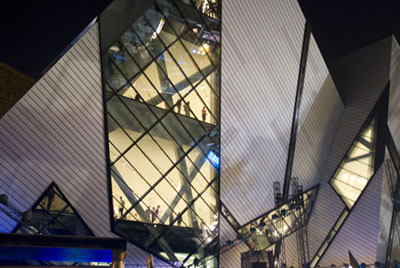 The Michael Lee Chin Crystal at night (Image Credit: Royal Ontario Museum)
Brand new, it already looks tawdry at anything closer than helicoptor's-eye-view. I suspect it's going to age and weather like a heroin addict.
Worse, the facade looms out of the pavement at an oppressive angle and actually hangs over anyone who approaches the front entrance, producing the unpleasant sensation that it's about to topple.
Is it too much to ask that urban architecture - even the iconic variety - be designed in such a way as to make pedestrians feel comfortable? I know art is supposed to challenge the viewer, but there's a difference between 'emotionally harrowing' and 'imminent catastrophe'.
Speaking of icons, the Crystal doesn't have any. Instead, it is an icon in itself, a giant, freestanding ornament that could just as easily fit in the middle of a desert - or a huge surface parking lot.
In other words, it makes no attempt whatsoever to interact with or otherwise accommodate its surroundings. It juts out of the original ROM like a rare, geometric tumour or a science experiment gone horribly awry.
With such a deliberately awkward design, it shouldn't come as a surprise that the interior space is similarly difficult to use sensibly. The weird angles and abrupt points result in a lot of wasted spaces and clumsy shapes that fight against functional usage.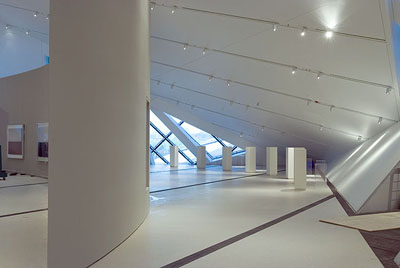 The Crystal interior, presumably intended to be 'edgy' (Image Credit: Archiseek)
A cynical, meanspirited part of me wonders whether Libeskind and his super-starchitect peers aren't just out to see what they can get away with - whether they actually take their own designs seriously or are just having a multi-million dollar lark at the public's expense.
Then again, my twelve-year-old son absolutely loved it, so maybe I'm just an old crank. Still, I can't get images of Jeff Goldblum out of my head.
Be afraid. Be very afraid.
(with regards to Jim Kunstler's Eyesore of the Month)
Post a Comment
You must be logged in to comment.