Mississauga Considers Drive-Thru Restrictions
By Ryan McGreal
Published January 17, 2008
In Hamilton, we love our drive-thrus. We ignore neighbourhood development plans to shoehorn them in and, in true ostrich fashion, we refuse even to study what might be involved in banning or restricting their use.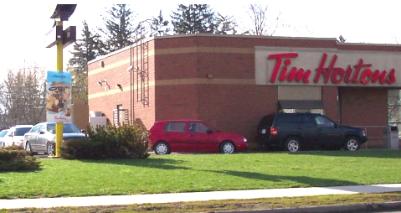 Vehicles idle at a drive-thru (RTH File Photo)
Once again, we're on the wrong side of history. While Hamilton sits on its hands, Mississauga City Council is following Toronto's lead and sending a proposal to restrict the spread of drive-thrus to its environment committee to review.
Granted, the proposal is pretty watery: more a set of site-by-site design guidelines than an actual by-law. At the same time, Mississauga has yet to pass an anti-idling by-law, though the environment committee is also pushing for it.
Still, when even car-crazy Mississauga is talking about limiting drive-thrus, it's all the more bizarre that such talk is strictly off the table in a city that likes to congratulate itself for being more environmentally progressive.
Post a Comment
You must be logged in to comment.