LRT Coffee Shop!
By Ryan McGreal
Published April 13, 2008
Graeme MacKay, the Spectator's editorial cartoonist, may be onto something in his Saturday, April 12 offering: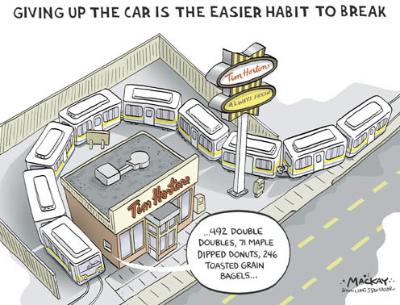 "Giving up the car is the easier habit to break"
After I finished laughing, I realized that this could actually be an excellent idea.
Imagine strolling onto a light rail car, sidling to a coffee shop in the rear and getting a cuppa to enjoy on the way to work!
I mean, why not? It's a smooth ride, the vehicles have several entrances and exits so it's easy to move around and the vehicle size is limited only by the width of a city block.
The city could rent out the space and increase its operating revenue, while at the same time improving the quality of experience for the passengers.
As we at RTH have written time and again, the real attraction of light rail over buses is that it offers a more comfortable transit experience and treats its passengers with respect and value.
As much as I enjoy riding the bus, it still feels rather like a social service for people who can't afford a better alternative. As a result, it will always be limited in how many people it can draw out of their cars.
Light rail doesn't feel like a sacrifice. It feels like a choice.
And that makes all the difference.
Post a Comment
You must be logged in to comment.