Bringing Life Back to the Gore
Hamilton is blessed to have our city centre, Gore Park, largely intact today just as it was over 150 years ago.
By Jason Leach
Published May 16, 2005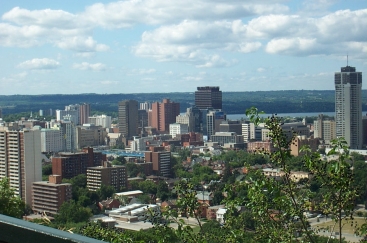 Downtown Hamilton
Many cities have no identifiable "heart" or town centre. New developments in the 1960s and '70s replaced many historic city centres with bland office towers that add 15 degrees to the chill of a winter day by acting as wind tunnels.
Hamilton is blessed to have our city centre, Gore Park, largely intact today just as it was over 150 years ago.
Has their been pressure over the years to develop the site? Sure. Folks older than me will remember the Gore Park Massacre in the 1980s, recommended, no less, by a Toronto firm. (I guess folks from T.O. think inner-city green space is simply land waiting to be built on.)
There have been proposals to build highrise buildings on the site and, in true Hamilton fashion, even a proposal to pave over the park with a parking lot. (I still think that Joni Mitchell had Hamilton in mind.)
Lots of Opportunity
We're a great city for building downtown parking lots. On the positive side, those same lots hold our future. Thankfully, we missed the highrise craze of the 1970s and even though empty lots do nothing for the core, at least we can now plan and prepare for some street-oriented mixed use developments in the future.
Our city reminds me of Montreal with the mountain lookouts and harbour in the distance with a massive bridge spanning the water. Let's plan properly so our empty lots will see construction of beautiful buildings with wonderful streetfronts to help animate and bring life and people back to our streets, just like Montreal.


Montreal at night: a model for Hamilton to follow?
Speaking of street-oriented development, let's take a quick look at the south side of King Street at Gore Park. This is Hamilton's piece of Europe. Our place for people, festivals, art, music, patios and family fun.
Well, at least it could be.
In recent years there, a painfully slow but sure revitalization has begun to take place on this street. Mahal Indian Restaurant has applied to the city for a summertime patio much like the one next door at Infusions Coffee House.
Street-front patios exist on the next block at Chesters and Fingers. I hope someone will come along and open another restaurant in the old Zig Zag Zebra space. It was a fabulous place with another patio on King.
So, what are all these buses doing sitting out front idling away before they roar back up the mountain? In fact, why do we allow any vehicle traffic at all on this stretch of King?
Car-Free Downtown
Hamilton has only one pedestrian street downtown and it's a whopping one block stretch of George St. in Hess Village. The south leg of King should be next - and soon.
Close your eyes and imagine with me for a moment: no more cars or buses on the south side of King. We can build a new bus terminal on McNab Street with a few commercial spaces at street level to animate the area.
A pedestrian-only street should be designated by the city for future development on the parking lot next to the Pigott building. This pedestrian street would be a continuation of the south side of King westerly across James and right over to the new terminal at McNab.
Whatever new building is built on the parking lot should have streetfront retail space on James and fronting on the new pedestrian street.
Suddenly a typical, boring downtown becomes a substantial pedestrian street with an animated commercial streetscape, the entire way from John to McNab.
Now think back to my earlier statement: people, festivals, art, music, patios and family fun. This could be Hamilton's downtown. King Street East from James to Ferguson would be ideal to close down on weekends.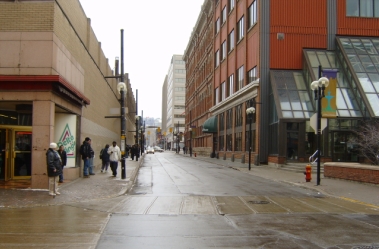 Imagine this street filled with pedestrians
King William is begging to be made into a pedestrian street, or at the very least close to automobiles on weekends along with Hughson, another street with a very nice pedestrian feel to it.
A Proper Farmers' Market
Maybe the Farmers' Market could move to the huge lot next to the Pigott building, or the main entrance area of Jackson Square. Knock down the corner of the mall right back to the base of the Stelco Tower to the west and old Bank of Montreal pavilion to the north, and suddenly a sizeable public space has been created.
The market could build a new facility inside with an open, airy feel and removable walls to open out onto the new public square in nice weather. Vendors could come outside in the summer and bring back a piece of Hamilton's history.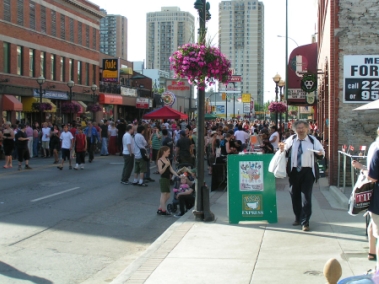 Vibrant street scene in downtown Winnipeg
The historic buildings along King would surely get bought and renovated into lofts and condos on the upper floors, as a current proposal for the Chesters building is calling for.
The fact that three establishments have streetfront patios and now another is applying for one should be a signal to the city that despite the shunting noise of buses, people want to be here, downtown.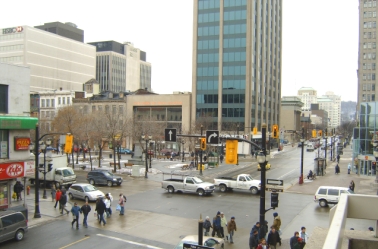 King and James already has great potential
Let's show our core businesses that we care about them and are willing to invest in their surroundings. Let's create an atmosphere of fun and excitement all year round at Gore Park.
Our suburban residents would finally drag themselves downtown once in a while instead of having to go to Toronto for a lively, urban experience.
Portland Saturday Market
Ever heard of Portland's Saturday Market? very Saturday and Sunday from March to December, vendors line up and sell everything from ethnic food to arts and crafts. Musicians and buskers entertain the crowds of young and old.
For several years this market has become the place to be in Portland. It's great for local businesses, great for the downtown core and great for the city. Again, we're talking about image building - it seems to be a common theme in Hamilton lately.
The Saturday Market's success has now led to a comprehensive planning process in which an official market district is being developed in Portland. It's modeled after European markets, known around the world as some of the most lively and vibrant places anywhere.
Portland's new market district is sure to become such a spot in North America.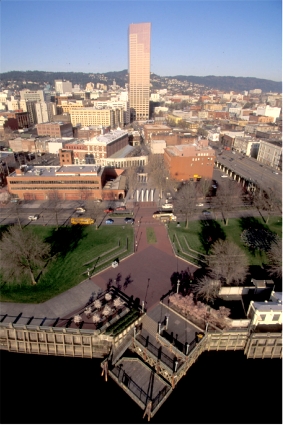 Portland Public Market site
Hamilton once had Canada's best Farmers Market. Now it's relegated to an underground parking garage. Amazingly, the vendors don't seem to mind, since they have been so vocal in recent years against any suggestions to move to a better location.
This is so typical of Hamilton. We need to loosen up and learn how to have fun again. Hanging out at Sprawl-Mart is not fun.
Moving Back
Downtown Hamilton, for all it's warts, enjoys a strong market for new residential units. People are sick of suburbs and living in their cars for three hours a day, and have begun down 2, 3 and $400,000 to live in downtown lofts and condos.
That's with a street design favouring high-speed cars and trucks at the expense of pedestrians. Imagine how popular the city would be with friendlier pedestrian space.
Gore Park is our city's heart, and signs are pointing to a rebirth of this heart. Let's urge our city Councillors and mayor to move forward with the pedestrianizing of King Street.
Making the south leg of King a pedestrian-only street was one of Mayor DiIanni's top ten things to do in 2005. Let's hold him to it and, in the process, rediscover how fun life can be in the heart of the city.
Post a Comment
You must be logged in to comment.