The Late Shift: Worth a Second Look
With the hullabaloo about the late night NBC Leno/Conan shuffle there is a feeling of déjà vu. Late night TV fans will probably remember this whole thing happened before in the early 1990s when Johnny Carson stepped down from the "The Tonight Show".
By Albert DeSantis
Published February 20, 2010
With the hullabaloo about the late night NBC Leno/Conan shuffle (Can I get a "what! what!" from my fellow late night chat show addicts in the hizzouse?) there is a feeling of déjà vu. Late night TV fans will probably remember this whole thing happened before in the early 1990s when Johnny Carson stepped down from the "The Tonight Show".
New York Times columnist Bill Carter documented this changeover in his book The Late Shift, which was turned into an HBO movie in 1996. Bit of a problem with the movie adaptation of Late Shift is that you can never quite tell whether it's supposed to be a comedy or a backstabbing boardroom drama - maybe it's meant to be both. But as an easy to watch historical recreation for TV junkies, it's a pretty interesting stuff.
You know the story. In the early '90s, David Letterman (John Michael Higgins, who would later go on to play the best lawyer in the world, Wayne Jarvis, on "Arrested Development") is the host of the "Late Show with David Letterman" on NBC. However, stuck in the 12:30 AM timeslot, he wants to move up in the world.
The frequent guest host of "The Tonight Show With Johnny Carson" is Jay Leno (Daniel Roebuck) and with the help of his tenacious, pit-bull agent, Helen Kushnick (Kathy Bates) he secures a deal to host "Tonight Show" if Carson leaves. When Carson (Rich Little, the man of a 1,000 voices) announces his retirement, Leno is set - but Letterman wants the gig or he wants out, and Letterman grabs a super-agent, Mike Ovitz (Treat Williams) to help.
With NBC execs Warren Littlefield (Bob Balaban) and John Agoglia (Reni Santoni) sweating the details, the count ticks down to Letterman leaving the network but at the 11th hour they try a hail-mary play that may keep both Letterman and Leno at NBC. We all know how that one turned out.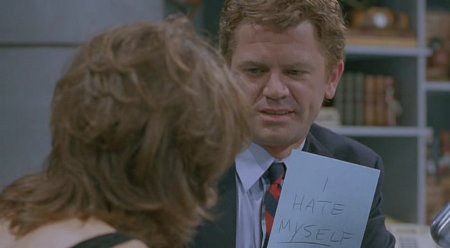 Wayne-Jarvis-to-be Higgins does a great Dave with the humour and hatred you'd expect.
It's kind of funny that Bob Balaban is playing NBC president Warren Littlefield, since years before he was a fictional head of NBC named Russell Dalrymple who bought a pilot episode off Jerry and George in "Sinefeld" and he's basically playing the same guy here.
Kathy Bates is always good for a fiery character and her Helen is a manipulative agent who f-bombs her way through every sentence as she becomes mad with power thinking that she can boss anyone around, from higher-up NBC execs to Carson to Leno himself.
Projecting a kind of zen-calm, Williams' Ovitz is a mythical Hollywood power broker who finds loopholes in contracts to get Letterman out of NBC. The Hollywood agent character is usually very Ari Gold-like, all screaming and scheming, but Ovitz is the exact opposite.
But the best actor has to be Higgins as Letterman, who does an uncanny impression yet still lets a real human being show through. One of the hardest roles is a dramatic impersonation of a living person, especially someone we see on TV every night, but Higgins continually nails it, chewing on a cigar while he ping-pongs between self-loathing and fits of giddiness.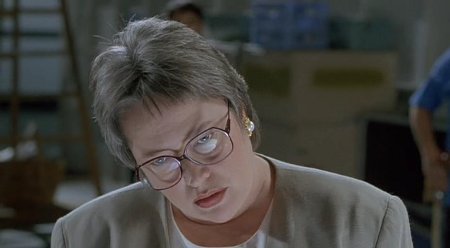 No matter who she's playing, you never want to piss off Kathy Bates. It's just a rule.
Daniel Roebuck plays Leno. Robuck has a small, recurring role as the petulant Dr. Artz on "Lost" and he's very funny as that. He's kind of funny here (as funny as Jay Leno can be) but he's mostly playing Leno as a broad caricature from a Saturday Night Live skit, with a voice pitched slightly too high.
Contrasted with Higgins, who basically inhabits the role of Letterman, and Roebuck comes off as a second banana. Maybe that's the point, because the film and the book are clearly more slanted towards Letterman. As Leno portrays himself in the media and in this film, he's concerned more about his show than the actual politics of it, with Helen at one point barking at him to "Go tell your f---ing jokes!"
Still, complaints aside, the few moments when Roebuck shows Leno's frustration and repressed anger actually helps flesh out a very closed-off commedian.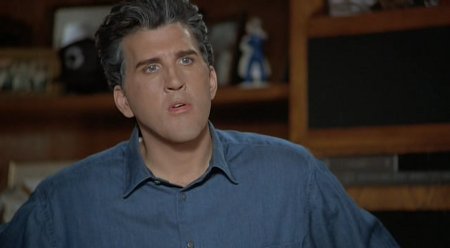 Before he was blown up on Lost, Roebuck did a decent Leno, even behind awkward makeup.
The climax of the film occurs when the General Electric shareholders (the guys who own NBC) in a Hawaii conference call to L.A. to discuss what to do with Leno, who is secretly listening in an adjoining room. (If you watched Letterman recently, he made cracks about this saying that "Jay's in the closet!") It's neat because when the head of General Electric voices his opinion that they should stick with Jay, the audience of suits become hushed as if the GE head was God appearing to hand down judgment.
Jay late reveals he knows what's going on behind the scenes and Roebuck plays it with unrestrained glee, like it's the first time Leno stood up for himself.
One of the more fascinating details is when NBC offers Letterman the "Tonight Show" in a few years, which is the same strategy that NBC did with O'Brien to keep him around. Letterman is obsessed with the prestige of getting the "Tonight Show," but as a friend tells him sadly, "They are not offering you the Johnny Carson 'Tonight Show'. It's gone forever. They're offering you damaged goods. They're offering you the Jay Leno show...it's leftovers, it's shoddy."
This is the heart of the movie: a host of "Tonight" meant something, but after Johnny left the glamour did too.
The Late Shift may be lacking in visual pizzazz but is a decent bit of inside-baseball if you can find a copy. Dig out the book for a more in-depth look into the whole situation (including tidbits about the genesis of Conan O'Brien's stint) but the movie is a good substitute.
Post a Comment
You must be logged in to comment.