Downtown Update: Quick Hits
Downtown continues to thrive and develop with new investments and increased amenities. Here are a few quick hits just opening up.
By Jason Leach
Published January 26, 2011
Detour Coffee Roasters of Dundas has now opened a streetfront cafe on King Street in downtown Dundas. It is a beautiful space to enjoy their excellent coffee menu, along with various baked treats.

Detour Coffee Roasters Cafe (Image Credit: Detour Coffee Roasters)
De la Terre Bakery, based in Vineland, is opening next week in the newly renovated Hamilton Farmers' Market. It will feature organic artisan breads and baked goods.
Hero Mobile Cafe will now have a non-mobile location at the Farmers' Market as well, featuring Detour Coffee Roasters' Punch Buggy Espresso. As an added bonus, they will be selling baked goods from Cake and Loaf Bakery, which will soon be opening on Dundurn South.
If you love cupcakes, you now have two new establishments to check out: Atomic Cupcakes, which will be opening in the Farmers' Market next week, and Sweetness Bakery, which is already open on Locke South.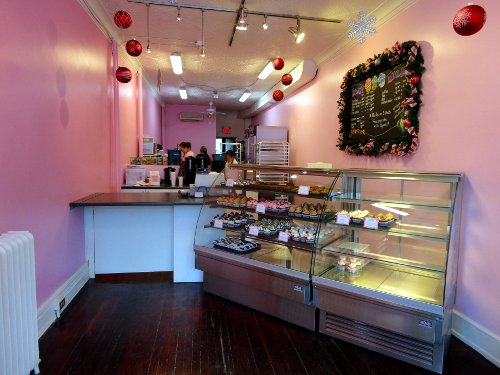 Sweetness Bakery (RTH file photo)
Speaking of the Farmers' Market, grand opening celebrations will be taking place on February 11 and 12 in conjunction with the monthly James North Art Crawl.
In the ever-burgeoning Asian category, Banh Mi Excellence is opening soon in the James North neighbourhood at James and Wilson, next to August 8. Vietnamese sandwiches appear to be the specialty.
Mr Dumpling will be opening at King and Dundurn in the Fortinos plaza. A Chinese restaurant that has won 'Eat Smart' awards? A definite must-see.
Kasa Sushi has opened two locations in Hamilton. One is downtown on Jarvis, just north of King. The second is on Main West in the ground floor of the student high-rise condos just west of McMaster.
Finally, another art gallery is opening on James North: The Focus Gallery looks to be a great space in the James and Rebecca area.
Post a Comment
You must be logged in to comment.