Gangsters and Rolly Rockets
Rolly's is a great place. It's local, independent, clean, and unpretentious. The prices are fair, the beer is cold, the service is good, and the food is great.
By Kevin Somers
Published February 13, 2011
Every time there's an Ultimate Fighting Championship (UFC) event on pay per view, some neighbours and I walk to Rolly Rocket's BBQ on King Street at Locke to watch cage fights, drink beer, and eat well. Heaven likely pales in comparison.
Saturday, January 2, 2011 was no exception. The wildly popular George St. Pierre (GSP! GSP! GSP!) from Montreal, was on the main card, so Rolly's was packed.
GSP didn't disappoint, as he artfully, artistically, beautifully, brilliantly, craftily, creatively, decisively, definitively, eloquently, emphatically, fantastically, fascinatingly, gamely, graciously, hellishly, heroically, impressively, inexorably, jarringly, judiciously, keenly, knowledgeably, legally, literally, meticulously, murderously, nicely, neatly, officiously, ominously, perfectly, precisely, quickly, quietly, rightfully, righteously, slickly, smoothly, tactfully, tactically, undisputedly, unequivocally, vehemently, virtuously, wilfully, wonderfully, exactingly, excitingly, youthfully, yeomanly, zealously, Zenistly handed Josh Koscheck his hat, battered his organs, and rearranged his face.
The brash, cocky Koscheck, known for unrelenting trash-talk, finally shut up.
It should have been a perfect night, but the holidays were winding down and I was feeling old, bloated, soft, and useless. Watching GSP, the lean, mean, fighting machine, prowl, pounce, pound, and preen across the big flat screen made me feel obscene.
I was thinking it was time for changes and, it turns out, I wasn't alone.
Gangsters
On our walk home, the lads and I decided to form a street gang. We are all married, responsible, quiet, middle-aged fathers, who work a lot and rarely get out. Our gang has no identifying markings, tattoos, or costumes. We're non-violent, non-threatening, law-abiding, God-and-wife-fearing nerds, who rarely congregate. Our gang doesn't have a name. No one knows about our gang, except us.
Regardless, it's strangely empowering being in a gang, pathetic or otherwise.
Suddenly, I'm a straight up G.
The night of the GSP fight, four of us gangsters ended up in Jim "The Character" Mckeriker's basement talking about weight gain and loss. We all wanted to be gang-member, cage-fighter fit. Or, at least, reduce pounds, moobs, and love handles.
A scale was pulled out and soon we were stepping on and setting parameters for a weight-loss-wager. The details were recorded on a stir stick and $100 was put in a pot; $25 each.
It was agreed upon, we had one month to shed pounds, with the biggest loser being the winner and getting all the dough.
What a month. As Jim said, "We're all competitive and cheap." Everyone reduced intake and increased exertion, (except Paul, who tragically hurt his leg the day after the wager).
Saturday, February 5, there was another UFC event on pay per view. This one featured Anderson Silva of Brazil, who, along with GSP, is considered to be the best pound-for-pound fighter in the world, and it promised to be good.
Prior to our ritualistic walk to Rolly Rocket's, five gangsters - four contestants and a judge - reconvened at Jim's house for the second weigh in. Jim's daughters made the best trophy ever! My girls came with a sign that said, "Go, Kevin" (Minus the comma, which I have to teach them about. Sigh.)
With great delight and fanfare we stepped back onto the scale. Ed lost 16 lbs, Jim 12, me 11, and Paul lost 5.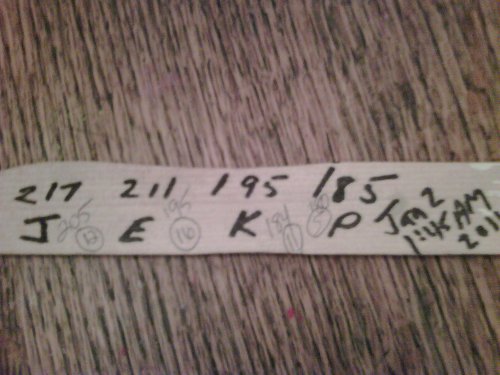 Final score
We were happy and vowed to keep going, concocting another wager to keep motivation red lining.
It's good to be competitive and cheap, once in a while.
The next UFC event is in Toronto; the first one in Ontario. For a long time, Dalton McGuinty refused to allow the UFC. He claimed the sport was too barbaric for our good taste.
Evidently, he was wrong; 55 000 tickets sold in less than a day, an attendance record. Millions and millions of people around the world will watch it on expensive Pay-per-view. Online scalpers are said to be charging $32 000 for cage-side seats. I estimate The UFC is bigger than the Pan Am Games and The Tiger Cats put together times twenty-zillion.
If I got free tickets to the Toronto event, however, I wouldn't go. I'd rather walk to Rolly Rocket's with my lighter, fitter gang members.
Rolly Rockets
Rolly's is a great place. It's local, independent, clean, and unpretentious. The prices are fair, the beer is cold, the service is good, and the food is great.
Prior to its current incarnation, Rolly Rocket's was J. P. Grumpies (or something like that). I was in it once and found it dirty, dark, dank, and depressing, so never went again. The place was closed for a while, which is an awful sight, so when someone, obviously independent, was having a go, I was pleased and impressed.
I sat down with Roland (Rolly) Dube, who, along with his wife, Teela, is the force behind the business.
Their previous careers had Roland and Teela traveling extensively in the US, so they quickly learned to avoid predictable chains by asking cab drivers, "Where would you go to eat?'"
Dube continued, "And they'd bring us to these great barbeque houses. It was amazing. We were constantly asking, 'Why isn't there anything like this in Canada?'"
For seven years, they plotted and prepared. "We watched 'Restaurant Make-over' all the time," he said.
After writing a long, extensive business plan, they felt confident. Dube said, "If you do a business plan thoroughly, you often decide to walk away."
They knew what they wanted to achieve and set out to make it happen. Roland and Teela don't take short cuts. The first thing they did was, "Scrub this place for days." Under the grime they discovered a beautiful Terrazzo Floor, which, on its own, is worth a visit. Dube works "100 - 120 hours" a week.
Their meat is never frozen, it's dry rubbed, smoked, slow cooked, and then sauced. "That's something I learned down south," he said, "put the sauce on at the end."
I don't eat meat, but the other gang members they tell me the ribs are delicious. For $9.99, you get a half-rack and four sides; baked beans, corn bread, cole slaw and fries, regular or sweet potato. "I think it's the best meal deal in the city," Dube said.
There are a lot of vegetarian options. "We didn't see that in the south," he said with a laugh, "but we knew it would be a good idea in West Hamilton." I always leave Rolly's somewhere between gratefully satiated and gluttonously stuffed.
A welcome addition to the neighbourhood, there's a lot to like about Rolly Rocket's. Be good to yourself and support a local business:
Post a Comment
You must be logged in to comment.