Bratina, Murray Cool on Light Rail
On the Bill Kelly Show, Mayor Bob Bratina and City Manager Chris Murry expressed deep skepticism about Hamilton's light rail transit plan.
By Ryan McGreal
Published July 11, 2011
Last week, Hamilton Mayor Bob Bratina said he was "not hearing any kind of clamour from the public" in support of LRT. In response, a number of Hamiltonians who support LRT wrote letters to remind Council why they unanimously voted in October 2008 to instruct staff to work with Metrolinx on planning and implementing LRT along the east-west B-Line corridor.
Today, Bratina went onto the Bill Kelly Show on 900 CHML with City Manager Chris Murray and revised his argument to claim he is not hearing a "clamour" for LRT from Hamilton's developers. Instead, he says the development community is interested in all-day GO train service.
Saying GO service "has been on every development person's radar for several years," Bratina argued that the condo development at 50 Murray Street went ahead based on proximity to the proposed James Street GO station. "And we haven't heard that with the LRT so far."
Bratina also drew a contrast with developer interest in the Red Hill Valley Parkway when it was being proposed and when it was built:
You know, it's interesting when you compare the Red Hill... Unquestionably, the development industry came forward and actually contributed $85 million, I think in development charges, and were very outspoken in terms of their interest in having that road completed. And we haven't heard the same kind of, I'll use the word clamour, from the development industry in terms of the LRT. So that's a piece of the puzzle that still has to be evaluated with LRT.
After Kelly questioned whether there is any opportunity for infill development along the B-Line corridor, Bratina responded, "Well, I have the same concerns, Bill. Where would the parcels of land be to be exploited by the development community?"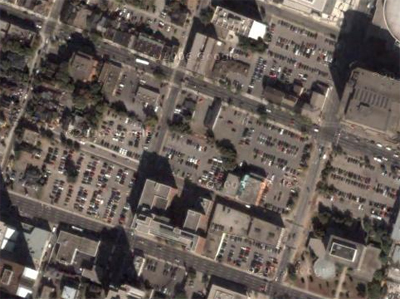 Main and Bay: Apparently these whole city blocks of surface parking in the downtown core are unsuitable for transit oriented development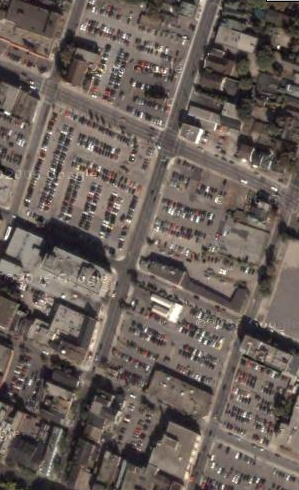 More undeveloped land downtown that couldn't possibly accommodate new transit-oriented development
Bratina further questioned whether the city can afford to risk an investment in LRT, given uncertainty about the global economy. Arguing that city finances are "in a pretty good place right now" and Council held the line on tax increases, Bratina said, "If we're going to make some big play with taxpayers' money, there had better be a pretty certain return on that play."
Kelly, demonstrating a common refrain of his, added, "I don't see the economic impact for the light rail transit here in Hamilton. This is not Seattle, this is not Los Angeles or New York, and I think you're comparing one situation to another which is much, much different."
Kelly asked, "Where's the private sector money?"
Murray responded, "I haven't had one single phone call come to my office in all the time that we've talked about LRT from any developer within Hamilton, or external to Hamilton, asking those very questions." On the other hand, Murray said he is hearing interest from developers about all-day GO service.
Murray added that city planning must ultimately respond to market signals.
I can say this not just as City Manager but also as an urban planner with a background and credentials in the field, I mean, as policy creators we can create land use policy, we can do all kinds of good planning - and our staff have done that - but it's the market at the end of the day that we have to keep our eye on in terms of what its interests are, and today we're not hearing it.
He also raised questions about which government body will collect the fares from a B-Line LRT service, suggesting that the Province might insist on collecting some or all of the operating revenue. In this case, Murray argued, the HSR would lose the revenue it currently earns on fares along the B-Line, forcing taxpayers to pick up the difference
LRT in Charlotte and Portland
Kelly then asked about differences between successful LRT systems in other cities and the situation in Hamilton. Bratina responded, saying that the LRT line in Charlotte, North Carolina is "kind of an old-fashioned quaint trolley to connect to their waterfront".
In fact, Charlotte's Lynx Line is a modern, high-capacity LRT system that runs 15 kilometres from the South End through the downtown core and carries 21,000 passengers a day. That is despite ridership projections of 9,100 passengers per day, increasing to 18,000 by 2025.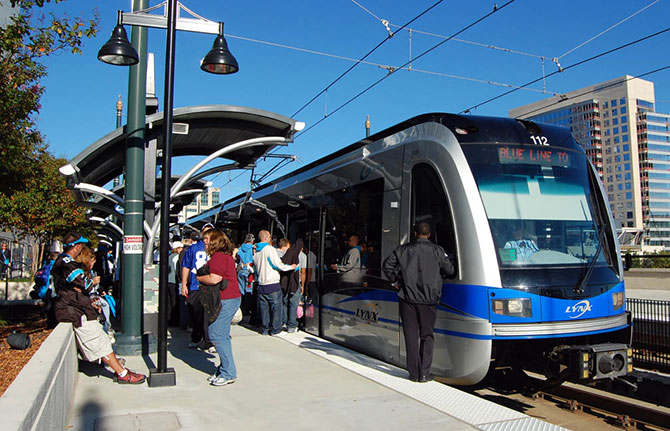 Lynx LRT station in Charlotte, North Carolina (Image Credit: Wired)
According to a November, 2009 Wired article, overall transit ridership in Charlotte increased 46% between 2006 and 2008, due mainly to the Lynx line opening in 2007. Before the line was completed, it faced extensive opposition from business groups that claimed it was a waste of money that had a poor cost-benefit ratio and would never generate significant interest from developers.
That has not stopped developers from flocking to the transit corridor, generating some 10 million square feet of new development. In fact, when Ancaster Councillor Lloyd Ferguson returned from a fact-finding trip to Charlotte, he was extremely impressed with the new development there and said:
I am now convinced that we need to look at some form of light-rail system, among other things, to spur our local economy and get Hamilton into the next millennium.
Charlotte plans to double the length of the current line and is also planning or has proposed an additional 65 kilometres in expansion lines.
Bratina also mentioned LRT in Portland, Oregon, saying, "Portland is the same size, roughly, as Hamilton in terms of population but it's one quarter of the land mass, so they have 4,000 people per square mile. We have 1,000. So it just fits better."
What Bratina seems to have forgotten is that Portland had a much lower population density when it decided, in the 1970s, to impose a firm urban boundary and to use federal highway funding to build its first LRT line.
The high density that Bratina says is the reason for Portland's LRT success is actually a product of that city's success at directing traffic into high quality urban intensification instead of endless sprawl.
Given that the province projects 3.5 million new residents will live in the Greater Toronto and Hamilton Area in the next 25 years, it is hard to conclude that Hamilton cannot attract and accommodate enough residents to achieve densities similar to other cities that achieved those densities through investments in LRT.
Indeed, it is difficult to understand how Hamilton will accommodate its share of growth without LRT as an anchor for infill development. Given the fact that suburban greenfield development charges are too low to pay for growth, intensification is the only affordable way for Hamilton to grow. Without it, each new development will make Hamilton's finances worse.
Not In Hamilton Syndrome
The interview closed with another dose of NIH (Not In Hamilton) Syndrome. When Kelly said he didn't think anyone has presented a business case for how LRT is going to drive economic development, Bratina replied, "Well, the general thing is that, where, typically, where stations are located, within a certain radius, there tends to be development, like the subways." He referenced tall clusters of development around Toronto's subway stations.
Paul Bedford made a similar argument in his recent presentation on rapid transit in Hamilton.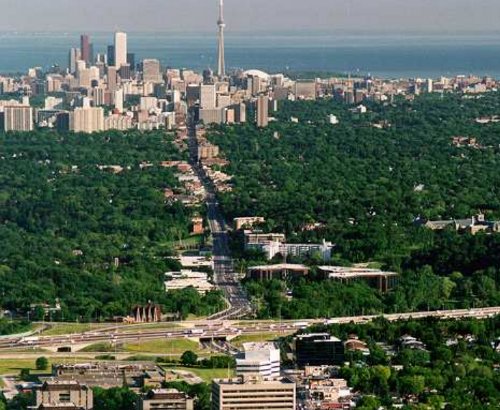 The big picture: dense development around Yonge Subway Line (Image Credit: Paul Bedford)
However, Bratina concluded by expressing doubt that this general pattern of urban development around transit nodes would hold in Hamilton. "Whether the same thing would happen in Hamilton is - there's no convincing argument yet."
Kelly averred that Hamilton does not have the "massive population" that he thinks would be required to make an LRT investment pay off, and Bratina agreed. He closed by pointing out that property taxes in Waterloo will be $125 higher for the next several years to pay for their LRT system. "Can we afford that?" he asked.
Kelly answered, "I can say no, on behalf of taxpayers."
Post a Comment
You must be logged in to comment.