100 Main Street West: We Deserve a Better Solution
If we're going to build a second tower on the back of City Hall, why not use that tower to house city offices which we're currently leasing elsewhere?
By Matt Jelly
Published January 29, 2012
For the past year or so, I've been vocally opposed to a plan by the Hamilton Wentworth District School Board and McMaster University that would see McMaster purchase the School Board headquarters at 100 Main Street West, and demolish the building to make way for a proposed Downtown Health Campus.
The City of Hamilton has contributed a $20 Million grant to the project, as well as an above-market long term lease to house the Public Health department in the new development, valued at $27 million over 30 years.

Board of Education Building
What I'm not opposed to is the concept of the Health Campus itself. I'm one of many people who would love to see McMaster finally play a larger role in our downtown. I've always felt McMaster could play a progressive role in the ongoing efforts to revitalize our downtown core.
Considering the many great examples of adaptive reuse and heritage preservation that exist on McMaster's own campus, I always thought McMaster could play a role as a major tenant in one of many vacant and underutilized buildings downtown.
I guess my expectation of our City's foremost educational institution is at the heart of my disappointment with the proposed development.
With all of its considerable resources, McMaster has decided the best way to arrive as a major player in our downtown is to do what our civic leaders already do so well: knock down another beautiful building that could just as feasibly be restored, incorporated and adapted for ongoing use. Failing that, we also have countless acres of underperforming vacant lots and parking lots that could be filled in with new development.
There's no shortage of places McMaster could develop, especially since the City of Hamilton itself is paying for half of their tab on this project. But they've made up their mind - they want to knock down the building at 100 Main Street West, seemingly no matter what the public has to say or wants to know about it.
After a while, I feel like I'm beating my head against a wall when it comes to trying to convince seemingly otherwise smart and well-intentioned people that demolition doesn't have to be the default option when it comes to redeveloping the downtown core.
Why Does it Matter?
When I try to advocate for the preservation of any building, people ask me why it matters. I suppose I've tried to establish myself as someone who fights for what's important, the fundamental issues that Hamilton needs to overcome. So people ask me, why do buildings matter? Why is heritage important? When Hamilton is facing other enormous challenges, why does it matter whether a building is torn down?
And then they say the same old thing: You know, we can't save every building.
I've heard the phrase countless times, every time I suggest that a building should be restored rather than flattened and thrown into the landfill. Those who say it like to pretend that we normally do a good job of preserving our building stock.
Those who say it never actually want to save any buildings, and the phrase is a handy way for them to shrug it off and be thoughtless.
Tell me if I'm wrong, but this is what I've seen Hamilton do, time and time again: We unanimously complain and agree that Hamilton needs to move forward, to live up to it's potential, to once and for all shake off whatever atrophy that has hung over the City like a dark cloud for too many decades. I know this frustration because I listen carefully to what my fellow Hamiltonians say.
In that frustration, we get excited about ONE BIG THING that we think will make that frustration go away somehow. We're a city that desperately wants to believe in a silver bullet.
In the 1960s and '70s, we lost entire blocks of buildings, hundreds of homes and businesses expropriated and demolished to make way for Jackson Square and York Boulevard.
In the '80s, we thought it wise to build a giant new arena to house our inevitable NHL franchise.
In the '90s, an old Big Idea gained traction in The Red Hill Creek expressway; we spent hundreds of millions of dollars to build eight kilometres of highway through the last large natural area in the East end.
In 2010, we spent an entire year fighting one another over what part of town the next Big Thing would go.
We do it again and again - we gamble away our long-term assets for short term gain. We fall in love with well-drawn concept sketches and unsubstantiated claims. We decide we need to destroy something in order to create something.
Here We Go Again
McMaster and the School Board may be on the verge of striking a deal which would see the Board vacate 100 Main Street West and McMaster demolish the building.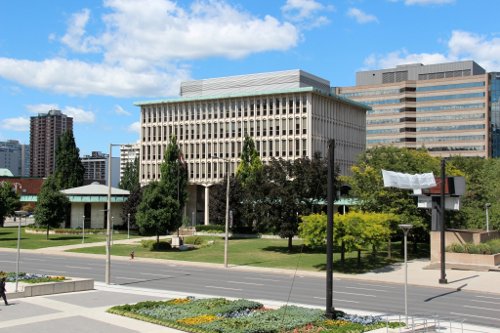 Board of Education Building
The school board will either move to a location on the property where Crestwood school currently stands, sending 450 Board of Education jobs to a residential neighbourhood, where the only retail environment in proximity is Limeridge Mall, where conglomerates paying minimum wage will enjoy all of the economic spinoff.
Two buildings will be crushed into the ground, and two expensive boxes of glass will replace them.
Preservation Not Seriously Considered
Preservation has never been seriously considered.
In November 2007, the Board was considering several options for what to do with 100 Main Street West, and to address the issue of accommodating their staff - which for some reason needs more space, even though enrollment in the public board is steadily in decline.
The board was presented with a number of concepts, one of which was restoring and adapting their current headquarters. The staff report estimated that this concept would cost $65 million. However, that number included an addition onto the building, as well as underground parking - suggesting that the actual cost of restoring the building itself is much less than $65 million.
The staff report is not included in the minutes of the November 5, 2007 Committee of the Whole meeting at which it was presented. I've asked the board several times since July 2011 to supply me with that staff report, and that request has been repeatedly ignored.
I believe we need to see the cost breakdown of this estimate, and know for certain how much it would cost to preserve and incorporate this building into any new development.
Behind Closed Doors
Just recently, the Ombudsman of Ontario publicly admonished-for-web.pdf) [PDF] Hamilton City Council for holding a meeting last June 27, 2011 behind closed doors.
At this meeting, five McMaster representatives had the luxury of presenting their plans for the Downtown Health Campus to councillors in private, asking for a grant of $20 million towards their project from city coffers.
Even though City staff warned councillors that they were wrong to be in camera on this item, they proceeded behind closed doors anyway.
This plan has seen many permutations over the years, but not once has anyone meaningfully forwarded the concept of the current Board of Education building be incorporated into the development - that option has never been examined at any length.
We hear it all the time from councillors who are frustrated that we make decisions not based on all of the information and evidence, but rather on what is politically expedient. But, here we are again.
We have a bubble around us in Hamilton that seems to block out any sort of progressive development mentality. And until we pop that bubble, the cloud of atrophy will still hang over us, no matter how many buildings we destroy or how many boxes of glass we manage to build underneath it.
A Second Tower at City Hall
A new idea has been forwarded to prevent the Board of Education from leaving the downtown core, by Ward 2 Councillor Jason Farr - to build a second tower on City Hall to lease out to the school board.
Councillor Farr introduced this idea as a notice of motion at the January 25, 2012 meeting of City Council, in which he points out that City Hall was designed with foundations already built for a second tower.
While I appreciate Councillor Farr's effort to keep the Board of Education in the downtown core, I feel he's on the wrong side of Main Street on this issue. This plan would still mean we're demolishing the Board Headquarters at 100 Main Street West, and the City would be aiding and abetting that senseless demolition entirely with public dollars.
Maybe Farr's idea is not completely without merit: If we're going to build a second tower on the back of City Hall, why not use that tower to house city offices which we're currently leasing elsewhere?
Rather than pay an above-market lease in the new McMaster development to house public health, we'd be far better off to house public health in the proposed second tower.
The Board of Education can be McMaster's anchor tenant, and Public Health can still enjoy the synergy of proximity to the Downtown Health Campus.
One Solution Makes Sense
I believe only one solution makes sense: for the Board of Education and McMaster to enter a partnership at 100 Main Street West, one that sees the current building restored and incorporated into a Downtown Health Campus on the large lot on the North side of the building facing King.
It's the only solution that both keeps the Board of Education in the core, and doesn't involve unnecessary demolition of a civic landmark.
But it can only happen with the Ministry of Education's approval of a partnership, and time is running out. It's time to give this option the consideration it deserves.
Please contact your School Board Trustee, your City Councillor and most importantly, the Minister of Education Laurel Broten and McMaster President Patrick Deane.
Tell them it's time for McMaster and the School Board to rethink this project entirely.
Contacts
Or just simply copy and paste this to the address line:
tim.simmons@hwdsb.on.ca, robert.barlow@hwdsb.on.ca, studenttrustee@hwdsb.on.ca, judith.bishop@hwdsb.on.ca, ray.mulholland@hwdsb.on.ca, todd.white@hwdsb.on.ca, laura.peddle@hwdsb.on.ca, lillian.orban@hwdsb.on.ca, wes.hicks@hwdsb.on.ca, alex.johnstone@hwdsb.on.ca, jessica.brennan@hwdsb.on.ca, karen.turkstra@hwdsb.on.ca, dlcouncil@hamilton.ca, lbroten.mpp@liberal.ola.org, ahorwath-co@ndp.on.ca, presdnt@mcmaster.ca, mattjelly@gmail.com
(This article was originally published on Matt's personal website.)
Post a Comment
You must be logged in to comment.