Looking from the Inside Out: Hamilton Health and Fitness
With motivation, perseverance, a little bit of inspiration and a simple desire to improve the health of our community, together we can turn Hamilton into one of the healthiest and fittest communities in Canada.
By Cheryl Hills
Published August 09, 2012
Those who have never lived in Hamilton see us simply as a Steeltown, yet Hamilton is far richer than what most would surmise on first discovery. When I found myself moving here from Mississauga 17 years ago, my own apprehension quickly turned to awe.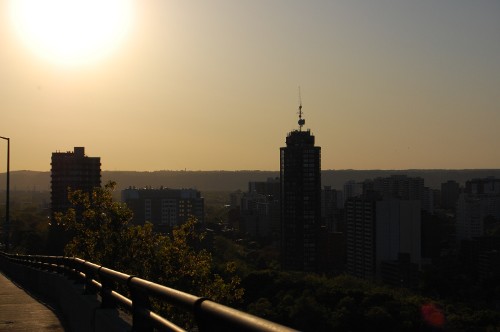 Image credit: Cheryl Hills
Aside from the remarkable geographical uniqueness of the escarpment deftly carving the city into upper and lower sections, Hamilton is rich in culture, heritage and community activities. Each neighbourhood is a veritable beehive of community activity.
Local artists, restaurateurs, musicians, and entrepreneurs celebrate their city and share their talents through their craft and contribute to the health of the community of Hamilton.
Is it surprising that a city which is host to the world's oldest bike race is also a veritable haven for fitness aficionados? Definitely not, if you are looking from the inside out.
Obesity in Hamilton
Hamilton boasts no less than 40 community recreational centres and arenas. Sports organizations include everything from competitive jump rope teams and circus stars training to soccer and football and everything in between.
According to the Hamilton Economic Development website, there are 495 sport organizations in Hamilton and are 187 fitness clubs in Hamilton, not to mention the dozens of charity and other organized community fitness events that are held in Hamilton every year.
You would think that with all of these fitness opportunities, Hamilton would rank among one of the fittest communities in Canada. Yet canadafacts.org lists Hamilton at number three on the Fattest Cities list at 34.6 percent obesity.
You don't need a government agency to tell you what you can clearly see: obesity is on the rise. And you don't need me or anyone else telling you why physical activity and healthy eating is a recommended lifestyle. These are facts that we already know.
Clearly, we need to get more of our citizens off the couch and involved in a recreational activity. I believe that health and fitness are important to the growth and success of a vibrant community and city. When a city's citizens are healthy, the city is healthy.
Yet as with all great ideas and lofty goals, the first requirement is motivation to take action. Hamilton has the infrastructure in place. Now we need to motivate our citizens to take that first step and get out and just do it (to borrow a phrase).
The Challenge
Why should you embrace a new healthy lifestyle? Simple: it's fun and it will bring happiness and personal achievement to your life.
My goal is to see Hamilton listed at number three on the Fittest Cities list. As a small business owner living and working in Hamilton, I am committed to developing services that will promote a healthy lifestyle. I welcome and challenge all entrepreneurs and business owners in Hamilton to do the same.
Start small by promoting and implementing a healthy approach in your workplace:
Encourage your employees and colleagues to develop a healthy lifestyle by providing education and opportunities for health and fitness participation. Most recreational facilities and sport organizations have community workers who will come out to your company or organization and provide health and fitness education. Fitness clubs also will provide these services.

Create a health and fitness committee within your company who is responsible for organizing fitness events. There are many sporting house leagues in Hamilton which provide opportunities for company teams to play in a non-competitive, fun, supportive environment for a very nominal cost. Not only does this type of activity promote a healthy lifestyle, but also it provides the opportunity for your employees to develop team building skills that are valuable in the workplace.

Provide healthy food choices to your employees. Most fitness organizations also have nutrition experts who can help plan lunch and snack menus that will benefit your employees.

Provide incentives to employees who are active members of a fitness club or other sport organization. The benefit of having healthy employees far outweighs the financial costs of providing support for these programs.
With motivation, perseverance, a little bit of inspiration and a simple desire to improve the health of our community, together we can turn Hamilton into one of the healthiest and fittest communities in Canada.
Post a Comment
You must be logged in to comment.