Complete Streets Would Help Code Red Areas
I'm not asking Hamilton City Council to lead the way or do anything ground-breaking. I simply ask that we learn from other cities that have already led the way and have done things that work.
By Jason Leach
Published September 11, 2012
I would like to address a few points surrounding the recent one-way/two-way discussion that I fear are being lost in the shuffle.
First, I live in the lower city near King and Locke Streets, and work near Gage Park on Main Street East. I drive there (my kids go to school there too) most days and my trip is almost entirely on one-way streets.
When my wife and I moved downtown 11 years ago we immediately noticed one thing that was a huge drag on the quality of life and vibrancy of downtown Hamilton - the one-way freeways. Not halfway houses, bingo halls, cheque cashing stores or pawn shops. Urban freeways.
Having lived here for 11 years now I can very clearly state that this is STILL the number 1 safety concern on our minds on a daily basis as we intentionally choose to raise children in the downtown core - something that I would hope city hall wants to see more of.
Here are a few points we should consider as we move forward:
1. I am not aware of any residents or business owners anywhere in the city who have asked for more one-way streets. There's a reason for that.
2. We all know that our system was designed to get the mass amount of workers to the industrial north end back in its heyday. Those days are gone. The areas of the city that are the largest automobile destination these days would appear to be the shopping areas along Upper James, the Meadowlands and so on.
3. It's easy to stir up rhetoric and controversy, but I expect my elected officials to look at facts and learn the best practices from cities all over the world.
One common statement made is the assumption that converting streets to two-way (or, more importantly, creating 'complete streets' which I'll get to in a minute) will slow down travel times. Yet we converted York/Wilson to two-way over a year ago and five eastbound lanes became two. I drive this route everyday to work/school and there is not a single minute added to my trip. We eliminated 3 full eastbound lanes and didn't replace them anywhere else, and traffic has been fine.
King Street had two lanes closed for over a year in the area of Queen and Ray, again with no traffic slowdowns. King and Main over the 403 were cut in half for over a year with no traffic slowdowns. Cannon Street is four lanes, one-way west of Sherman, yet only one lane each direction east of Sherman...yet, no traffic slowdowns.
People talk about how easy it is to drive to Eastgate Square with the one-way streets, yet more than half that trip is on two-way Main Street east of the Delta and I've never heard a request to convert it to one-way. You get the point - we have way too many traffic lanes downtown. Please study real-life information instead of believing assumptions.
4. Complete streets must become a priority at City Hall. Livable cities, best place to raise a child, vibrant business districts - all are hindered and even made impossible by roaring, high-speed car traffic.
Occasionally this may involve retaining a one-way street, but with a commitment from city hall to make it a safe, viable one-way street. For example, this is a previously three-lane street in Vancouver.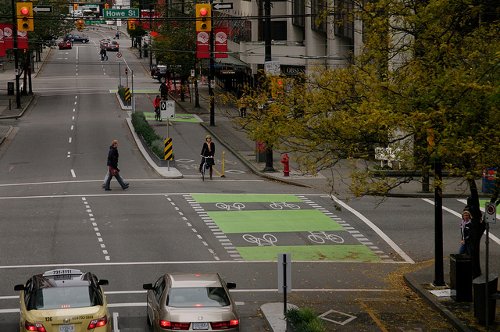 Dunsmuir Bike Lane, Vancouver (Image Credit: Planningpool)
Here's another image of the same street: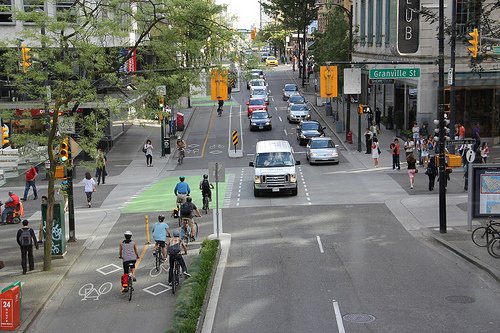 Another view of Dunsmuir bike lanes in Vancouver (Image Credit: Paul Krueger)
Please note, complete streets include the following: room for cars and bikes, safe sidewalks and lots of greenery in the form of curb trees and median planter boxes as shown here.
Take ugly Cannon and Main Street and imagine it like this: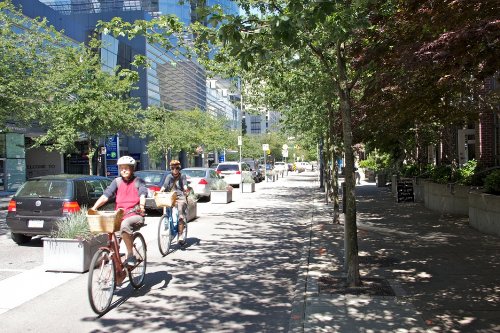 Hornby Street (Image Credit: Paul Krueger)
This is the new way for cities to build bike lanes. Hamilton never got around to building Bike Lanes 1.0 when other cities started a couple of decades years ago, but now we have an opportunity to go from dangerous, unliveable streets to the very best practices from cities with a great quality of life.
Vancouver, Portland and Montreal all receive great quality of life rankings and have booming downtowns. Leadership has brought them there.
My final, and most important point:
5. Code Red. We all know about it. We all say we want to do something about it. Complete streets are one of MANY necessary changes that need to happen in these neighbourhoods in order to see them slowly become mixed-income neighbourhoods. The school board has spoken about the need for mixed incomes in these areas and we all know the 20-year life expectancy gap that exists between this area and the wealthy parts of the city.
Hamilton is a caring city. I am convinced that if City Council presented a plan to the public that included complete, green streets as a way of improving the quality of life in these poor neighbourhoods, the richer suburban folks would get on board.
I'm not too pretentious or selfish enough to think that a possible extra three to five minutes in my nice warm car each morning is more important than seeing a dramatic increase in the safety and quality of life for those who depend on walking/cycling our streets as their only mode of transport.
I walk and bike quite a bit, but fact is, I can jump in my car when it's wet, cold, hot or I'm simply too tired. Many in Code Red don't have that option. Children have to walk these dangerous freeways to get to school, the rec centre, park and corner store.
How do we ever expect to see mixed income neighbourhoods take root when you and I both know that nobody from your neighbourhoods would move into Code Red unless they had to.
I've seen my own neighbourhood - Strathcona - develop into a healthy, mixed income neighbourhood, and now I've seen friends intentionally turn down other parts of the city and CHOOSE to buy homes here. Ten years ago we bought a home here because it was all we could afford. Mixed neighbourhoods are fantastic, and can work.
Close to half of the residents in my neighbourhood and many Code Red areas don't own a car. In other words, they have no choice but to walk or attempt to cycle on these dangerous streets. Most Ancaster residents I know would be delighted to know that calming Hamilton's inner city streets is part of a larger plan to revitalize the area and help ease the poverty burden. But it requires leadership to happen.
Two stories in Saturday's Spectator highlight the need for change in central/downtown Hamilton. One was about the need for integration and better mixing in Hamilton's schools. The other was about the Normanhurst rec centre - and specifically, I was touched by hearing of the Ancaster couple who volunteer there in order to help the local kids.
Don't tell me that couple will oppose two-way or complete streets because they think a few minutes of their driving time is more important than a safe neighbourhood for those kids. Only the ultra-selfish among us would believe that.
Complete streets would do wonders for the quality of life in our Code Red areas. We either want to be the best place to raise a child or we don't.
Vancouver has 7,000 kids living downtown. I'm not asking Hamilton City Council to lead the way or do anything ground-breaking. I simply ask that we learn from other cities that have already led the way and have done things that work.
There is enough sidewalk width on Cannon and Main to plant trees all along the curb without impacting pedestrian space, add curb parking on one-side, two-way bike paths on the other and suddenly we have turned dangerous, unliveable highways into complete, safe streets that still allow for easy car movement while protecting pedestrians and cyclists.
Suburban commuters still retain the vast majority of the road space for coming downtown, yet poorer residents who don't drive are also afforded an opportunity to safely move around our city by foot or bike. I would also suggest we look at streets that are absolutely over capacity, yet retain some great residential character such as Victoria/Wellington/Wentworth and Sanford.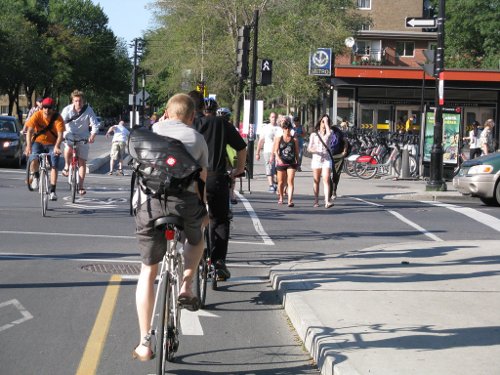 Montreal bikeway (Image Credit: ibiketo.ca)
The city has done some good work recently with the new Beasley rec centre and park. The school board has built new schools at Beasley along with Queen Victoria, Sanford and Prince of Wales. Cathedral exists between King and Wilson and Hess Street is on York. One new high school is planned right smack in the middle.
Let's give these neighbourhoods a fighting chance. With amenities like these, I believe mixed income integration can happen, but only if parents feel that their kids can safely go to the park or walk to school.
I hope that Hamilton is prepared to take action to address the low quality of life in our Code Red district. The status quo simply can't be accepted any longer.
Post a Comment
You must be logged in to comment.