Hamilton Deserves Same LRT Deal as Toronto
Toronto is demanding - and receiving - full funding from Metrolinx for its three new LRT lines. Why is Hamilton content with a much less generous deal that Council won't accept?
By Nicholas Kevlahan
Published September 24, 2012
According to a new report out of Toronto, TTC Chair Karen Stintz is saying that the operating subsidy for the Eglinton-Scarborough Crosstown LRT, currently under construction, will be paid by the Province and not by the TTC.
Stintz is quoted saying, "If we're not operating those lines, we're not paying those costs ... I don't know where they're going to get the money."
This comes after the announcement that Metrolinx will own and operate the new LRT lines, not the TTC, and that they will be managed by a private operator.
Her statement was intended to directly contradict Ontario Transport Minister bob Chiarelli's claim that Metrolinx and the TTC are still negotiating an operating subsidy for the new LRTs.
In other words, the TTC's position is they will pay zero dollars towards capital costs, which we knew, and zero dollars towards operating subsidies, which is new.
Why wouldn't Hamilton also be pushing for the same deal as Toronto, instead of making it easy for the Province to make us an offer we can't accept?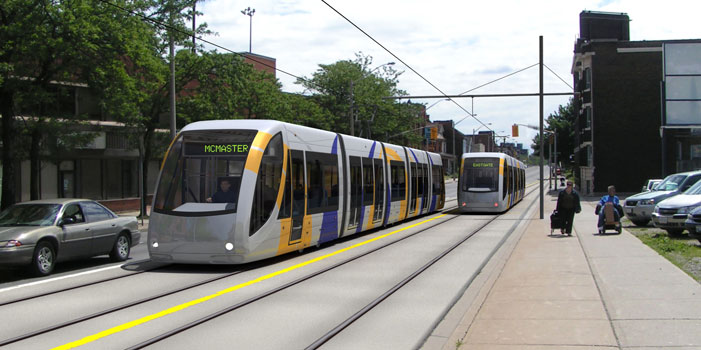 Rendering of B-Line LRT
Need to Confront Province
Toronto is getting $8.4 billion in capital costs, plus an operating subsidy from the province. It seems they are not contributing any of the direct capital costs toward construction.
Hamilton's B-line (and A-line) would be much cheaper, and the Metrolinx Benefits Case Analysis showed that it would provide a huge economic and social uplift to the city.
Hamilton could definitely afford a zero/zero deal! However, it seems we're content to throw away over a billion dollars in direct capital costs and billions more in economic benefits, just because the project may be controversial and we don't want to confront the province directly.
Toronto has taken precisely the opposite strategy and has been very successful, securing 100% capital funding for the Crosstown, Finch and Sheppard LRT lines.
I really don't understand why Council is not insisting that Hamilton get the same deal as Toronto, instead of blandly accepting the Minister's statement that we'll have to be content with something far less generous.
Post a Comment
You must be logged in to comment.