The Great Stadium Disappointment
The new stadium is an uninspired, boring, half-assed waste of money.
By Adrian Duyzer
Published October 14, 2012
The design for the new Pan Am stadium has been revealed and it's worse than even the most cynical among us expected.
Let's start with how it looks: it's essentially a carbon copy of the current Ivor Wynne stadium. It's like they took Ivor Wynne, rotated it 90 degrees, and said, "Screw it, we're done here." The reaction I've had from every person I've spoken to about the new design is puzzlement: they can't tell the difference between the current stadium and the new one.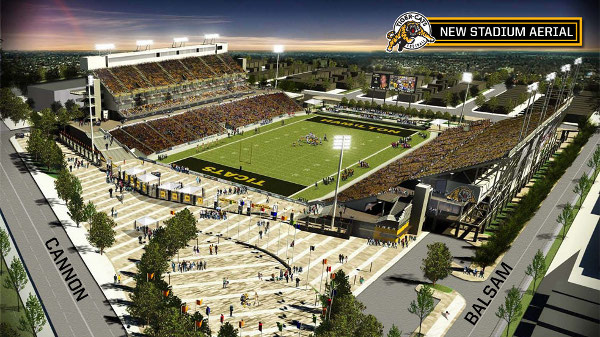 The "new" Ticats Pan Am Stadium design.
The new design completely lacks any interesting or unique architectural features. For comparison, take a look at the BBVA Compass Stadium, a soccer stadium built in Houston. It opened May 12, 2012, seats 22,039, and cost $95 million USD - $15 million of which was for land purchasing, a cost we didn't have to bear for the Ivor Wynne location.

BBVA Compass Stadium. Images from Wikipedia.
Or take a look at the Rio Tinto Stadium, constructed in Sandy, Utah, for $115 million USD. It seats 20,213. And it has a roof.

Rio Tinto Stadium.
Given that we're spending $145 million on our new stadium, why doesn't it have a unique design or any kind of architectural flair? Why doesn't it have a partial roof to protect stadium-goers from the rain? Why are the undersides of the seats exposed to the outside of the building - couldn't they afford to put some walls up? Why do the lights look like they're recycling the ones from Ivor Wynne?
Of course, it's not entirely the same as Ivor Wynne. There are some differences:
It seats 22,500 people, instead of the current 30,000.
It has 180 parking spots, instead of the current 400. (Whatever happened to the Ticats' absolute insistence that only locations with plenty of parking were suitable?)
It also has more washrooms, bigger seats, and more televisions.
Did I mention that it orients north-south, instead of east-west? $145 million bought us a 90 degree rotation.
The entire thing is, in my opinion, a total debacle. And the way the Ticats have slapped their brand all over this is an absolute embarrassment. The video on the site about the new stadium, the images, the renderings with "Ticats" on the end zones, everything is just plastered with black and yellow and Ticats branding.
This is their stadium, even though we paid for it.
We didn't get to see the designs in advance, but they did, even though we paid for them. The community wasn't allowed to participate in the design, and this is the result of that lack of consultation and collaboration: an uninspired, boring, half-assed waste of money.
Matt Jelly put it succinctly, passionately and accurately in a Facebook comment:
I don't get why the success or failure of a privately-owned football franchise should be a municipal priority. I don't get why all three levels of government are investing millions and millions on a Stadium and the Ti-Cats were given so much input on location and construction, without contributing one thin dime to the project. I don't get why we're paying to build a replica of Ivor Wynne, which could just as easily been upgraded for far less. I don't get why so many Hamiltonians are more concerned about pro-football than they are about unaccountable serial polluters, deep and serious poverty, school closures, draconian radial separation by-laws and cleaning up the slow tar spill in our harbour at Randle Reef. Three years ago, if you asked for my opinion on pro-football, I'd be entirely indifferent on the subject. Three years have passed, our future fund has been raided, our council caved in to meaningless threats, and we're letting so many other priorities go unaddressed and unmitigated.
Councillor Lloyd Ferguson is right about one part of the problem:
Scant hours before plans for the new stadium at Ivor Wynne were unveiled, Councillor Lloyd Ferguson used three words to explain why it isn't being built on Hamilton's waterfront.

Scott Mitchell's ego.

Ferguson says the Tiger-Cats president's stubborn refusal to back down from his opposition to the west harbour ultimately cost the city the better location.

"Ego got in the way of making the right decision," Ferguson said. "This one guy killed this thing."

"One guy who isn't even going to be with the Tiger-Cats when this thing opens."
The other part of the problem, of course, is that council let themselves get railroaded into this, even though the community made it absolutely clear we were opposed. And now we're left dealing with the consequences while the Ticats do victory laps.
What a disappointment.
Post a Comment
You must be logged in to comment.