Hamilton Bike Box Needs Higher Profile
A year on, it's time for Hamilton to beef up the design of its invisible bike box at Studholme and Aberdeen.
By Ryan McGreal
Published October 23, 2012
Cities across North America are installing advanced stop lines, or "bike boxes", which allow cyclists to pull ahead of automobiles at red lights so they can turn left or right ahead of traffic when the light turns green.
The standards for how a bike box should be marked are still evolving and you will see various different designs in the wild, but a consensus seems to be emerging around the following: the lane is bordered in white and painted solid green heading into the box, which is also bordered and painted and has a large bicycle stencil in the middle.

Bike box in Portland (Image Credit: The Record)
When Montreal introduced their first bike box at Milton and University Street, they decided to design it this way: big and painted green, with a large bike stencil painted in the middle.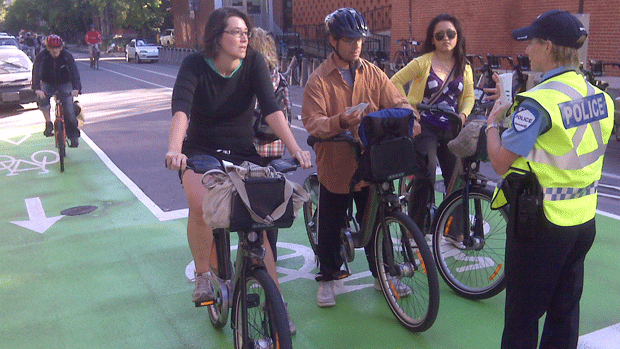 Montreal bike box (Image Credit: CBC)
Similarly, the bike box Ottawa installed on Bay Street at Wellington is big and green with a large bike stencil in the middle.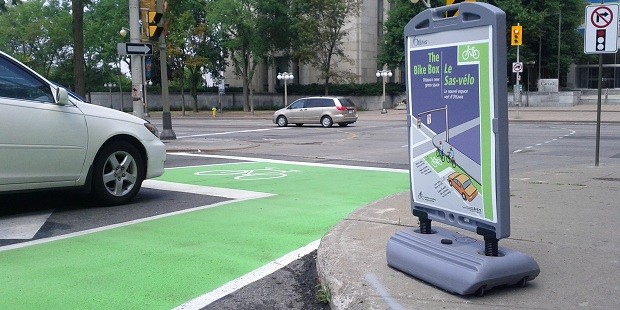 Ottawa bike box (Image Credit: OpenFile)
The City of Edmonton even has a stop motion Lego video to introduce their bike box at 116 Street and 87 Avenue.
And yes, it's big and green with large bike stencils.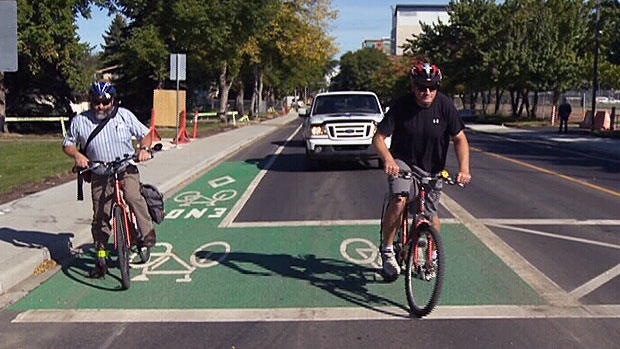 Edmonton bike box (Image Credit: CTV)
Invisible Hamilton Bike Box
Even the Longwood Road Streetscape Plan document shows a painted bike box (albeit painted blue, not green) with a large bicycle stencil.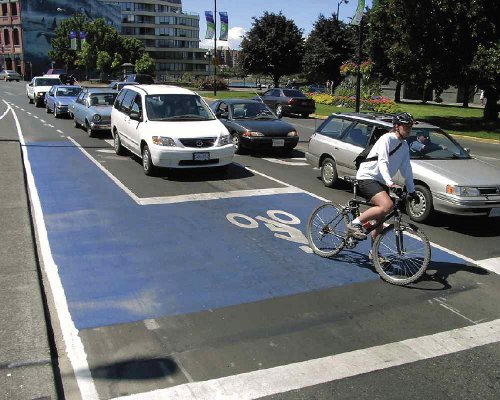 Bike box from Longwood Road Streetscape Plan [PDF]
In comparison, our inaugural bike box is nigh invisible. Installed a year ago, the bike box at Studholme Road and Aberdeen Avenue is about as underwhelming as it gets, with no painted background and two tiny bike stencils with lines running through them.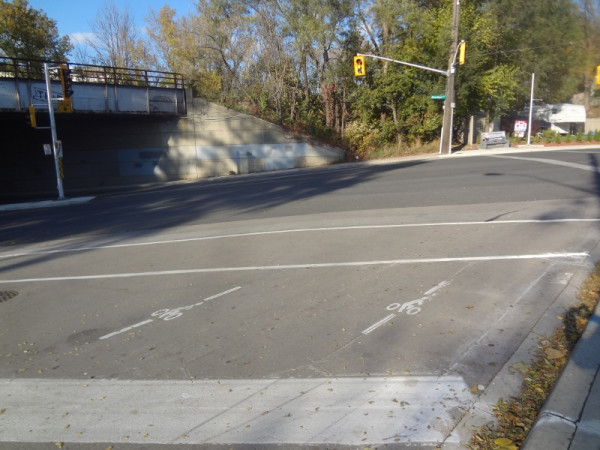 Bike box on Studholme at Aberdeen. No, seriously, it's there. Look closely.
You will be forgiven for not knowing this bike box existed, even if you walk or drive past this intersection on a daily basis. You can't actually see it unless you're standing right next to it.
City transportation planners argue that a visible bike box at Studholme and Aberdeen would somehow put cyclists elsewhere in the city in greater danger.
Taken to its logical conclusion, that line of reasoning would preclude the city from introducing any new street design anywhere unless it was being simultaneously introduced across the entire city. Yet Hamilton is actually pushing for the province to accept this bare-bones design as the provincial standard!
There is no reason for Hamilton not to be more of a leader in designing high quality bike infrastructure, especially given the evidence that cycling infrastructure strongly influences the risk of injury.
We don't even have to invent the stuff: it would be a huge step forward simply to copy the successful designs already in use in more bike-friendly cities. We could start by repainting the Studholme bike box so that you can actually see it.
Instead of trying to drag the provincial standards down, we should be pushing to have the standards raised to the point at which they start to make a difference in the city's balance of transportation modes.
As long as we design alternative transportation to minimize the disruption to automobiles, we will continue to suffer an automobile-centric and automobile-dependent transportation system.
Post a Comment
You must be logged in to comment.