Lessons from Buffalo for Hunter Street
Hunter Street has room for curbside parking and two-way bike lanes, and one traffic lane is more than enough capacity for the number of cars it carries today.
By Jason Leach
Published October 26, 2012
I was in Buffalo earlier this week and was absolutely impressed with the rapid improvements happening to their bike network.
I often visit to hang out on Elmwood Avenue and the Delaware Park area. I was very pleased to see they have installed large sharrows in the centre lane on Elmwood.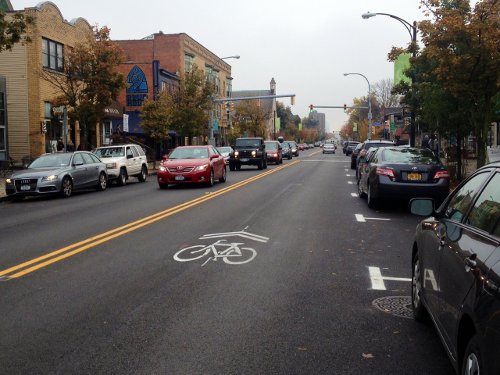 Bike sharrows on Elmwood Avenue, Buffalo
A proposal has been put forward in Hamilton do this all across the future bike network. Also, some interest is developing in taking the sharrow concept even further on our quiet residential streets.
Given our geography and quiet neighbourhoods, Hamilton is ripe for neighbourhood greenways to take root, like the ones in Portland.
Hunter Street
A couple of blocks from Elmwood they took a street that was previously two full traffic lanes one-way with cub parking on both sides and turned it into this: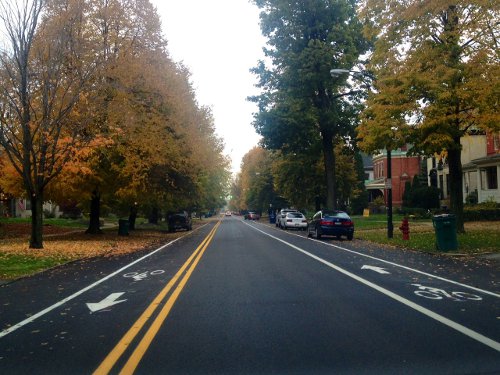 Making room for bike lanes in Buffalo
The best part? This street carries roughly 3,500 cars per lane per day - the same number that Hunter Street East carries in front of the GO Station, and Catharine Street carries downtown by King.
You can't tell from this pic, but there is parking on both sides. I hung around and observed the traffic flow during rush hour and it was fine.
I'm on Hunter all the time and it's never busy. I hope that when some design work begins on the Hunter cycle track in the spring, there will be opportunity to discuss narrowing the lanes to ten feet and retaining curb parking along the north curb and adding the cycle track by simply removing one of its traffic lanes.
In front of GO, we can retain both parking bays, and a traffic lane, and the cycle track. Ditto for the rest of the route over to Queen.
The current plan calls for retaining both traffic lanes, thereby eliminating the cycle track from John to James and having bikes mix with cars during that stretch. With such low traffic volumes, this is completely unnecessary.
As far as I understand, ten-foot car lanes are already permitted in Hamilton. In other cities, it has become a popular way [PDF] to add bike infrastructure on narrow streets.
Let's hope we see some similar bike improvements as Buffalo, and quickly.
Post a Comment
You must be logged in to comment.