Aerotropolis a $500 Million Pitfall
We can have more jobs at less cost by investing in our existing infrastructure than by spending half a billion dollars on a greenfield development around the airport.
By Larry Pomerantz
Published November 29, 2012
How will the City of Hamilton's Airport Economic Growth District (AEGD) plan impact your business? The AEGD, or "Aerotropolis", is a City of Hamilton approved plan to rezone 4,500 acres of prime farmland around John C Munroe Hamilton International Airport for employment purposes. The City claims we do not have enough industrial zoned lands to provide jobs for the anticipated growth of our population.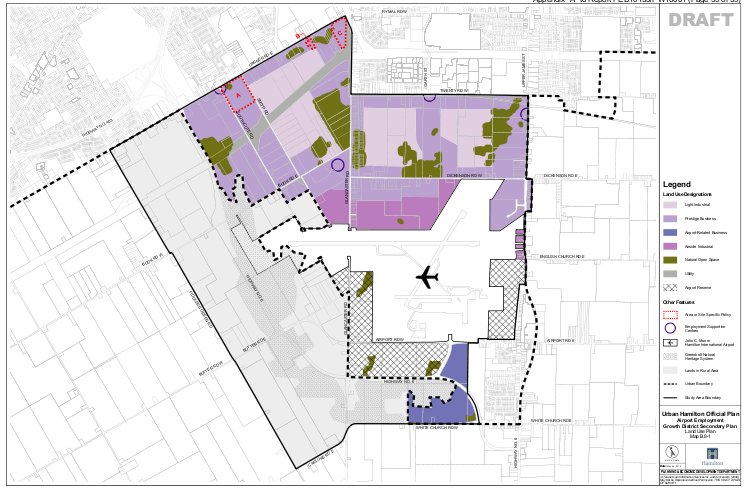 AEGD proposed land use map
Individuals and community organizations have challenged the City's plan by appealing to the Ontario Municipal Board (OMB). The OMB is scheduled to hear the case in mid-January 2013.
Everyone supports more employment opportunities, but at what cost? The main problem with the Aerotropolis plan is that it is extremely expensive and financially risky for all taxpayers. The City has admitted the costs will come in around $350 million, but 25 kilometres of new sewer lines and required upgrades to our wastewater plant will push the total to over half a billion dollars!
The City has a history of discounting development charges to attract new business, which heaps more debt onto existing businesses and homeowners. This time it will amount to $1,000 for every single resident.
Shortage of Business Activity
Hamilton Civic League volunteers recently reviewed 35,000 pages of municipal tax assessment data to identify all industrial employment lands. We don't have a shortage of available industrial land: we have a shortage of business activity to provide jobs on existing vacant and underutilized employment lands.
Adding more industrial lands won't guarantee more jobs, but it will guarantee an increase in debt, taxes and rents.
We all want more jobs and we can have them at much less cost than the City's poorly-located Aerotropolis. Our legacy industries once employed tens of thousands more than they do today. These lands and our other business parks are already serviced with roads, sewers, water, hydro and public transit.
It will cost significantly less to increase employment density where infrastructure already exists and where a significant portion of our workforce can walk, cycle or take public transit to work.
Residential Sprawl
Does anyone really believe there is a shortage of industrial land or that the Aerotropolis will be our future economic engine? Mayor Bob Bratina opposes the plan and recently said, "We all know in our heart of hearts that's going to be sprawl residential development."
The City has a $2 billion deficit in maintaining our existing infrastrustructure, which is growing by $200 million per year. This plan would invest another $500 million in new infrastructure to get us out of the hole.
Why not prioritize repairs to infrastructure that already supports existing businesses, the economic engine of today and tomorrow? Why should local businesses be additionally taxed to attract new and potentially competing business?
Your Help is Needed
The City has allocated $300,000 of taxpayer funds to hire experts to defend their plan before the OMB. Your donation is needed today to cover legal and professional planning expertise to defend all Hamiltonians and existing businesses against the City's Aerotropolis plan.
Please forward a generous donation payable to Environment Hamilton (marked Aerotropolis) to Suite 4-22 Wilson Street, Hamilton ON L8R 1C5.

Take the time to contact your City Councillor or call 905-546-2730 to register your opposition to the aerotropolis plan.

Sign the online petition at http://civicleague.ca/aerotropolis/
Do not permit the City to accept your silence as consent to spend your taxes on the Aerotropolis. Let them know you support more jobs, less cost as an alternative job creation strategy.
Post a Comment
You must be logged in to comment.