Development and Degradation: Making Adaptive Re-Use the Default Option, Part 3
Our buildings are not garbage. 'Development' which leaves us poorer than before, culturally or financially, is not development. It is degradation.
By Shawn Selway
Published February 10, 2013
As I walk around feeling really good
About everything from my health to my hood
I realize that I'm blessed with a lot
So all I gotta say is work with what you got

Source: Socalled video for Work With You Got, dir: Caleb Beyers. Hat: Jennifer Latour, and Raj Mariathasan, MastersFX
Art - including architecture and other cultural production - and economics are not entirely reducible to each other. But they are not separable either, and this seems to be the point on which we are stuck.
As I wrote in the previous post, in publicizing his (very hazy) plans for his downtown property, David Blanchard is representing himself as amenable to discussion, but the city is not taking him up on it. Why not? Demolition, and not adaptive reuse, heritage interest or not, has become the default option at City Hall.
Economic and cultural value are not separable
Some months ago the Culture department was separated from Recreation and moved from Community Services into the Planning and Economic Development department, under Tim McCabe. This means that museums, public art, and tourism are under one umbrella with heritage and other planning.
The shuffle seemed to indicate a belated recognition that economic and cultural value are not separable. In truth, they are Siamese twins joined at the head. Separate them, and both perish.
Council and the Planning and Economic Development department need to insist upon this fact when negotiating with Mr. Blanchard and other proponents of one-sided "revitalization" projects.
The very tenacious Mahesh Butani contributed a piece to the Hamiltonian for Jan 2, 2013 in which he tracked the Nov. 15, 2012 recommendation of the Municipal Heritage Committee on 18-28 King through the corridors of the Hall. In doing so, he provided details on Bylaw No. 09-208. This Bylaw, requested by Tim McCabe in August of 2009 and enacted by Council in September of 2009, reads in part as follows:
Section 4 of BY-LAW NO. 09-208 states: "Council delegates to the Chief Building Official power with respect to the issuing of demolition permits for routine applications which was given to Council under subsections 33(3) and 33(6) of the Planning Act."
Section 5 of BY-LAW NO. 09-208 states: "For the purposes of section 4, "routine applications" include, but are not limited to, an application to demolish a residential building: ... to facilitate land assembly for future development.
Butani also reproduced the delirious Triple Bottom Line statement (appended to each staff report ) which accompanied PED 09258, the report which requested the bylaw.
Community Well-Being is enhanced.-- YES Improved customer service with conditions still applicable to ensure neighbourhood stability is protected.

Environmental Well-Being is enhanced. -- YES Replacement of older building stock with new buildings will often improve the environment.

Economic Well-Being is enhanced. -- YES The Delegated Authority will allow for a more efficient approval process to issue Demolition Control permits thus allowing for approved new developments to initiate construction quicker.

Does the option you are recommending create value across all three bottom lines? - YES
You don't know whether to laugh, cry, or spit on encountering stuff like this. Butani's more measured comment was, "In a city which has a long history of mindless destruction of heritage buildings, authority to approve demolition of buildings must be clearly vested with the City Council and not delegated to City Staff under the ruse of streamlining application process."
And not only buildings.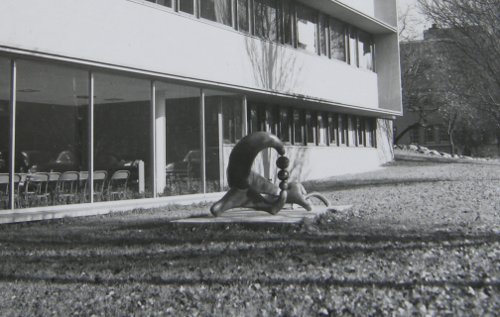 William McElcheran, untitled, concrete, 1954. Destroyed 1960.
When the Public Health Building at 74 Hughson South, now repurposed and renumbered to 1 Hunter East, opened in 1954, it had a work of public art on its lawn. Margaret Houghton pulled together the story from Spec pieces for a section of her book Vanished Hamilton IV (North Shore, 2012).
It seems that one day Stanley Roscoe, the architect of the building and sponsor of the sculpture, noticed that it needed some attention and sent a note to the property committee. Property decided that $250 was too steep a repair cost, given that the original commission had been worth $500, and sent the piece to the dump.
Efforts to recover it produced more comedy, if that's the correct term, and led nowhere.
Of course, this could never happen now, right?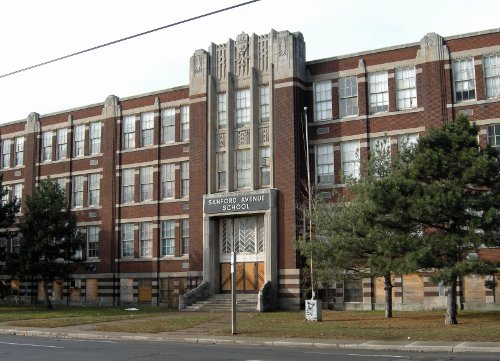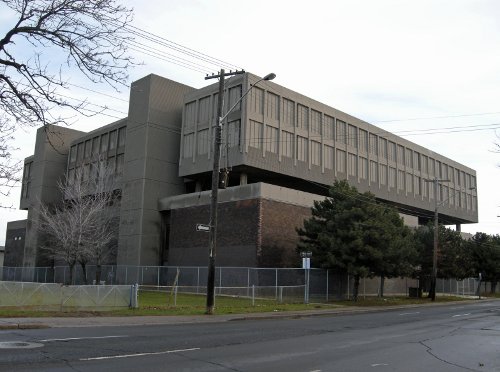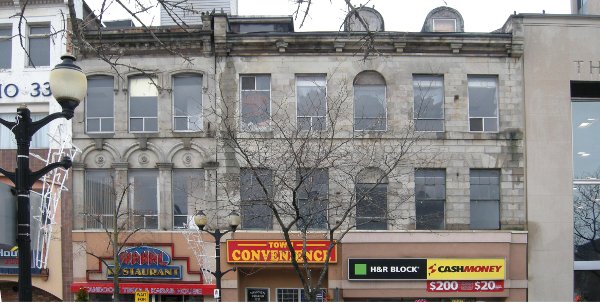 Delta, Sanford, Scott Park, and 18-22 King on the Gore. These buildings are not garbage.
Working with what we've got
We have a lot, and a lot of the existing building stock is quite good. "Development" which leaves us poorer than before, culturally or financially, is not development. It is degradation.
Our buildings are not garbage. If we want them respected, then we need to persuade Council to:
Make adaptive re-use, not demolition, the default option -with protection for buildings of architectural or historical significance. Reverse the onus, so that the proponent of a demolition must make the case.

Designate the Gore as a cultural heritage district at least between James and John and preferably between James and Catherine, so that the rules are clear to all and the same battle does not have to be fought over and over.

Remove the tax incentive to empty a building and keep it empty - which also reduces the scope of bylaw enforcement: if there are no tenants, there is considered to be no need to ensure the structure is kept in liveable condition.

Document buildings which are to be removed or drastically altered, and properly archive the record.

Develop interim measures for brownfields.

Maintain the urban boundary.
In addition, preservationists might consider carrying the case for historic preservation and adaptive re-sue to the financial institutions which are, absent the politicians, the final arbitrators of what gets built.
Very little can happen without their participation. It is socially irresponsible for lenders to be complicit in "revitalization" which injures the fabric of community. It is also financially unsound. When it is studied, historic preservation is found to raise the value of adjacent properties.
None of this is unprecedented or extreme. Quite the reverse. They are all long-discussed measures, conservative in both senses of the term. When circumstances change, as Hamilton's certainly have over the last forty years, adaptation and innovation are needed in order to preserve what is valuable.
Innovation is just what we are not getting out of City Hall. The modernist dream of a clutter-free, hyper-hygienic, past-free realm of glass and concrete with the odd hanging garden is dying very hard here. Even when reduced to featureless sheds of styrofoam and stucco on a barren blacktop plain, the dream hangs on and subverts the good intentions of the official plan.
We need to move on, past residential segregation by income to intensity and diversity and small-scale, layered, organic, extensible, walkable development.
Of course there will be large new buildings, and probably rather boring, if the market can bear it. But the future is mostly working with what we got, and we've got a lot.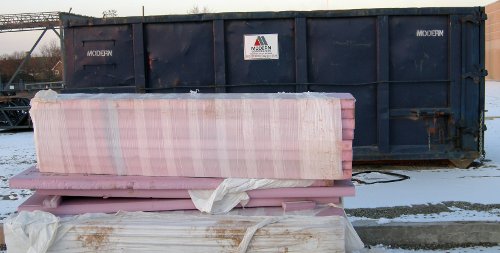 PED's dream. The "new" Centre Mall. Modern? Not so much.
Post a Comment
You must be logged in to comment.