Ideas for Vibrant City Building
There are lots of ideas circulating in Hamilton right now that could maximize our return on investment and further our goals of city building.
By Jason Leach
Published February 22, 2013
The past couple weeks have seen some interesting ideas presented in Hamilton, with potential for for us to explore ways to maximize our return and further our goals of vibrant city building.
In no particular order, here are some musings on what could be.
Expanding Transit-Only Lane
The Rapid Ready report presented to city hall presented many ideas, but one caught my eye: the transit-only lane from Mary to Dundurn. The configuration will allow two westbound traffic lanes to continue from Wellington straight through to Dundurn. West of Bay, curb parking will move to the south curb to allow the transit lane in the north curb.
Allow me to take this pilot project one step further by suggesting that we not only test a transit lane, but also a green bike lane, proper bike box and King as a complete street. Here's how:
Wide lanes west of Bay would allow us to re-paint the street all the way to Dundurn with an eight-foot parking lane on the south curb, two ten-foot car lanes, a ten-foot bus lane and a green bike lane.
The bike lane could begin four feet wide and gradually widen to a five-foot lane with painted buffer zones of four or five feet each on either side to protect cyclists from the live car lanes and the transit lane.
The results look something like this, except with a transit lane on the curb instead of parking.

Separated bike lane (Image Credit: streetsblog)
At Dundurn, a green bike box allows the cyclists to move over to the curb and connect to the existing bike lanes over the 403.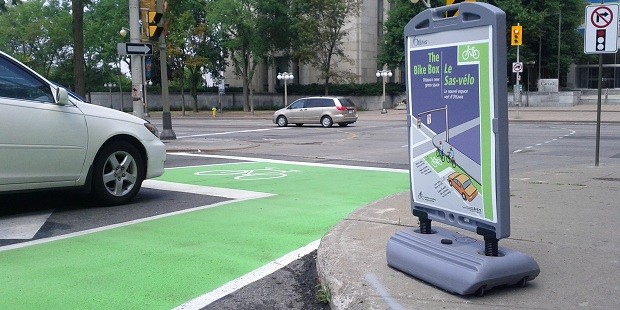 Bike box in Ottawa
Alternatively, the bike lane could be located in the curb lane:

Bike lane in curb lane (Image Credit: streetsblog)
Cost of this pilot? However much a few cans of white and green paint are, along with large tree planters to act as temporary curb bumpouts and add more greenery on the painted buffer zone between bikes and cars west of Locke:
City Motor Hotel
Despite the price tag, it is great news for the city to see the notorious City Motor Hotel expropriated. This is a great development site in the centre of the east end, on a busy transit corridor and future LRT line.
One of the ways in which Hamilton is going to need to grow up is by adding high-quality density all through the lower city. I was pleased to hear Ivor Wynne neighbours last night requesting more residents in their neighbourhood (more below).
All of the amenities that we desire on our main streets can only come when the population grows enough to support these businesses.
The City Motor Site is a chance for Hamilton to leave behind its practice of low-density, poorly-designed townhouses as 'affordable housing', or those big ugly brick commie-blocks we all love to hate.
Let's build a high density, mixed-use complex similar to the revitalized Regent Park in Toronto. It's encouraging that Ward 4 Councillor Sam Merulla has the same idea.
Studies from all over the world have proven that affordable housing that is designed to look and feel the same as market rental or condo buildings results in more pride of ownership and safer communities.
Simply put: design matters. We're drawn to beautiful things.
Hamilton has a lingering obsession with opposing dense, urban development every time a proposal shows up. Remember, density isn't bad. Bad density is bad. City planner Brent Toderian makes this argument at the DSA's 2013 State of Downtown Economic Forum:
Pan Am Redevelopment
Planning is underway for our Pan Am stadium precinct. I was intrigued to read the list of things that residents want in this area. Their list mirrors my proposal from 2011.
From what I've heard about the first precinct planning meeting, the residents are on the money with their desires and plans for the area.
Barton Street should enter into a design visioning project similar to the one that has resulted in healthy new trees, benches, bike lane humps, native grass and flower planters and a better pedestrian realm on Roncesvalles in Toronto.

Roncesvalles renewed (Image credit: CBC)
Lots More Trees
Speaking of trees, let's go on a blitz of our main streets and plant curb trees wherever possible. Again, the impact of treed streets has been proven over and over in cities all over the world.
Let's add some on York Boulevard in the centre median:
And on King in the grass boulevard near Victoria Park:
This would look great next to the bus/bike lane pilot project!
Locke South has the perfect design for bumpouts at almost every corner due to the 24-7 curb parking:

Green bumpouts (Image Credit: streetfilms)
Snow Job
I'm a huge snow fan. In fact I'm a weather nut in all seasons.
I've long said that one of the things I love most about big snowstorms is how many of our dangerous, high-speed streets become walkable, safe streets.
This video from NYC explains it much better than I ever could. Have a watch and then take a close look at your own local streets - both main, and side streets - and see the traffic calming effect that our large snowbanks have created.
So, what are your thoughts to improve the quality of life in Hamilton? Respond to this mishmash of ideas with your own.
Post a Comment
You must be logged in to comment.