Hamilton's Transportation Dilemma: A Two-Wheeled Winter Perspective
Sustainable transportation infrastructure is not a scheme to raise taxes and divide our city, but a plan to address a major gap without which our city will fall behind in livability and competitiveness.
By Dave Heidebrecht
Published February 27, 2013
On Monday, February 25 at Hamilton City Hall, City Councillors spent the day listening to presentations focused on a discussion around Hamilton's transportation future.
The focus of the day was on approving a city report to pass along to Metrolinx, the provincial agency that has been charged with the challenging task of developing a more integrated and functional transportation system within the Greater Toronto and Hamilton Area (GTHA).
With Hamilton hoping to have a large portion of new rapid transit infrastructure funded by Metrolinx, the day's dialogue covered a wide range of transportation options being considered by the city.
While much of the day was spent discussing the potential for development of much-debated Light Rail Transit (LRT) infrastructure, the dialogue covered the broader context of transportation planning, city building, and how any new developments might impact the social, economic, health and environmental well-being of our city.
Thanks to the work of local journalist Joey Coleman, the entire meeting is available online for viewing, providing some great insights as to where we stand as a city and how our council is approaching transportation issues as a whole.
A Multi-Modal Perspective
Being an all-season cyclist, and having spent recent weeks cycling to and from multiple downtown locations, I was especially interested in how issues surrounding cycling infrastructure were discussed.

A proposal to implement a cost-free bike share program in Hamilton came up against a great deal of pushback, while other discussions revealed a clear lack of appreciation from some councillors on active transportation infrastructure and how a multi-modal approach is necessary if we are to build a system that promotes healthy living and a health economy.
As someone who cycles, drives, walks, and takes transit in this city, I was disappointed to see that despite much progress, there is still a general lack of appreciation by our politicians as to the larger benefits to the entire system that come with a strategy that fully supports all modes of transportation.
Yes, those who need to use an automobile to get to and from work should be allowed to do so, but far too many of our leaders don't seem to appreciate fully that the goal of these efforts in the long-run is a social, economic, and cultural shift that will mean fewer of us need to.
In short, not only should those who work hard to own a car enjoy a safe commute, but as the City's Director of Transit, Don Hull, pointed out, Hamilton's transportation infrastructure should be equitable.
With this point in mind, I'd like to add to this dialogue by sharing the commuting experience of a cyclist in winter, traveling between downtown Hamilton and McMaster University, directly within the City's B-Line Corridor.
The following trip was taken in early January, two weeks after a major snowfall, and the photos shared here hope to bring into the conversation some perspective on what those of us who are hard working, but use two wheels instead of four, face on on one of Hamilton's major transportation corridors.
The Westbound Commute
This view from King Street West gives some appreciation for the experience of a cyclist traveling in five lanes of traffic.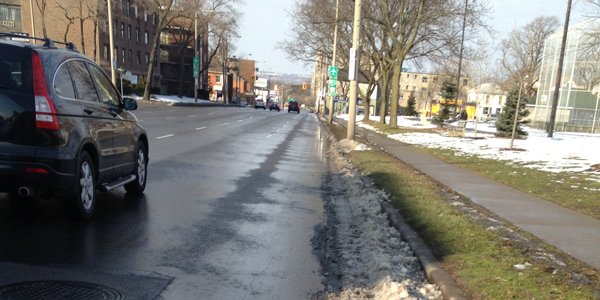 Though there are bike routes that travel along side streets in the area, anyone hoping to travel to and from work in a reasonable time (as a driver would expect) will take King, as it offers a direct route and timed lights (a feature appreciated by both drivers and cyclists alike).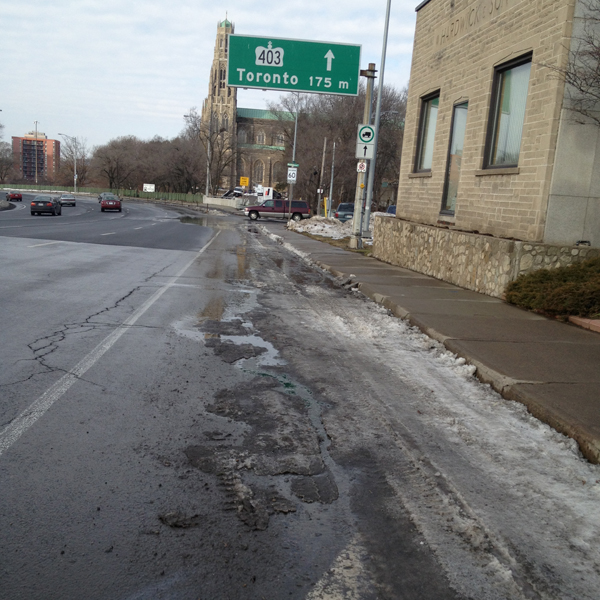 Crossing Dundurn and heading towards the Highway 403 overpass, a bike lane begins, though when covered in patches of ice, cyclists are forced to move outwards towards the driving lane, where drivers already going upwards of 70 km/h planning to merge onto the highway may already be picking up speed.
From a driver's perspective, a cyclist swerving into their lane in such a situation may be seen as reckless cycling, potentially adding to us vs. them driver-cyclist tensions.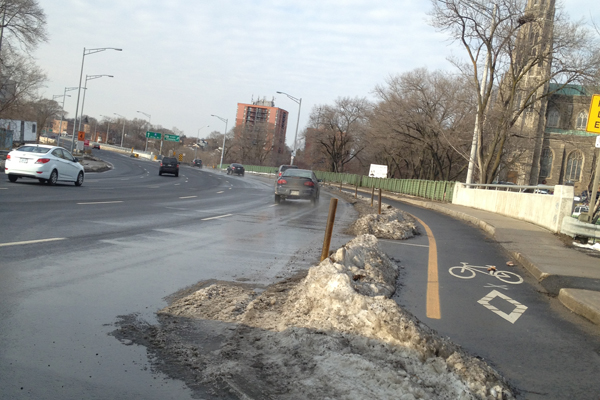 Approaching what has been built as a two-way cycling lane to cross into Westdale, one can see that most of the returning eastbound lane is covered in snow.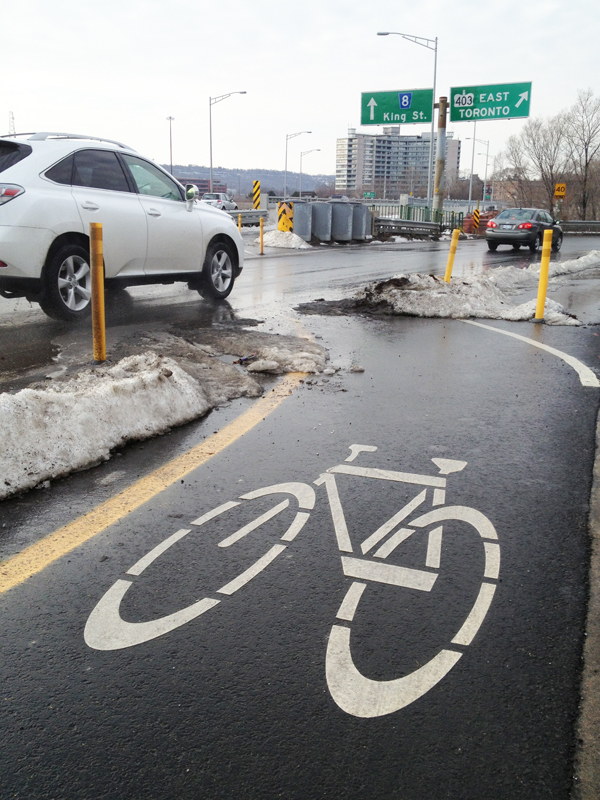 As cyclists commuting across the bridge approach an already nerve-wracking highway onramp crossing, they face icy conditions that leave a narrow gap to ride through as cars pass by.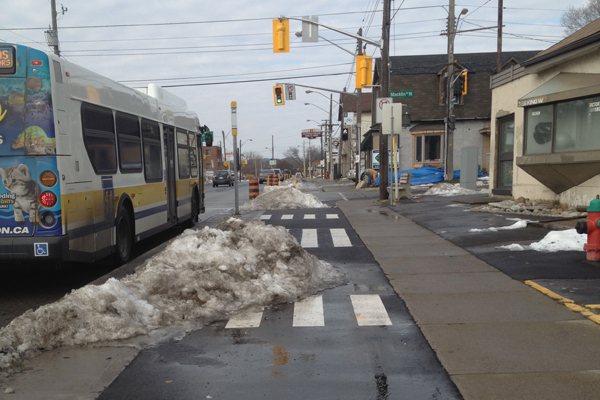 Having crossed the bridge into Westdale, a newly built cycling lane that crosses a bus stop at the corner of King Street West and Macklin Street North remains obstructed by snow a few weeks after a major snowfall. Note that surrounding snow has almost melted, meaning these piles would have been much larger for at least a week before this image was taken.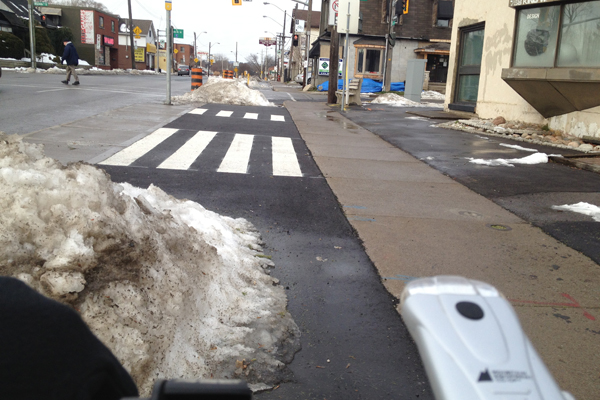 A cyclists-eye view. Narrow pieces of lane in some places mean cyclists must sometimes use the sidewalk. Though infrastructure has been built to support cyclists, a lack of concern for cleanup shows that despite good intentions, bike lanes remain an afterthought for transportation infrastructure maintenance and snow clearance.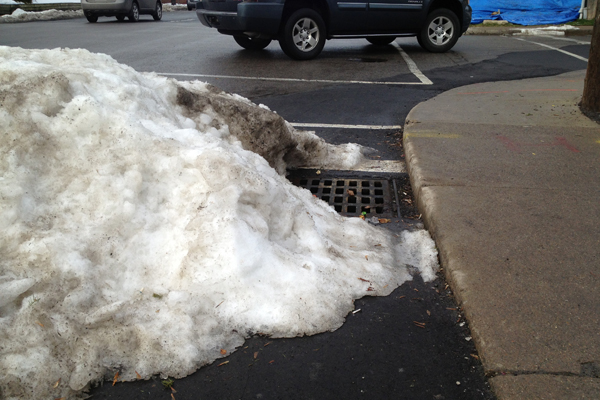 Any cyclist and/or driver knows that sewer grates can cause some major bumpiness, let alone when they are surrounded by snow. At an intersection where right turns are being made, safety issues could be a major concern in terms of stopping or slipping on the snow.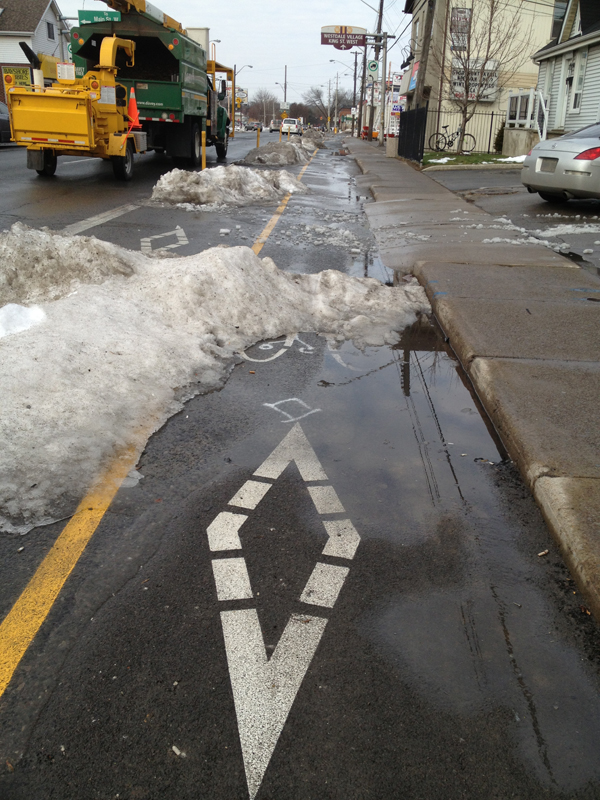 On the opposite side of Macklin Street North, not one, but both sides of the two-way bike lane are obstructed.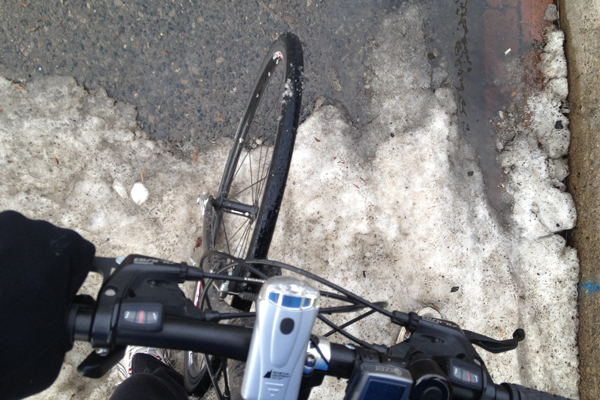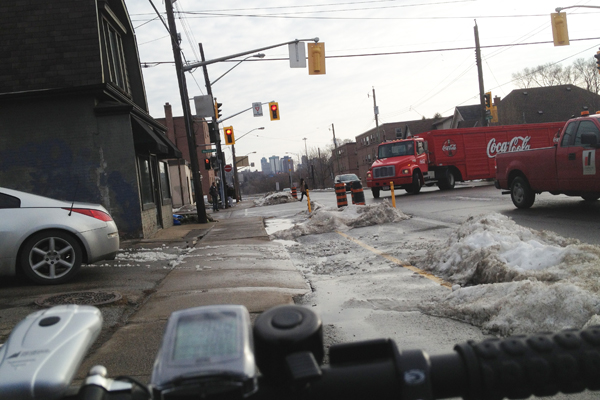 Cyclists returning along this two-way cycling route are forced to ride on the sidewalk. Again, though forced to do so, such actions can result in further criticisms of cyclists for not staying on the road.
I firmly believe that cyclists should follow road rules and remain on roads at all times, though in this case, it was necessary to use the sidewalk.
The Journey Into Downtown
Current infrastructure allows cyclists to use both Main and King St. bridges to move across Highway 403. The result of recent construction work on these bridges, both provide two-way access for cyclists.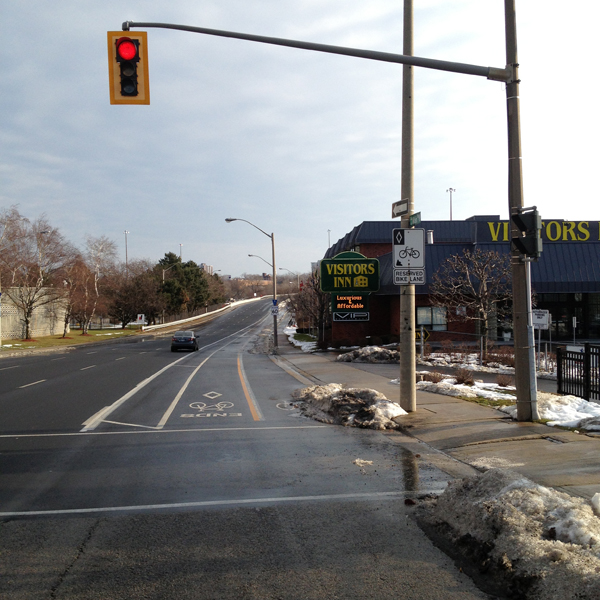 On the King Street bridge, this approach does make some sense, as there is an immediately accessible side street for cyclists to carry on their journey at both ends of the cycling lane, yet Main Street West is a different story.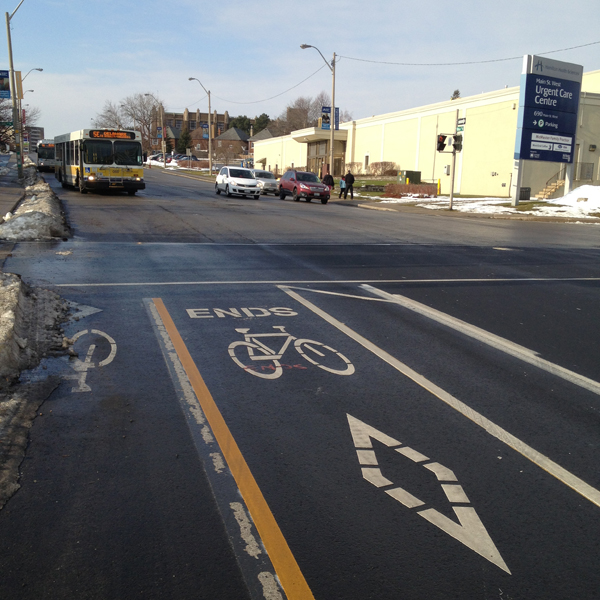 Cycling into Westdale on the Main Street West bike lane, one comes up against four lanes of traffic, though can take Macklin Street North to connect to the King Street West lanes seen in previous images.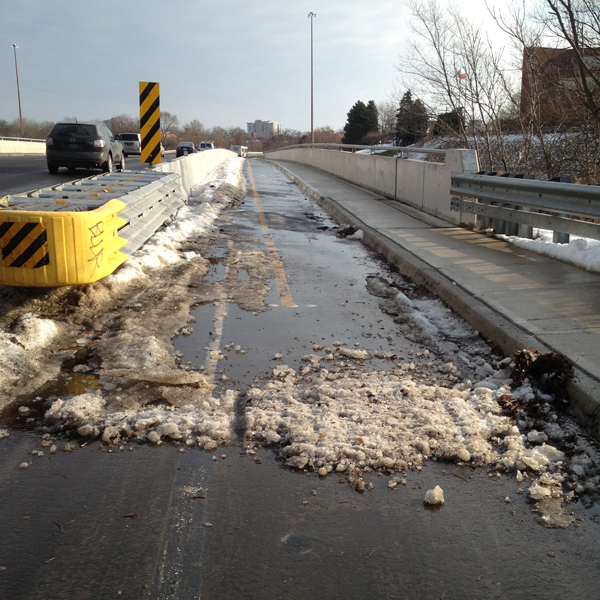 To be complimented on the concrete safety divide for cyclists, again maintenance is an issue, as some parts of the bike lane are completely covered, while the entire stretch across the bridge has only been cleared in the direction headed downtown.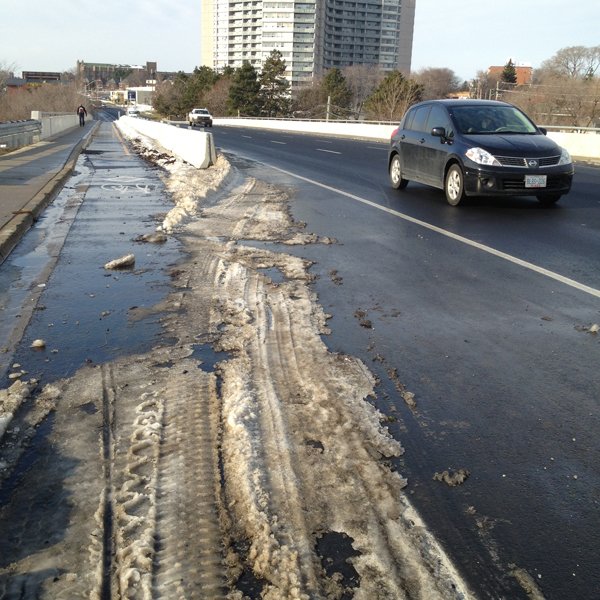 Where this lane merges with traffic once again, snow and slush create very dangerous cycling conditions.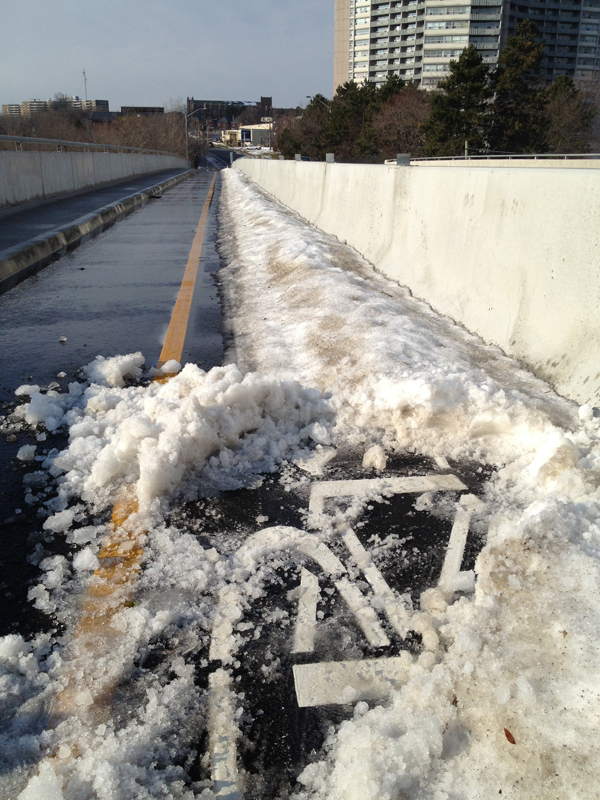 As one can see after spending some time clearing the snow, there is indeed a bike lane heading into Westdale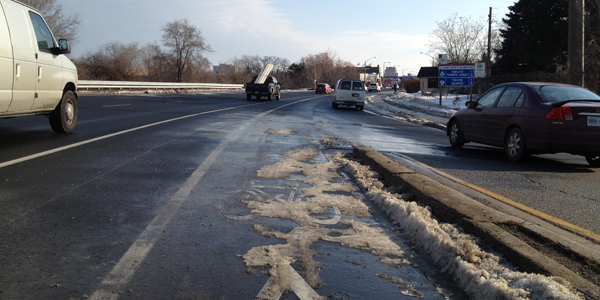 Similar to King Street West, cyclists must cross an off-ramp from Highway 403, riding through a lane covered in snow and ice.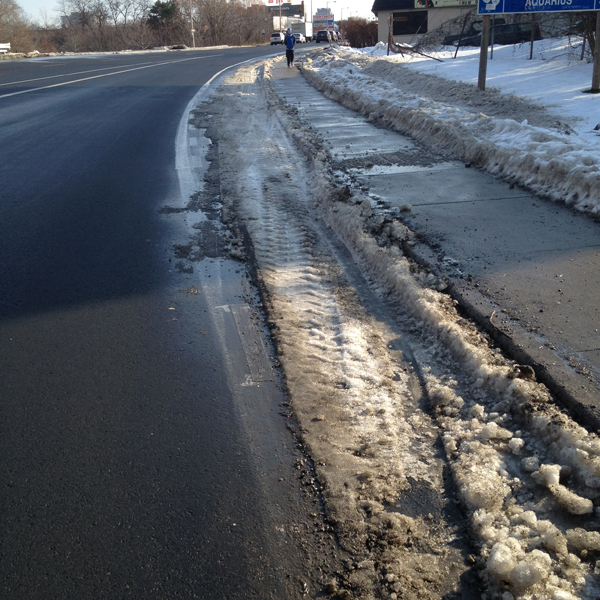 This snow-covered section of road is the designated bike lane that one must ride on once the off-ramp has been crossed. On this day (and for a number of days before), the entire lane was impossible to ride on, meaning that a cyclist would need to share a lane for about 100-200 metres with vehicles coming directly off of a 400-series highway where the speed limit is 90 km/h.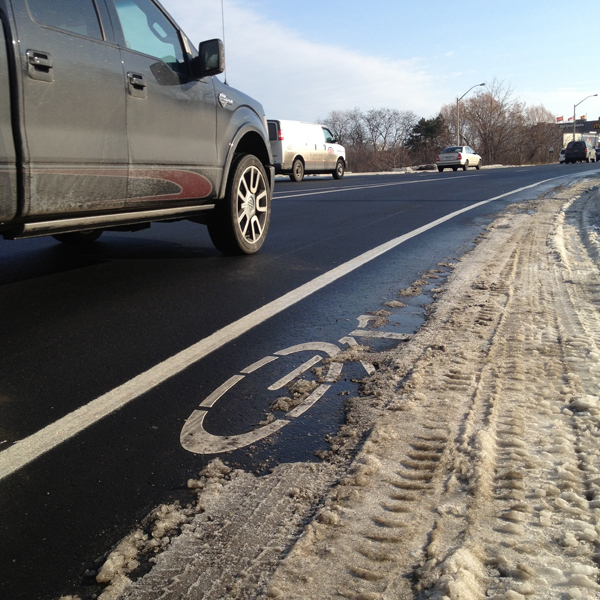 Further up the road some ice has cleared, though there is not much room for error by either cyclist or driver. The point of showing this experience is not to shame drivers who use this road, as I often drive along this corridor myself, but to show the lack of equity in our current transportation infrastructure.
Just as cyclists on this stretch shouldn't need to worry about their own safety, drivers also shouldn't need to worry about a potential collision if a cyclist were to swerve or slip into their lane due to poor bike lane conditions.
Overall, the goal should be to encourage an appreciation and respect for all modes of transportation.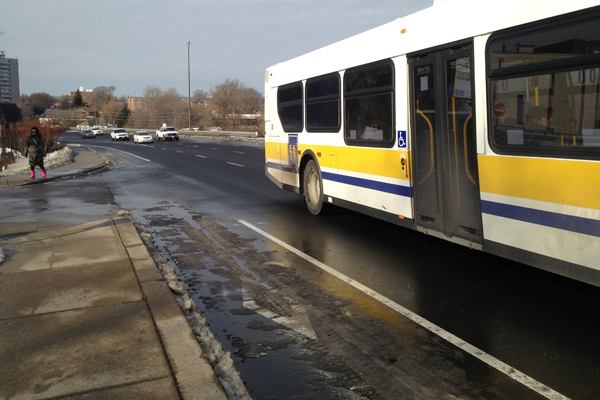 Another concern that originally caught my eye as a driver on this stretch of road, is what our city planners had in mind by installing a two-way bike lane in the middle of a major one-way street.
As earlier pictures clearly show, a two-way lane begins on the Main Street West bridge and ends at Macklin Street North, but in this image there is no West-bound lane to take cyclists to that point. Whether there should be one is another point of discussion.
Perhaps there are also plans to extend two lanes to a cycling route along Frid Street, though at this point the message is a mixed one, as anyone wanting to take advantage of the two-way option provided must cycle directly into oncoming traffic, traffic coming off of a major highway nonetheless.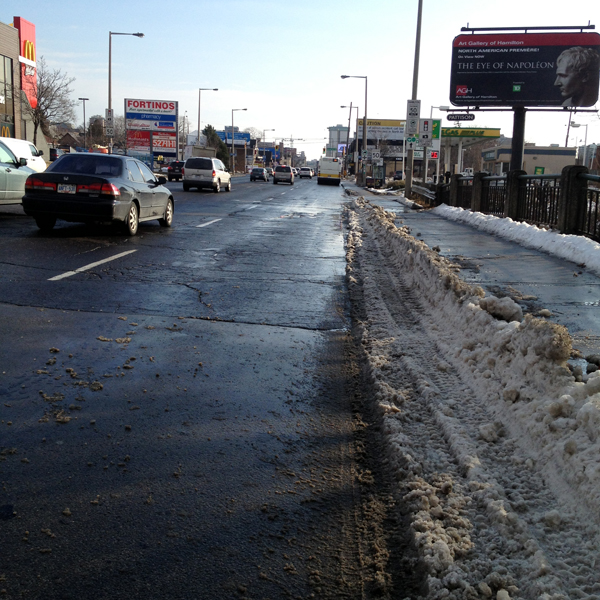 Heading back into downtown is frightening enough on a calm day, let alone when the designated bike lane is covered in snow and ice.
As a hard-working, tax-paying citizen who chooses to commute by bike - for environmental, economic, and health reasons - I am appalled that current City Hall discussions on transportation continue to neglect the reality that though many of us do drive, many of us also cycle, walk, and take transit, and should be equally able to do so comfortably and affordably.
For those who argue that I'm a rare case, I beg you to visit McMaster University to see the many bikes that cover campus each day, many of which I'm sure cross the exact route that is laid out above.
For those on City Council who are concerned about constituents having their cars taken away by some overarching scheme to create a city full of transit-users, cyclists, and pedestrians, please wake up. Creating a sustainable transportation infrastructure is not a scheme to raise taxes and divide our city, but a plan to address a major infrastructure gap without which our city will fall behind in economic competitiveness and livability for decades to come.
This article was first published on Dave Heidebrecht's website.
Post a Comment
You must be logged in to comment.